Selected Past Exhibits
We've been proud to host a wide range of exhibits in the East Oregonian Gallery, from blue-chip icons of contemporary art to notable northwest talent to local emerging artists whose work is on the rise. You can browse through materials on some of our past exhibits a the Oregon Arts Commission's Oregon Visual Arts Ecology Project. Check out some of our favorite exhibits below.
Teresa Dunn: Longing to Be
February 4 – March 31, 2021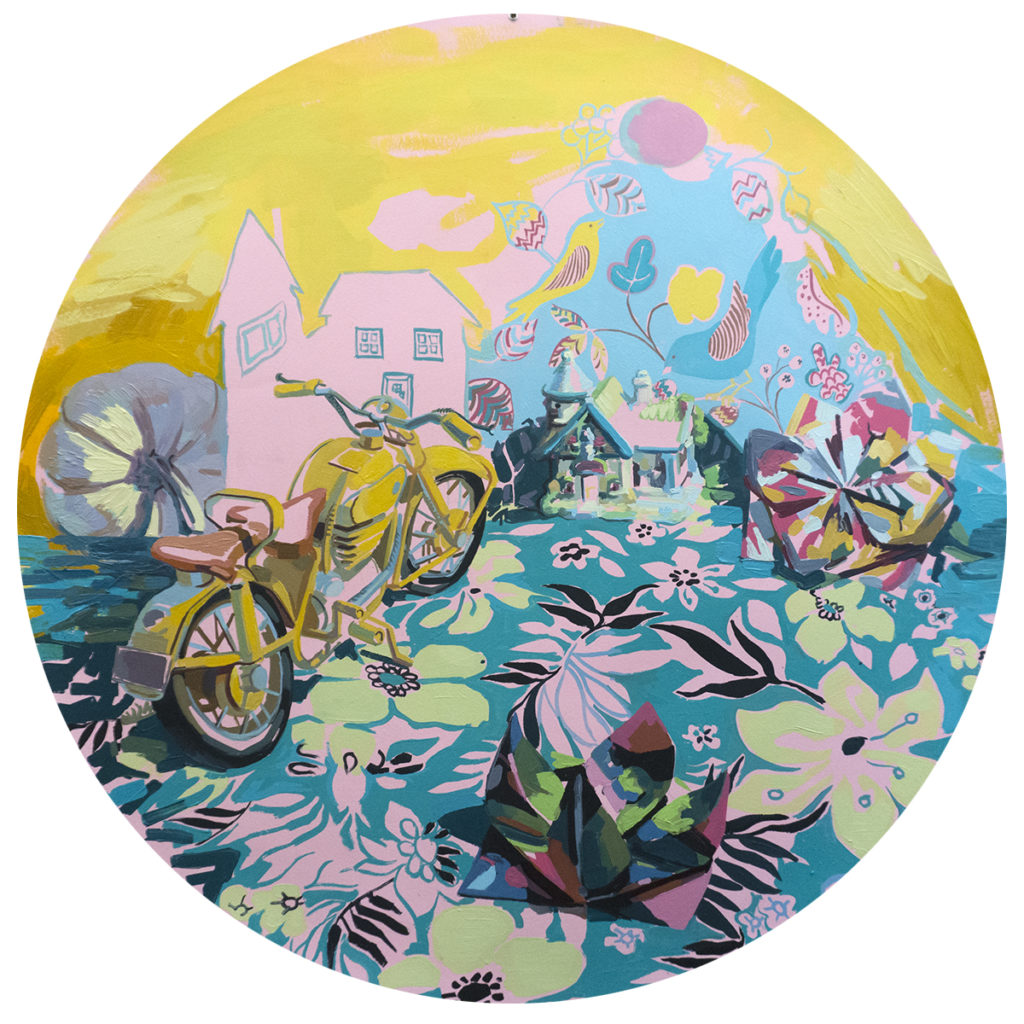 We hope you'll join us for a Zoom Gallery Talk and Tour with the Artist
Thursday, February 4th at 5:30 PM
Grab a beverage and a snack and log on to make a connection with other art lovers and PCA pals. Email director (at) pendletonarts (dot) org to receive a link!
—————-
Teresa Dunn is a Mexican American artist raised in rural Southern Illinois. Her identity, life, and art is poetically influenced by being suspended between two cultural heritages. Language, space, color, light, and storytelling find expressiveness through moving toward and away from simultaneously contradictory tensions. Gloria Anzaldúa's "Borderlands" accurately reflects Dunn's own reconciliation of her mexicansimo with her American-ness and the complexities of growing up and living as multicultural woman in the Midwest.
Dunn received her MFA from Indiana University Bloomington in 2002. She is a three-time recipient of the Elizabeth Greenshields Foundation Fellowship and received the Jacob K Javits Fellowship from the US Department of Education. Dunn is represented by First Street Gallery in NYC and Galerie l'Échaudé in Paris, France. Recent solo exhibitions include M o t h e r l o a d at the Visual Arts Center at the Washington Pavilion in Sioux Falls, SD in 2017 and First Street Gallery in NYC and Miami University of Ohio in 2016, and Ebb and Ember at Hooks-Epstein Galleries in 2015. Dunn's 2012 exhibition Strange realities/Étrange réalité at Galerie l'Échaudé was reviewed in French journals AZART and Miroir de l'Art. Dunn was a finalist in the 2000 William and Dorothy Yeck Miami University Young Painters Competition and won Best in Show at the 2008 Biennial of Contemporary Realism at the Fort Wayne Museum of Art in Fort Wayne, Indiana. She has been included in numerous publications including Studio Visits and Paint Pulse Magazine. Dunn was accepted for the inaugural year of the Cuttyhunk Island Artist Residency with featured artist Alex Kanevsky in 2017. She has conducted many visiting artist lectures including the most recent 2017 lecture and student critiques at the Rome Art Program in Rome, Italy. Teresa Dunn is currently an Associate Professor of Painting and Drawing at Michigan State University in East Lansing where she has taught since 2006.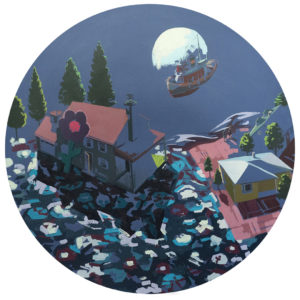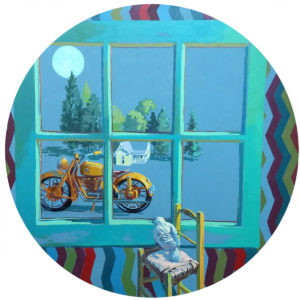 HIROKO CANNON: NEW WORK
Original watercolors, reproductions and note cards available online HERE.
Learn more about Hiroko Cannon in the current issue of 1859 Magazine. 
We're thrilled to carry work by Hiroko Cannon all year long. Cannon's depictions of the birds, insects and plants that inhabit our region are as educational as they are stunningly gorgeous.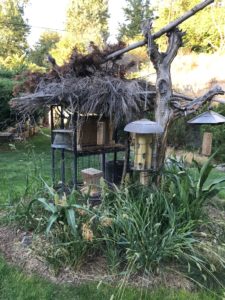 Gallery patrons often ask about the size of her brushes, since the details in the work seem to rival the actual feathers and leaves she's inspired by. But the precision doesn't detract from the artistry. Her paintings capture a point of view that is uniquely hers – whimsical while still being reverent for the beauty of our surroundings.
A visit to the garden that surrounds her North Hill home provides some insight into her process. Every plant, bundle of twigs, solitary bee house, and feeder is beautifully situated, simply because it's the best way to attract the wide variety of birds and pollinators that inhabit the space. While you can't identify anything specific, the Japanese aesthetic is evident. Everything seems to belong; nothing seems fussy or ostentatious, and  there's nothing that doesn't nurture the ecosystem as a whole. A large container of water that feeds an outcropping of yellow iris doesn't harbor mosquitos because it's filled with small fish that feed on the eggs.  Native plants like sage brush, bunch grass and flowering rabbitbrush push out the weeds that would plague a typical garden. A deep knowledge gained by observation is evident in the images of the birds and the plants she paints. We are proud to be able to share her work and help introduce it to a wider audience.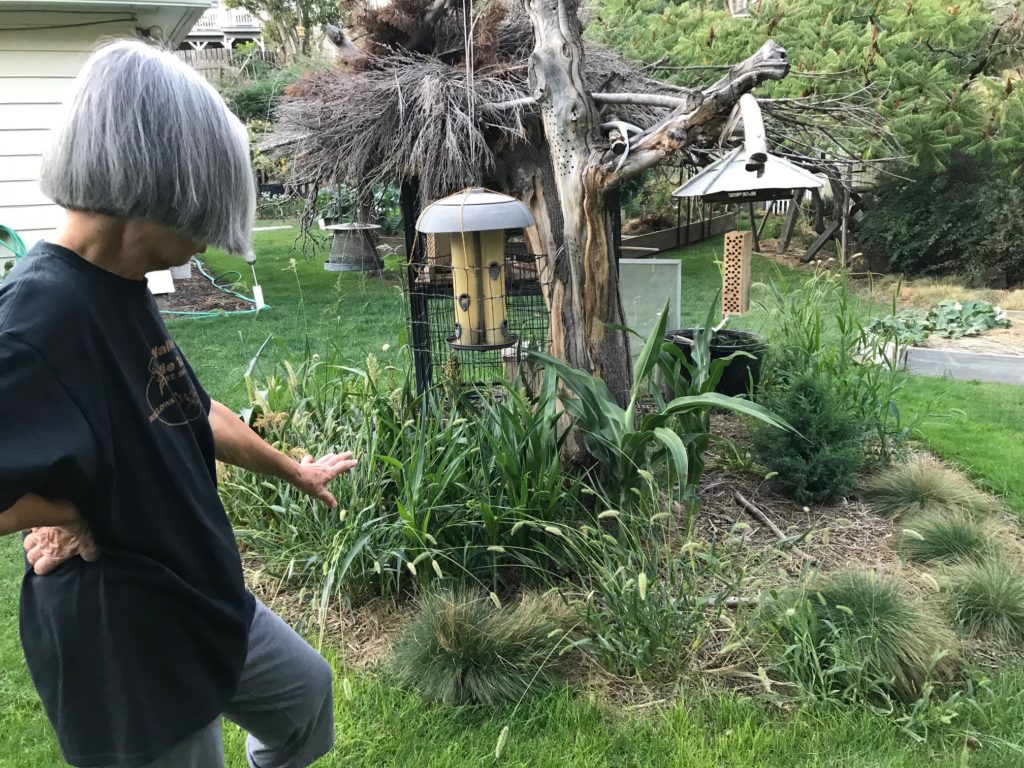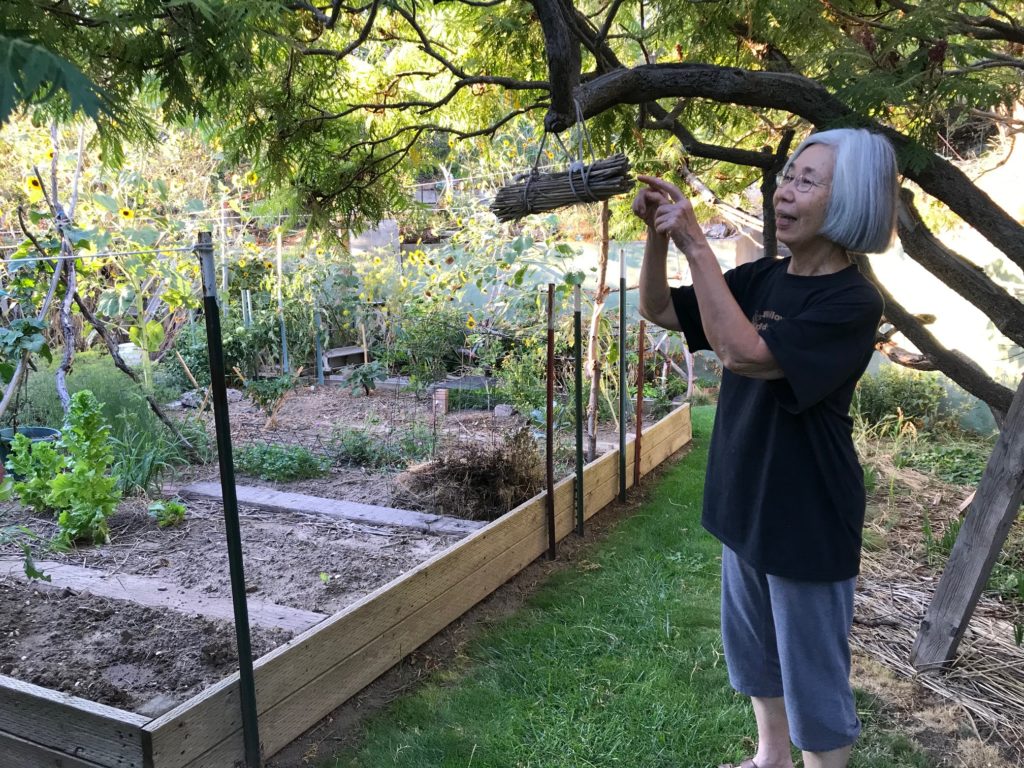 Click or tap on an image to start the slideshow below.
David Webber
July, 2019

David Webber's photographs start with images from the real world, and through transformation they become hybrid forms.  His photos confuse the boundaries of their reference and challenge the viewers' perception of what they are seeing. Superimposing images through layering, he pushes them to varying degrees of density by creating simple composites, fields of color, and meshed textures.The works are composed in the camera, with the film being advanced and re-wound to create exposures that overlap and intertwine in compelling ways. Webber is an Assistant Professor of New Media at the University of Central Oklahoma where he teaches video, sound, installation and interactive art. Originally from the Philadelphia area, Webber received a BFA from Tufts University in Medford, MA and School of the Museum of Fine Arts, in Boston, MA. His MFA in Electronic Integrated Arts was received from New York State College of Art & Design at Alfred University in Alfred, NY. As an artist, Webber works primarily with time-based media and interactive installations. In his spare time he makes analog synthesizers and electro-acoustic music.
This exhibit is made possible through the generous support of Lauren Ludwig of Edward Jones.


Check out David's website HERE.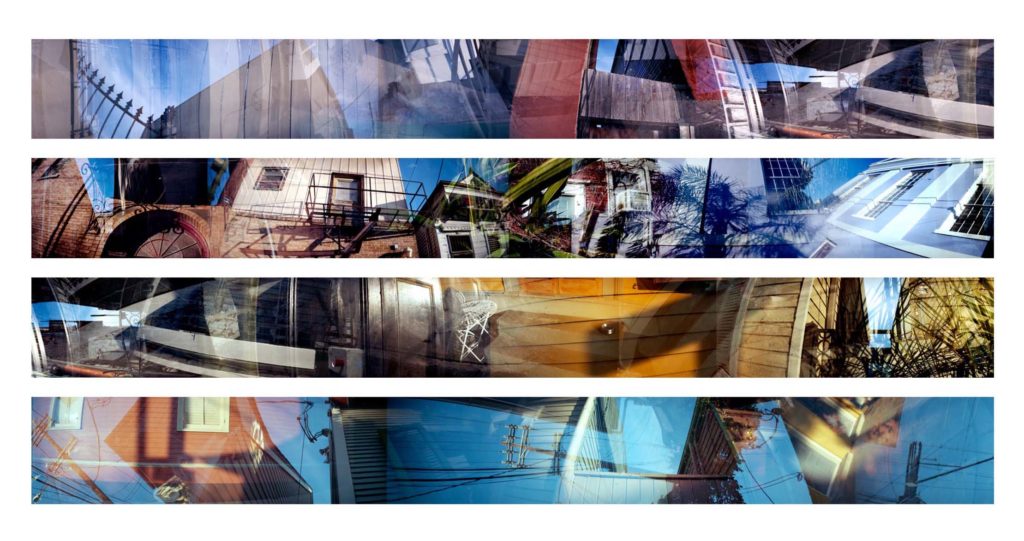 Dianna Woolley
Hot & Cold Wax: Fad or Factual
June 2019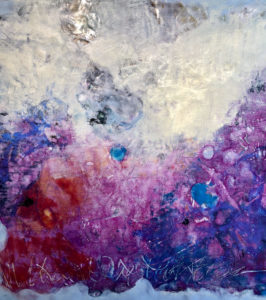 Walla Walla artist Dianna Woolley works in wax, a medium that some might consider too fragile for museum-quality works of art. But through her own artwork and a gallery talk about wax as an artistic tool, visitors to the Pendleton Center for the Arts will learn about the medium's history of strength, durability, longevity – and distinctive beauty.
Dianna Woolley began her art career making paintings that featured recognizable imagery. Her formal education at University of Oklahoma was focused on business, not art. Then, in the early 1960's she began a 5-year mentorship with New York City abstract expressionist Donald Pierce. Pierce taught her less about expressionism than he did about the fundamentals of art, composition, value, drawing, mark making – the basics of any visual artist's work. Independently, she studied the work of 20th century abstract expressionists and post painterly abstractionists, and her work moved from realism into abstract imagery. After many years of homemaking and business careers in New York City and Kong Kong, she is now a prolific painter, producing panels full of enthusiasm, motion, and memory. Woolley's imagery symbolizes her life, travels, and thirst for knowledge. She is particularly interested in adventurous personalities, both contemporary and historical. She's had eight solo exhibits in the region in the past eight years and had work accepted into juried group exhibits in nine states across the country.
Much of Woolley's study in the past few years has come in the form of artist's residencies. A residency allows an artist to focus on their work with few distractions, often in an inspiring setting. She's been awarded residencies from the Nantucket Island School of Design and Art and the Castle Hill Arts Center's Edgewood Farm in Massachusetts. Dedicated weeks outside her studio serve to strengthen a long practice of personal reflection and innovation, while enabling her to encounter new mediums, studies, techniques and other talented artists in search of camaraderie and insight into their personal art making.
Check out Dianna's website HERE.
45th Open Regional Exhibit
Through May 31, 2019
Made possible through the generous support of Banner Bank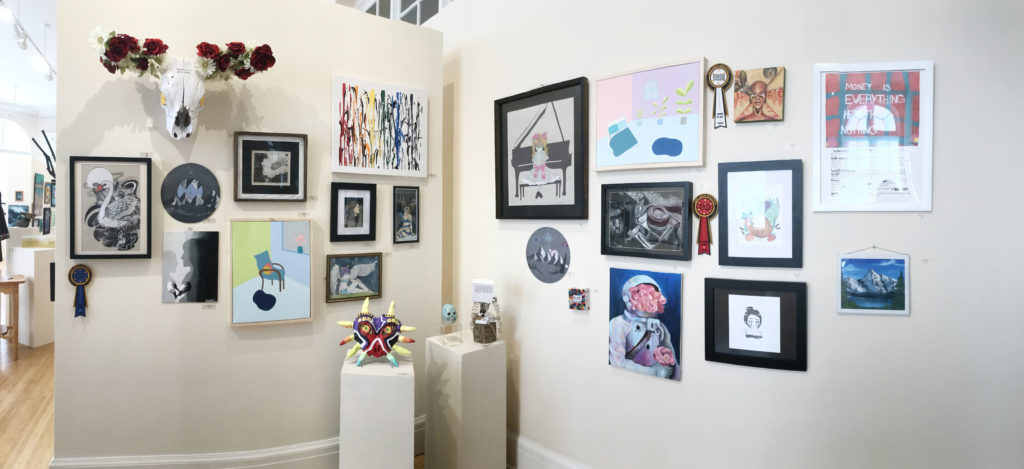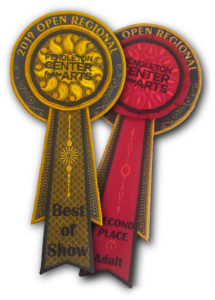 We had 145 entries submitted in this year's Open Regional Exhibit from across Northeast Oregon and Southeast Washington. Congratulation to the artists whose work was recognized with awards this year, and a huge Thank You to the men of EOCI who created the wonderful award ribbons.
Best of Show: Nici Cimmiyotti, Chemistry Brothers
Adult First Place: Bob Austin, As Flitting By Like Clouds
Adult Second Place: Sandra Westford, Communion
Adult Third Place, Kohl Konnigrud, Tripartite
Teen First Place: Jasmine Lei, Crane
Teen Second Place: Anahi Herrera, Take a Shot
Teen Third Place: Alysha de Martinez, Recomera de Maria
Honorable Mentions: Roy Anderson, Baby Guitar, Jaime Durham, Departure, Tricia Harding, Gingko Study, Ann Hooper, Lady in Red, Arlen Clark, Let's Take a Walk.
CIMMIYOTTI DOUBLES UP ON PRIZES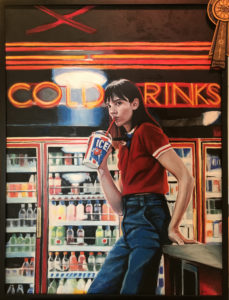 The opinions of art critics and those of the general public rarely line up. In fact, in the 45 years that the Arts Council of Pendleton, which runs the Pendleton Center for the Arts, has been hosting the Open Regional Art Exhibit, no artist has ever garnered the favor of both – until now.
At the May 9 Opening Reception, Judge Rachel Smith presented Hermiston artist Nici Cimmiyotti with the Best of Show award for her painting Chemistry Brothers. On Friday, May 31 a tally of the People's Choice ballots showed that her other painting, Cold Drinks, had received the most votes, cast by visitors to the gallery during the month. The People's Choice Award is presented in memory of Jacqueline Brown, long-time board member of the Arts Council and patron of many Pendleton cultural activities.
A graduate of Hermiston High School, Nici Cimmiyotti studied art Portland State, earning a Bachelors degree in drawing and painting then went on to get a Masters in Teaching from Eastern Oregon University. She taught at Sandstone Middle School alongside the teacher who inspired her as a middle schooler herself, and now teaches art at Hermiston High School. She paints in a figurative style that she's worked to perfect over the past few years. Two years-ago one of her portraits received a first-place ribbon in the Open Regional.
Her Hermiston classroom doubles as her painting studio and she uses her work as a teaching tool for her students, 22 of whom are working at a college level through advanced placement classes.
"They get to see how I start a painting, how I make changes as the work progresses, and how I deal with various issues that arise in the painting process," said Cimmiyotti. "Their work energizes me, and I hope mine does the same for them."
She was trained in oils but taught herself to make the switch to acrylics, because that's what students use in high school.
"If I'm going to have my students do it, I figured that I should be using acrylics as well.
Cimmiyotti's next move in her artistic career is to get her work into exhibits outside of the region and across the northwest.
The Open Regional exhibit is made possible through the support of Banner Bank of Pendleton. The event invites artists from northeast Oregon and southeast Washington to participate. The 2020 exhibit will feature photography, then in 2021, every medium except photography will be accepted.
March 14 – May 3, 2019
Ellsworth Kelly: From the Collection of Jordan D. Schnitzer and His Family Foundation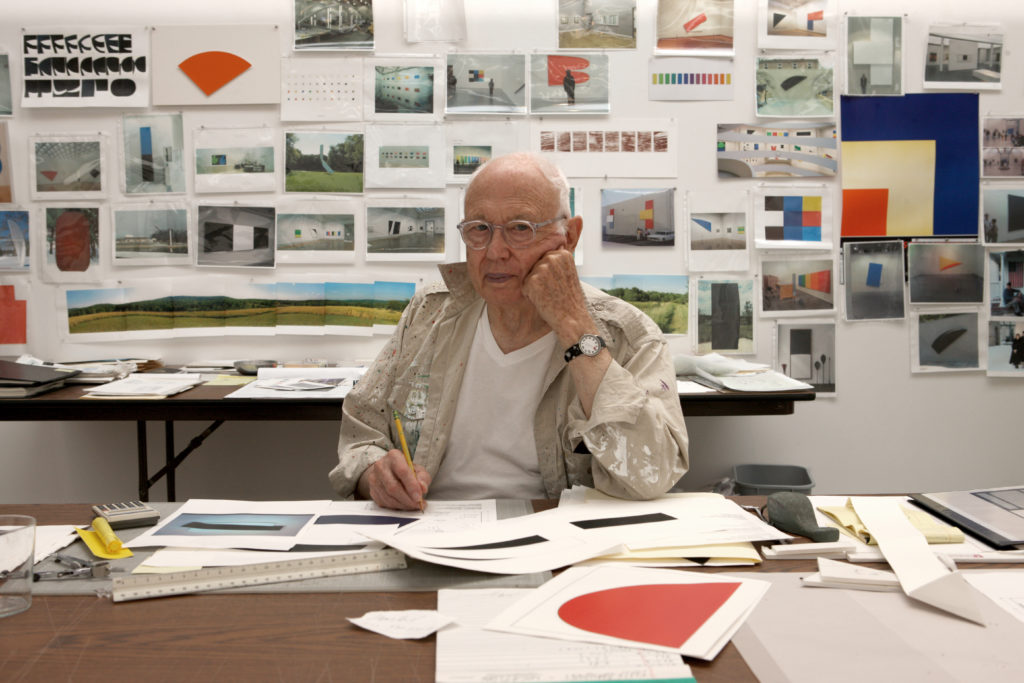 We're thrilled to be hosting an exhibit of one of the most important artists of the past 100 years.
Cory Peeke: On the Tip of My Tongue
February, 2019

That something that you feel that you know, but somehow can't quite articulate. You can see it, the pieces come together but they form only a suggestion. A suggestion that engages, troubles and even delights the mind and eye. A puzzle of relationships. Deceptive in their spare simplicity, these works are evidence of lives lived and connections, however ephemeral, made. They contain very little and yet everything necessary. They are like a memory, a trace of something past. An intangible, fleeting connection to something greater than ourselves – something we can't quite name.
"On the Tip of My Tongue" is an exhibition of new work by Cory Peeke which also features a small, representative sampling of work by Evan Clayton Horback, Lita Kenyon and Melinda Tidwell. Cory has selected these works in order to survey the connection between the familiar and the undefined as well as illuminate the allure of the unassuming.
Jenny Morgan: New Work
October 4-31, 2018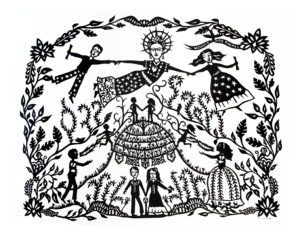 When Jenny Morgan worked at Ghost Ranch in the 1990's, one of the perks of the job was being able to take classes with the visiting artists who taught there. When a master of Polish papercutting visited at the New Mexico facility, Morgan was intrigued. She never imagined that the craft technique would form the foundation for a serious artistic practice.
Morgan's newest papercuts were on exhibit Oct. 4-31, with free admission thanks to support from Coldwell Banker/Whitney & Associates.
Polish papercuts – wycinanki (pronounced vee-chee-non-key) – were traditionally made by peasants to decorate their cottages. They depicted scenes from everyday life and special events like weddings and holidays. It was an inexpensive way in the mid-19th century to decorate homes, and women often worked with sheep-shearing scissors.
In creating her contemporary images, Morgan uses tiny manicure scissors, working meticulously for hours at a time. Starting with drawings she's made on the back of special, flexible yet strong paper, she sometimes folds the paper into halves or quarters to create symmetry side to side or top to bottom. Her designs are inspired from a range of influences, from favorite musicians and songs, to characters from literature, to chance encounters.  Visitors to the gallery can use their smart phones to listen to Morgan talk about each piece, and sometimes, listen to the songs that served as inspiration.
Morgan's work was noticed many years ago by the PCA staff and board members at different charity auctions. She was generous in donating her framed images to support local nonprofits and families in need but didn't see herself as an artist. In 2008 she was invited to exhibit small pieces in the Lorenzen Board Room Gallery, and for the first time, buoyed by the response she got from viewers and buyers, she understood that she was doing important work. Last year, the exhibit committee at the Pendleton Center for the Arts recognized that the work she was doing warranted an invitation to exhibit in the East Oregonian Gallery, a space reserved for established artists, and she started in on the major body of work that visitors will see.
Concurrent with the East Oregonian Gallery exhibit, Brian Purnell and Alice Thomas had work on display in the Lorenzen Board Room Gallery.

Tap on each image to launch audio of Jenny talking about what inspired it.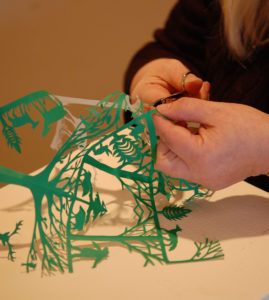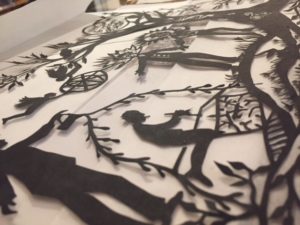 Bonnie Zahn Griffith: Pure Color
September 2018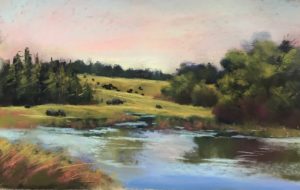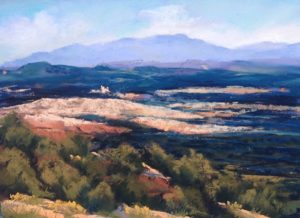 Bonnie paints the western landscape using the rich pigments of pastels and oils. Working in a representational yet impressionistic approach, she tells a story with her paintings; one that will resonate with the viewer from their own viewpoint.
"I am drawn to these mediums because they allow my best representation of the landscape with the brilliant pigments creating texture, light and mood in my paintings. My goal is to create works that draws the viewer in; allowing them to use their senses to experience the time of day, the warmth or coolness, the message of the painting – for themselves, to merely "get lost" in the work, experience it and make it their own. If that happens, then I have done my job."
Bonnie grew up in north central Montana on a ranch near the Missouri Breaks. Early on she experienced the rugged country, the big skies, the vegetation of this landscape mostly from the back of a horse. Memorable childhood vacations included trips to Glacier Park to enjoy the sharp contrasts of the landscape from central Montana. These trips continued through the years and painting some of the views of the park has been part of those experiences. Her parents were ranchers; her mother a talented visual artist; her father a musician. Art appreciation came early and studying the effects of light on the landscape and the colors were imprinted deep. She declared at an early age that she was an artist and that carried through along with a career in the medical arena until she began painting full time in the mid 1990's.
Bonnie has studied with several instructors such as Lorenzo Chavez, Robert Moore, Ned Mueller and others in developing her work. She works mostly en plein air, taking every opportunity to paint from life.
"My work turned the proverbial corner once I started painting seriously from life. You learn to see better, to capture light accurately and express yourself differently when working from photos. I do studio work as well, often with the aid of plein air studies."
The artist is a current resident of southwestern Idaho and spends significant time painting in Montana and Utah throughout the year. She participates in numerous plein air events in the western US, judges competitions and offers workshops in pastel techniques, both studio and plein air. Her work is represented by galleries across the western states. Collectors include corporate and private throughout the US, Canada and Australia. Bonnie's work can be seen on her website , Instagram (@bonniezahngriffith) and her Facebook page (Bonnie Griffith Landscape Artist).
Brian Sostrom: New Work
August 2018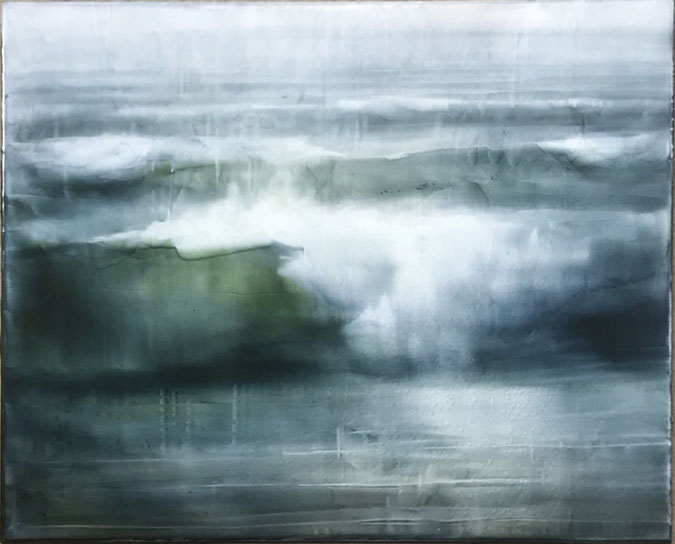 Brian Sostrom loves the physical nature of painting; the movement created, the bold marks, subtle blends, and strange ticks in the paint that seem to belong for no logical reason.
"The best work I make is the work I couldn't possibly reproduce," he says.
Sostrom will be exhibiting his work at the Pendleton Center for the Arts in August, beginning with an opening reception on Thursday, August 2 from 5:30 – 7:00 PM. The event is free, and membership is not required.
After spending a large portion of his life in front of a computer making digital art, creating something with a physical presence is important to him. Sostrom attended Washington State University, experimenting with all types of mediums, then learning about computer generated art and design. His commercial credits include a range of book cover designs, illustrations, and video games. While he considers his painting to be a vast departure from his on-screen pursuits, viewers often describe his paintings as having a "digital quality."

"I have really become obsessed with mark making; the contrast between the sharp and soft use of paint. The unusual result of various ways of applying paint is a fascinating thing to me."
While he loves the work of masters like Gerhard Richter, Albert Bierstadt and J.M.W. Turner, it's important to him that his work feels new and fresh as opposed to simply following the old traditions.
"I am always experimenting with my approach and materials," he said. "It drives my creativity and nurtures my curiosity."
One distinct and unique quality that is immediately apparent in the work is the surface texture.
"For years I was building up translucent surfaces with acrylic medium because I love the physical depth. At a certain point I was literally spending too much time waiting around watching paint dry. I thought, 'why not buy plexiglass and try that?' I waited about two years before actually trying it. I loved the slick, non-absorbent surface. It is unforgiving and captures every mark I make."
These marks often evoke landscapes that feel familiar. While his paintings don't depict distinct places, they are firmly rooted in the land and water of the Pacific Northwest, where he was born and raised. Based now in Idaho, he grew up around the rural Northwest and has strong ties to Astoria, which explains the prevalence of water in his imagery.
Sostrom's paintings seek to elicit a personal, emotional response, with moody darks and luminous lights that combine to create places that are at once empty and eternal.
Roberta Jones
in the Lorenzen Board Room Gallery
August 2018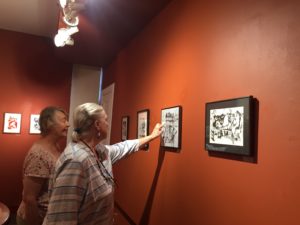 Concurrent with Sostrom's exhibit in the East Oregonian Gallery, local artist Roberta Jones will exhibit her monotypes and mixed media works in PCA's Lorenzen Board Room Gallery. Jones holds a master's degree in painting and served as an art instructor and art coordinator in Pendleton for many years. She's considered one of the pillars of Pendleton who fostered the art and music scene decades ago, laying the foundation for what's now a vibrant cultural community.
In this new body of work, she is interested in the formal aspect of art making but also things like movement abstraction.
"I love the dynamism of space and shapes," she says. "I don't want to label things for the viewer; I want the viewer to move closer, then step back. Your view and interpretation of an artwork changes greatly when you step back."
Though she is also known for her sculpture and painting, it's printmaking that was Jones' refuge as her late husband became ill and continues in her journey through dealing with grief.
"When I'm making prints, I'm operating on an unconscious level," she said. "I'm working water-based ink onto a glass plate, and at some point it's no longer in motion. At that stage I cover the plate with paper and rub the back of the page with my fingertips."
Jones then peels back the paper and decides whether she needs to respond to the image with additional marks. She sometimes incorporates pencil, collage or other mediums, but always keeps the imagery open to interpretation.
"It's a way for people to see into themselves and to see into my thought process too," she says.
Katherine Treffinger: New Work
July 2018

Open Regional Photography Exhibit Recap
We had 147 entries in this year's Open Regional event. Our congratulations go out to Larry Wright, winner of this year's Best of Show award, and to Adam Sims, whose photo "Face Rock" garnered the most votes for the Jacqueline Brown People's Choice Award.

Adam Sims was born in Eastern Oregon in 1988 and has lived here his entire life. He didn't develop his interest in photography until 2007, and he is completely self-taught through research and practice. Adam Sims has always been interested in the natural world around him. He believes that photography has given him the opportunity to not only appreciate the beauty around him but interact with it as well. Adam's work is always simply titled with the subject and date the photograph was taken.
Louise Bourgeois:
Selections from the Collection of Jordan D. Schnitzer and His Family Foundation
We were proud to present work by one of the most important artists of the 20th Century in the East Oregonian Gallery here at PCA. Louise Bourgeois (1911-2010) was a French-American artist whose work explores themes of childhood, domesticity, family, gender roles and sexuality. While her room-sized spider sculptures are probably the most recognizable works of her long career, she was an accomplished printmaker whose works on paper were created over a span of 70 years. The images selected from the collection of Jordan D. Schnitzer and His Family Foundation provided an important overview of her work.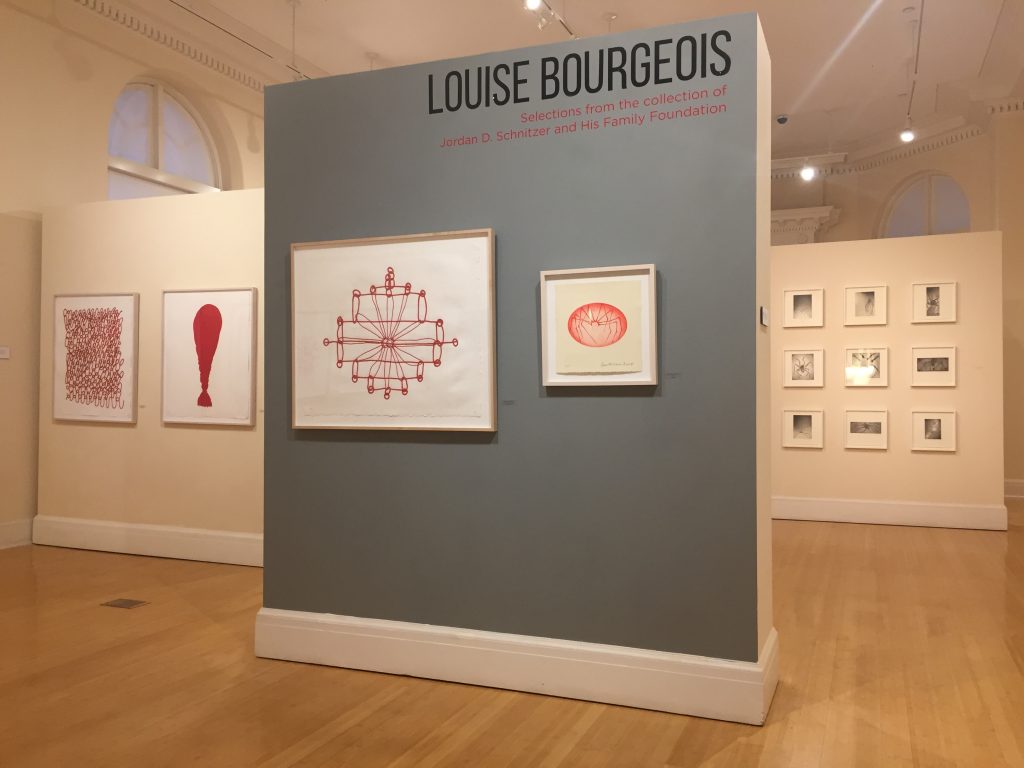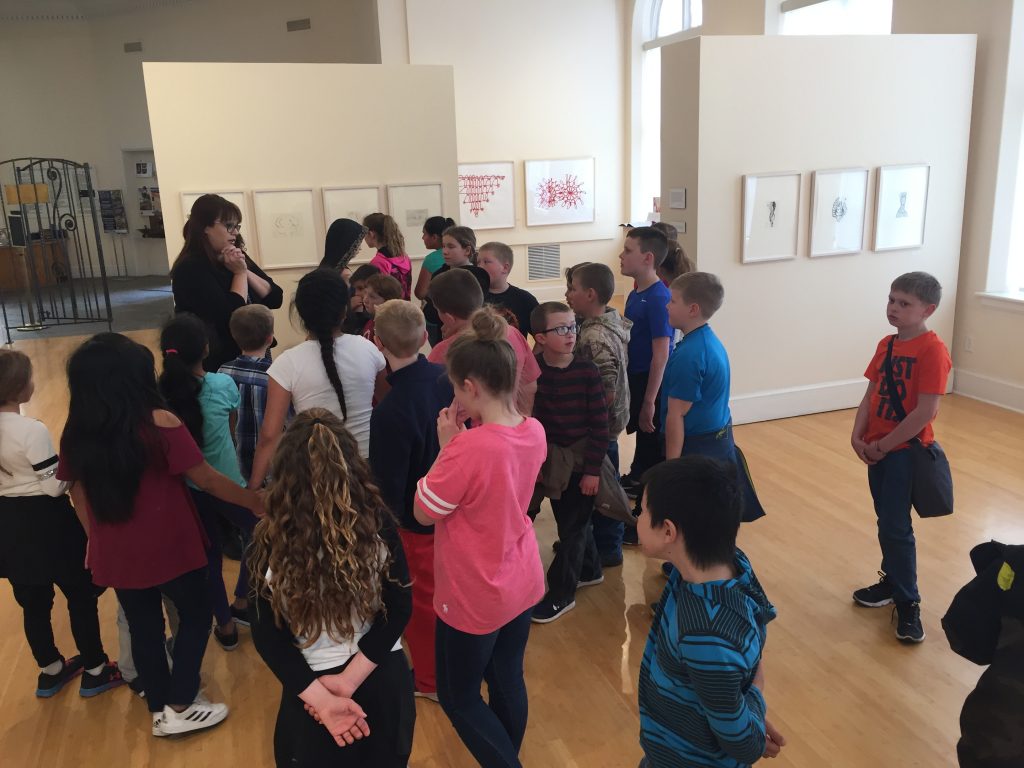 Chuck Close:
Selections from the Collection of Jordan D. Schnitzer and His Family Foundation
If you love ink, paper, and masterful printmaking technique then Chuck Close is probably one of your favorite artists. His explorations into how shape and color can be combined to create images that appear to be continuous tone from afar but are abstract up close are a delight to see in person. More than 1000 kids got to learn about his life and work, and many were inspired by his ability to overcome obstacles to become successful.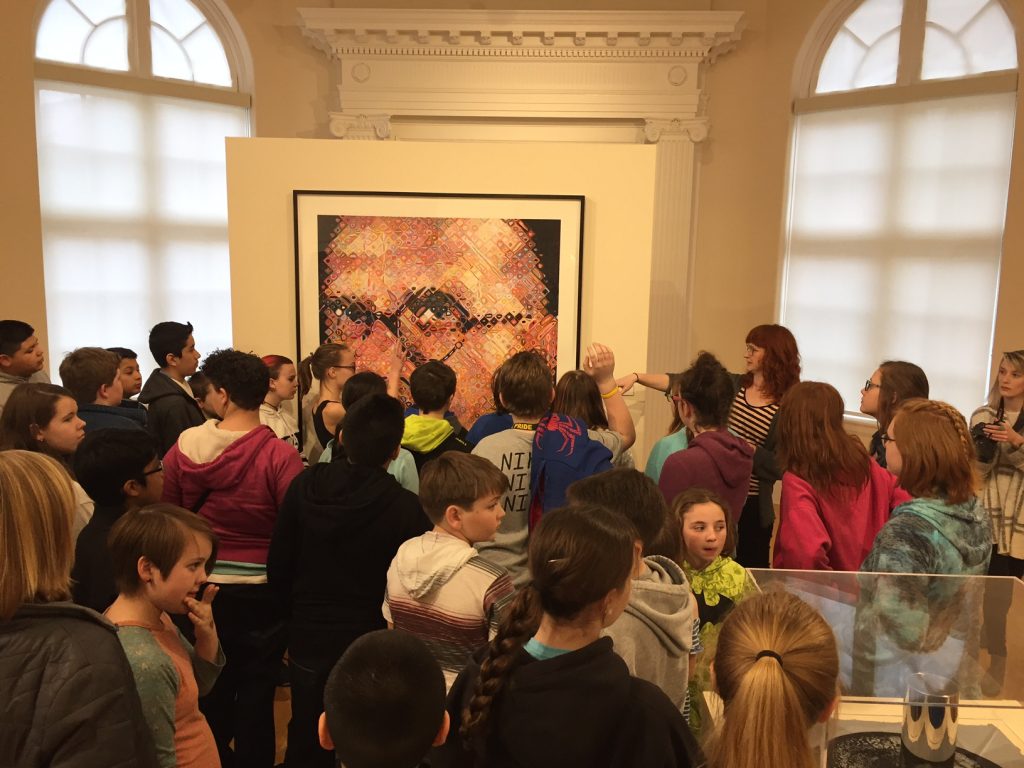 Frank Janzen: Above/Below
"Having grown up with abstract art as my first love I am surprised, in some ways, to be doing 'landscapes'. I arrived in 2001 and it wasn't until 2005 that my artwork changed and I have become fascinated with the plateau area with it's many shapes, patterns, colors and the multiplicity of forms that it takes on under varying light and weather conditions.
After a two-year drought of any art making, the Above/Below series came in being and is a continued exploration of not only the external land that we see but also a glimpse of possibilities of what may lie underneath.
Over a period of time of studying the patterns in the land, driving back and forth to work, it struck me that the soft, gently rolling hills actually form triangles which is one of the most stable geometric forms. This is noted not only in the hills but also in the fields laid out in strange angles with the greens (of which there are many different hues) blending into various ochres and into the grays and browns of raw earth. The jet-blacks of a burnt stubble fields only accentuate and intensify the surrounding colors.
The smoke is an ephemeral element, visible when created by the fire below and dissipating unseen into the summer haze when the burning is complete. The only control that I have in creating the smoke on paper is the number of matches used. What patterns come out are totally beyond my control so I become fascinated by using the hard-edged contours to respond to it."
Frank Janzen, Tamarind Master Printer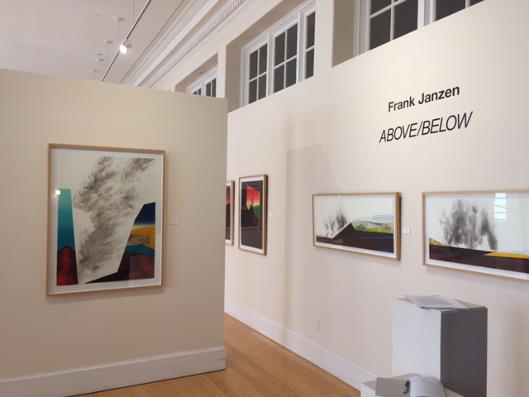 Reflections on the Columbia Plateau
Each year artists and printmakers descend on Crow's Shadow Institute of the Arts and create works on paper inspired by the amazing landscape surrounding the studio, nestled in the foothills on the Umatilla Indian Reservation. This exhibit showcased the best work made in the past 5 years.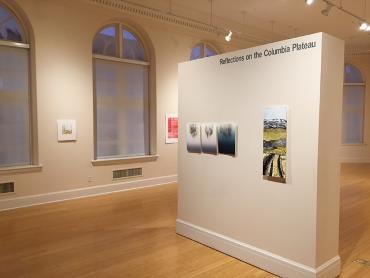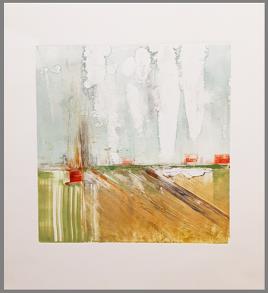 We Tell Ourselves Stories
in Order to Live
This traveling exhibit is a showcase of the 12 Oregon artists honored by the Ford Family Foundation with Hallie Ford Visual Arts Fellowships. View some of the best work being done in the United States, accompanied by a fantastic 20-page catalog you can read online or pick up in print during the exhibit.
View more images from the exhibit when it was at the Museum of Contemporary Craft HERE
Read up on Joan Didion and find several great essays HERE
We Tell Ourselves Stories in Order to Live is organized by the Museum of Contemporary Craft in partnership with Pacific Northwest College of Art, Portland, Oregon. The exhibition is made possible by major funding from The Ford Family Foundation, along with the Western States Arts Federation (WESTAF), National Endowment for the Arts (NEA) and the Oregon Arts Commission (OAC).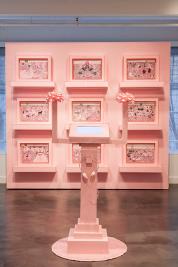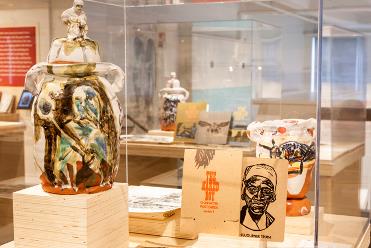 2010  Daniel Duford, David Eckard, Heidi Schwegler
2011   Sang-ah Choi, Bruce Conkle, Stephen Hayes
2012  Ellen Lesperance, Akihiko Miyoshi, Michelle Ross
2013  Mike Bray, Cynthia Lahti, D.E. May
Other exhibits in the East Oregonian Gallery
Joanne Donaca.  July/ August 2004
Contemporary Western Exhibit. (Patricia Freeman Martin, Joey Lavadour, Marlene Lavadour, Suzanne O'Rourke, Lillian Pitt, Richard Stapleman, Zan and Patience Traughber, Duff Severe, Cass Spangerude), September 2004
Palma Corral and Aaron Engum, October 2004
Frank Janzen: Land Whispers, January, February 2006
Places: Four Points of View (Cheryl Cosner, Roy Anderson, Jim Simpson, Joyce Anderson). May/June 2006
Colleen Sargen/Andrew Geaslend: Mixed Media. June/July 2006
Don Gray/Don Gray: A Two-Man Show, July/ August 2006
Jan Beitel and Randy Gundlach, September 2006
Healing Through Art: Women, AIDS and Hope in South Africa, October 2006
Carole McCarty: Cloudscapes, Jan/Feb 2007
Glenn Grishkoff: Brushing Away the Dust, March 2007
Eva Lake: Earth Quake, May/June 2007
Squire Broel, June/July
Lillian Pitt: Ancestors, July/ Aug 2007
Doug Gisi: New Work, Sept/Oct 2007
Bonnie Zahn Griffith: A Hundred Mile Radius, Sept/Oct 2007
Mare Blocker: Palouse Narratives, Oct/Nov 2007
Margaret Jamison: Inner Circle, Jan/Feb 2008
Printers Trifecta: Three Print Portfolios curated by MaLynda Poulsen Jones, Feb/March 2008
Jean Christofori Howton, April 2008
Art/Craft: New Intersections (Bill Piper, Claude Birt, Ed Brannon), June/July 2008
Kat Galloway: The Belted Galloways, July/Aug 2008
Jeremy Lilwall: Internal Rhythms of Madcap Inquires, August 2008
Philip Miner, Sept 2008
Catherine J. Lee, Oct/Nov 2008
Michelle Acuff, February 2009
Meredith Re'Grimsley: Honey and Pearls Feb, March 2009
Julia Henning, April 2009
Woven Works by Northwest Masters (Joey Lavadour, Pat Courtney Gold, Joe Fedderson, Mary Schlick, Patrice Hall-Walters), June/July 2009
Anne Greenwood, July 2009
Artist Series Tapestries from the Pendleton Woolen Mills, Aug/Sept 2009
Marie Watt: Pendleton Stories, Sept/Oct 2009
Oregon College of Art and Craft Invitational, Nov 2009
James Thompson: The Vanishing Landscape, Jan-March 2010
Jennifer Ishimatsu, Views: Open and Obstructed, March/April 2010
Steve Henderson: In Search of Quiet Places, April/May 2010
Monica Stobie: THREADS, June/July 2010
Pendleton Roundup at 100: Design Binding Competition, July/Aug 2010
Sandra Jones Campbell: Recollections, Sept 2009
MaLynda Poulsen: The Gilded West, Oct/Nov 2010
Sam Collette: Recent Works, Jan/Feb 2011
Sandra Harris March, April 2011
Janice Jakielski May, June 2011
Kevin Boylan: Windows, June-Aug 2011
Doug Kaigler, Aug/Sept 2011
Patricia Freeman-Martin: Works on Paper, Sept/Oct 2011
Mary Farrell: Line Upon Line, Oct/Nov 2011
Melinda Thorsnes, Feb 2012
Nell Warren/Greg Misarti: Remnant, March 2012
Glass of Eastern Oregon (Kevin Boylan, Andy Nichols, Tom Dimond, Jake Kurtz, Brent Wydrinski, Russel Ford, Charlene Fort), April 2012
Dawn Forbes: Creature Comforts, July 2012
Margaret Jamison:Character Studies, July 2012
Generations: Betty Feves, Aug/Sept 2012
Jessica Plattner: Babyscapes, Oct 2012
Oregon Artists in Collaboration with Crow's Shadow Press, Feb 2013
Christy Wyckoff: Landscapes Observed and Created, March 2013
Arlen Clark: 30 Years of Painting, April 2013
Keiko Hara: Prints 1981-2013, July 2013
Clay Invitational, Aug 2013
Don Gray, Sept 2013
Peter Bryan: Works on Paper, Oct/Nov 2013
Stephen Wadner/Tom Clement, Feb 2014
Susan Murrell: Embedded, March 2014
Keaney Rathbun, April 2014
James Thompson: Linear Metaphysics, July 2014
Gregory Pierce, Aug 2014
Peter Christian Johnson, Sept 2014
We Tell Ourselves Stories in Order to Live, Oct 2014
Reflections on the Columbia Plateau, Feb 2015
Whispers: Collaborative Quilt Series, March 2015
James Lavadour Venice Biennale Preview Exhibit, March 2015
Open Regional Exhibit, April/May 2015
Aaron Robert Miller: Accomplishments, June/July 2015
Frank Janzen: Above/Below Series, Aug 2015
Dale DeGabriele: Images of Round-Up, Sept 2015
Hiroko Cannon: New Work, Oct 2015
Tom Prochaska/Christy Wyckoff: In the Footsteps of Charles Heaney, Feb 2016
Frances Stilwell: Oregon's Botanical Landscape, March 2016
Nika Blasser: light mirror | mirrow shadow, June 2016
Mike King: SMASH HITS! July 2016
Peter Rock: SPELLS, Aug 2016
East Oregonian Photography Exhibit: (Kathy Aney, E.J. Harris, et. al.), Sept 2016
Arlen Clark: New Works, Oct 2016
Whitney Minthorn, February 2017
Chuck Close: Selections from the Collection of Jordan D. Schnitzer and His Family Foundation, March/April 2017
PDX->PDT (Amjad Faur, Bean Finneran, Ellen George, Johannes Girardoni Elizabeth Knight, James Lavadour, D. E. May, Kristen Miller, Wes Mills, Megan Murphy, Vanessa Renwick, Tad Savinar,  Adam Sorensen, Barbara Stafford, Storm Tharp, Terry Toedtemeier, Gus Van Sant, Molly Vidor, Nell Warren, Marie Watt, Anna Gray + Ryan Wilson, Masao Yamamoto), July 2017
Small Works Invitational (Joyce Anderson , Roy Anderson, Judith Baumann, Lorie Baxter, Nika Blasser, Kevin Boylan, Hiroko Cannon, Shari Dallas, Bonnie Griffith, Carl Merkle, Penny Michel, Michelle Miller, Brian Purnell, Amy Rogers, Lori Sams, Alice Thomas) August 2017
Malcolm Phinney: Prairie Paintings, Sept. 2017
James Allen: Book Work, Recent Excavations, Oct. 2017
Wilderness and Sublimity: Photography and the Conservation of Hells Canyon, Feb. 2018
Louise Bourgeois: Selections from the Collection of Jordan D. Schnitzer and His Family Foundation, March/April 2018
Katherine Treffinger: New Work, July 2018
Brian Sostrom: New Work, August 2018
---