Selected Past Exhibits
We've been proud to host a wide range of exhibits in the East Oregonian Gallery, from blue-chip icons of contemporary art to notable northwest talent to local emerging artists whose work is on the rise. You can browse through materials on some of our past exhibits a the Oregon Arts Commission's Oregon Visual Arts Ecology Project. Check out some of our favorite exhibits below.
2023 Open Regional: 50th Anniversary
Select any image to start the slide show.
2023 Open Regional Awards
The 50th Anniversary of the Open Regional Exhibit at the Pendleton Center for the Arts attracted not only a record crowd but the largest number of entries in the 22 years the event has been held at the renovated Carnegie building. On Thursday, March 9th  invited judge Judith Baumann handed out $1000 in awards, selecting ten works from the 174 submissions for recognition.
The Best of Show went to Walla Walla painter Dale Hom for his piece Chinese Pioneer Series: Dragon Dance on the Metal Road. The vivid palette and confident brush strokes combine in the piece to illuminate the story of Chinese pioneers in a powerful way.
Dalton Mauzay of La Grande took home the Adult First Place award for his piece Coloring Inside. In speaking about the piece Baumann noted the use of colored pencils, not as a mark-making tool but as a sculptural element, which added an intriguing layer to the work.
Walla Walla County & Tools of the Trade by Twila Johnson-Tate of Waitsburg, Washington was recognized with Adult Second Place and Ascension, a turned wood sculpture by Scott Bartholomew of Pendleton received Adult Third Place.
Honorable Mentions were awarded to Walla Walla artist Katy Rizzuti, and Pendleton artists Cindy Sullivan and Michael Poland.
In the teen category, Lucas Long of Pendleton received First Place for his drawing Howl's Moving Castle. In talking about the piece, Baumann noted how it was clear from the mastery of the pen lines that the artist had been drawing for a long time.
Leo Reeves of Pendleton was awarded Second Place for his ceramic work Sea Slugs, and Pendleton teen Summer Wildbill received Third Place for her painting Donut.
The Jacqueline Brown People's  Choice Award was awarded to Sofi Smith for her in drawing "Life's Journey."
Emily Somoskey + Andrew Somoskey
While Emily and Andrew Somoskey both create paintings that incorporate layering and abstraction, each artist has a distinctly different approach to their work, resulting in an intriguing resonance when the paintings are in proximity to one another. The viewer's brain seeks to compare and contrast, and the work, already rich and complex, and thought-provoking, takes on an additional dimension.
Both artists received their Masters of Fine Art degrees from Michigan State University, Andrew in 2019 and Emily in 2020. After graduation, the married couple moved to Walla Walla, where Emily began work as a Visiting Assistant Professor of Art at Whitman College.
"Seeing both artists' work in the same space is a great way for visitors who aren't well-versed in abstract art to develop an eye for underlying structure," said Roberta Lavadour, Executive Director at the Pendleton Center for the Arts. "Having two different processes, both in thought and execution, brings home the fact that 'abstract' doesn't mean 'random.'"
Andrew Somoskey's work incorporates the activity of encoding and decoding information that is central to our contemporary existence and to his artistic practice. The paintings center around textual and symbolic language, using specific texts, graphs, and symbols in conjunction with personal notational systems, including the idiosyncratic strategies he developed to mitigate his dyslexia and dysgraphia.
Emily Somoskey's mixed-media paintings explore the ways we simultaneously experience physical and mental space. Built through layering paint and various forms of photographic imagery, they create a complex and nuanced language that weaves together moments of clarity and ambiguity. The works give form to the complexity, instability, and enigmatic nature of our lived experiences.
Shari Dallas: Recent Paintings
Opening Thursday, Oct. 13, 2022 with a reception from 5:30 – 7:00 PM
Made possible through the generous support of Harriet Isom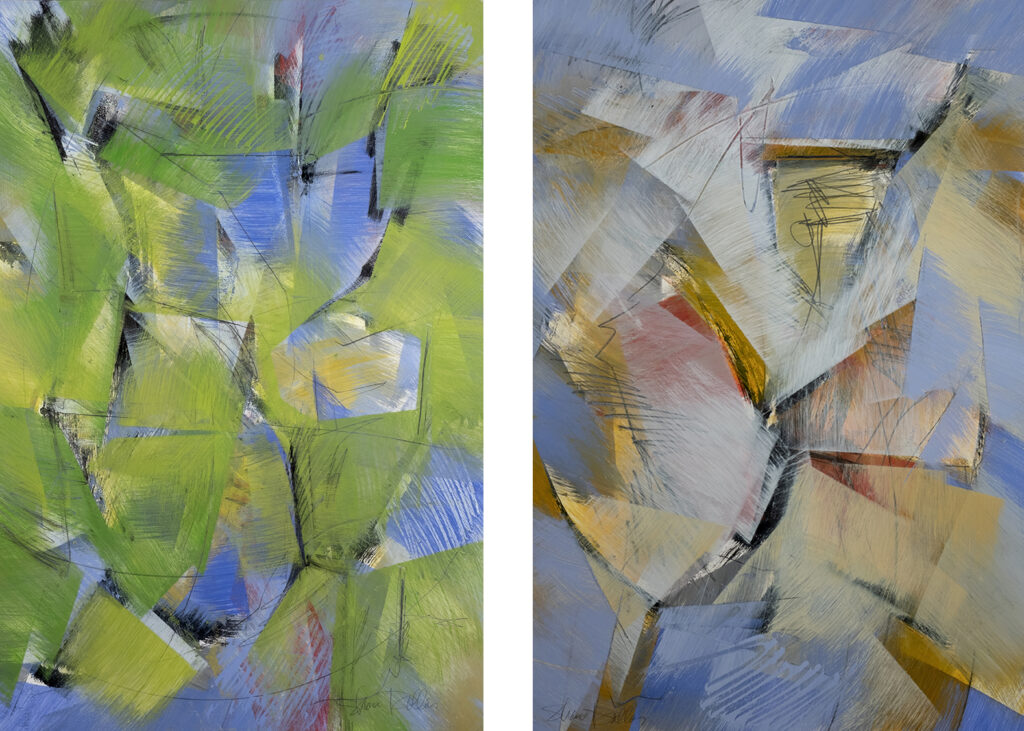 For Shari Dallas, having her new paintings hang in the East Oregonian Gallery at the Pendleton Center for the Arts feels like a homecoming.
"I've loved that space at the old library building my whole life," said Dallas. "Living out on the farm, it was our family's meeting place when I was growing up. If we were in town between events, you were supposed to be at the library. I had my favorite chair, which was actually in the room where the gallery is now."
This will be her first solo exhibit at the Pendleton Center for the Arts, though her work is widely known and appreciated in the region. She considers these new paintings a continuation of the body of work she's been engaged with for the past several years, but notes that they have evolved in an interesting way.
"I've learned a lot in the past couple of years about the materials that I use," she said. "It's allowed me to simplify my work, making what I'm doing a bit cleaner and more direct. I have such a visceral reaction to the world around me, and I feel like I'm now able to more quickly capture those reactions in my paintings."
Dallas describes art-making as a way of interacting with the world. "I have no idea why I have a need to interact this way – any more than someone who's compelled to write, or dance, or hit a ball on the golf course. Some of us just have a need to engage with the world in a specific way, and that way for me is painting."
She cites expressionist painters of all kinds as her inspiration, from the German expressionists to the mid-century abstract expressionists, to the work of Basquiat and graffiti artists. "I'm drawn to any artist who works as though their materials are simply an extension of their own fingers, hands, and arms."
The East Oregonian Gallery at PCA features work by mid-career regional artists as well as artists from outside the region, some of whom are icons of contemporary art.
"I've loved what has transpired there in the years since the library moved and we used the emptied-out room where the gallery is now to teach workshops," she noted. "That space captures the northwest light that I love, and there have been wonderful exhibits over the years—having my work there feels like a privilege to me."
Enrique Chagoya:
From the Collections of Jordan D. Schnitzer and His Family Foundation
Watch videos of Chagoya answering questions at the Opening Reception HERE.
We're beyond delighted to be hosting a solo exhibit of work by one of the most important and exciting artists working today.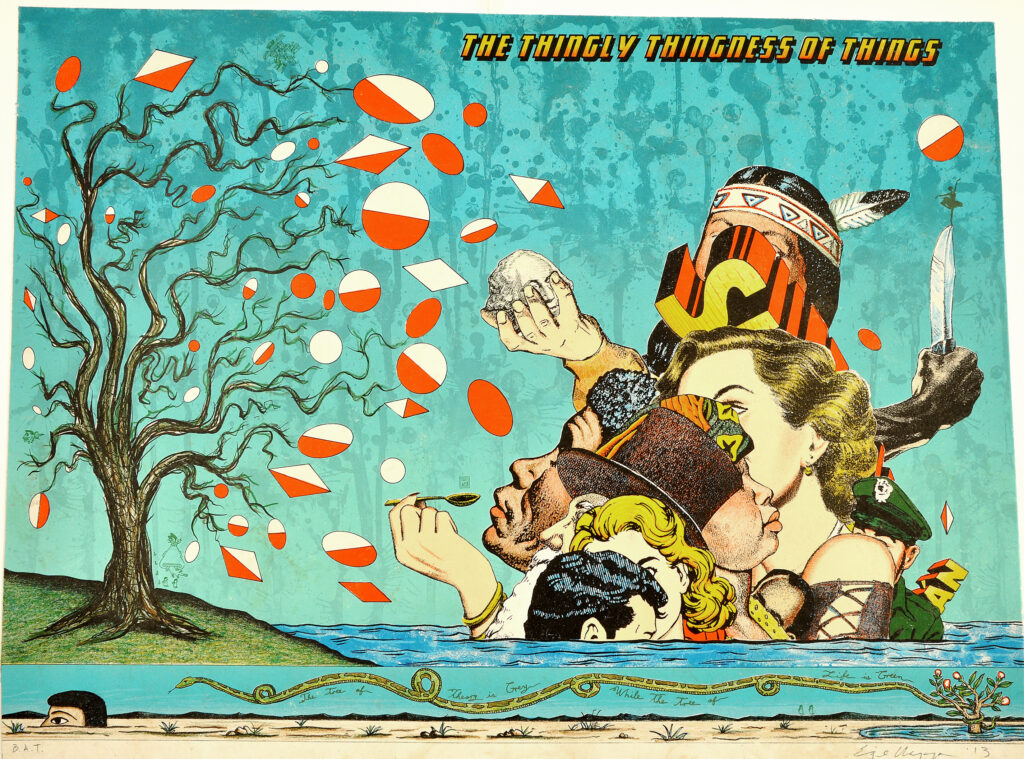 With the support of Jordan Schnitzer and His Family Foundation, the Pendleton Center for the Arts has carved out a reputation for punching above its weight when it comes to mounting major exhibitions in its East Oregonian Gallery. After four previous exhibits over the last five years that featured such art-world heavy hitters as Chuck Close, Louise Bourgeois, Ellsworth Kelly, and Kara Walker, the Center is getting ready to open perhaps its most ambitious showing; a solo exhibition of work by the acclaimed Mexican artist Enrique Chagoya. The exhibit opens on Friday, August 5 and runs through October 6, 2022. An Opening Reception on Friday, August 5 from 5:30-7:00 PM is free and open to the public. 
Enrique Chagoya is both an artist and a satirist. Born and raised in Mexico City, he studied political economics at Universidad Nacional Autónoma de México in the 1960s, and in the 1970s he moved to California to study at the San Francisco Art Institute. He received both his MA and MFA at the University of California, Berkeley. He is currently a full Professor at Stanford University's department of Art and Art History and his work can be found in many public collections including the Museum of Modern Art in New York, the Metropolitan Museum of Art, the Whitney Museum of American Art, San Francisco Museum of Modern Art, and the Fine Arts Museums of San Francisco among others.
Chagoya uses familiar pop icons to create deceptively friendly points of entry for the discussion of complex issues. Because he is rooted in both American culture and Mexican culture, he's able to move back and forth between the two, which informs his commentary on everything from history to current events. His work juxtaposes secular, popular, and religious symbols in order to address the ongoing cultural clash between the United States, Latin America and the rest of the world. He borrows from other artists, Marvel comics, prints by the European "Old Masters", and other sources, removes images from their original context, then re-imagines them in combinations and juxtapositions that reveal absurdity, irony, and humor. His work is said to have the subtle and sophisticated ability to make people laugh and think at the same time.
Chagoya refers to drawing and printmaking as very humble mediums; he notes that they make him feel free. He's made 100s of drawings and prints over the past 30 years, and began working in the book form in 1992, which was also the 500th anniversary of Christopher Columbus's trip to the "New World." Many of the works in the Pendleton exhibit are printed books in the style of the pre-Columbian Codex. Before colonization, Indigenous people throughout what is now Mexico and Central and South America created painted books that recorded history, science, land tenure, tribute, and sacred rituals using amate, a paper-like material, or prepared animal skins that were accordion-folded. Today only a handful of the thousands of books that existed before the Spanish conquest still exist. Some of the Chagoya books in the Pendleton exhibit stretch out to almost eight feet long when displayed.
The Pendleton Center for the Arts will have a series of demonstrations and hands-on workshops for youth and adults while the exhibit is on view. Guests will have opportunities to experience silk-screen and relief printing, make their own accordion books, and learn to make Amate. Dates and times will be posted at PendletonArts.org on Aug. 1, and all activities will be provided free, thanks to the generous support of the Jordan Schnitzer Family Foundation.
The Pendleton Center for the Arts is located in downtown Pendleton, 3.5 hours east of Portland on Interstate 84. The Center is housed in a historic Carnegie Library building on the banks of the Umatilla River. Extended hours will be available during the Chagoya exhibit, and private before-and-after-hours tours can be booked by emailing Roberta Lavadour at director@pendletonarts.org.
View some great videos of Enrique talking about his work HERE. 
About Jordan D. Schnitzer and His Family Foundation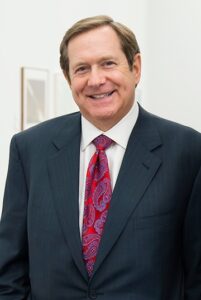 At age 14, Jordan D. Schnitzer bought his first work of art from his mother's Portland, Oregon contemporary art gallery, evolving into a lifelong avocation as collector. He began collecting contemporary prints and multiples in earnest in 1988. Today, the collection has become one of the most important post-war and contemporary collections in all mediums, exceeding 20,000 objects and has grown to be the country's largest private collection of prints. He generously lends work from his collection to qualified institutions with no additional fees. The Foundation has organized over 180 exhibitions and has had art exhibited at over 160 museums.
For more information about the Jordan Schnitzer Family Foundation, please visit jordanschnitzer.org
Enrique Chagoya
American, born in Mexico City, Mexico
Lives in San Francisco, California
Drawing from his experiences living on both sides of the U.S.-Mexico border in the late 70's, and also in Europe in the late 90's, Enrique Chagoya juxtaposes secular, popular, and religious symbols in order to address the ongoing cultural clash between the United States, Latin America and the world as well. He uses familiar pop icons to create deceptively friendly points of entry for the discussion of complex issues. Through these seemingly harmless characters Chagoya examines the recurring subject of colonialism and oppression that continues to riddle contemporary American foreign policy.
Chagoya was born and raised in Mexico City. His father, a Banco de Mexico (the mint) employee by day and artist by night, encouraged his interest in art by teaching Chagoya color theory and how to sketch at a very early age. As a young adult, Chagoya enrolled in the Universidad Nacional Autónoma de México, where he studied political economy and contributed political cartoons to union newsletters. He relocated to Veracruz  and directed a team focused on rural-development projects, a time he describes as "an incredible growing experience…[that] made me form strong views on what was happening outside in the world."[1] This growing political awareness would later surface in Chagoya's art. At age 26, Chagoya moved to Berkeley, California and began working as a free-lance illustrator and graphic designer. Disheartened by what he considered to be the narrow political scope of economics programs in local colleges, Chagoya turned his interests to art. He enrolled in the San Francisco Art Institute, where he earned a BFA in printmaking in 1984. He then pursued his MA and MFA at the University of California, Berkeley, graduating in 1987.  In 2017 he received an Honorary Doctorate degree from the San Francisco Art Institute. He  was an artist in residency at Giverny gardens in France before moving to San Francisco in 1995. In 1999 he was an artist in residency at the Cité Internationale Des Arts in Paris. In 2000 he became a U.S. Citizen, but kept also his Mexican Citicenship.
Chagoya has been exhibitng his work nationally and internationally for over two decades with a major retrospective Borderlandia organized by the Des Moines Art Center in Iowa in 2007 that traveled to UC Berkelye Art Museum and to the Palms Spring Art Museum in 2008 ( fully illustrated bilingual catalog was published).
In 2013 his first major traveling survey in Europe (tri-lingual catalog in English-Spanish-Euskera was published) Palimpsesto Canibal/Cannibal Palimpsest was organized by ARTIUM Museum in the Basque Country (opened at ARTIUM in Vitoria-Gasteiz in the Fall of 2013 and at Centro Atlantico de Arte Moderno-CAAM in the Canary Islands in the Winter of 2015).
In 2015 a traveling print component from his retrospective Palimpsesto Canibal opened at Instituto de Artes Graficas de Oaxaca IAGO, and traveled to the Museo Nacional de la Estampa MUNAE in Mexico City in the winter of 2016. The same year he had a solo exhibition of paintings and works on paper Recent Work by Enrique Chagoya at Anglim Gilbert Gallery in San Francisco, California. In 2017 he was included in an exhibiton of American Pop art that opened in the winter at the British Museum in London, and in the fall he opened an survey of his prints at the McIninch Art Gallery at the Southern New Hampshire University.
In January 2018 he opened a survey of paintings, drawings and prints Aliens Sans Frontières at Marion Gallery at New York State University in Fredonia, NY, and in March an exhibition of new works Prints and Multiples by Enrique Chagoya at the Nevada Museum of Art in Reno, NV. In April opened a solo exhibition of Paintings and works on paper the George Adams Gallery in NYC.
In 2019 he had two solo exhibitions, Everyone is an Alienígeno at Florida Gulf Coast University Art Gallery, Fort Meyers, FL; Detention at the Border of Language Survey of prints, paintings drawings and multiples at the Coulter Gallery, Department of Art and Art History, Stanford University, Stanford, CA; He also was in a group exhibition Eye to I: Selfportraits From 1900 to Today at the Smithsonian National Portrait Gallery, through June 2019.
In 2020 he had two solo exhibitions, Detention at the Border of Language  at the Triton Museum in Santa Clara, CA, and The Seven Deadly Sins/Utopías Coloniales recent work done during shelter in place at Anglimh/Trimble Gallery in San Francisco, CA (October-December). A group exhibition (online due to Covid-19) (Re)Print: Five Print Projects at the International Print Center in New York, NY.
In 2021 he was included in the exhibition Printing the Revolution! At the Smithsonian Museum of American Art in Washington. In the fall he opened a survey of his codices and artists books Borderless at the California Palace of the Legion Art Museum in San Francisco, and a two person exhibition Double Trouble with artist Kara Maria, at the Sonoma Valley Museum of Art.
In 2022 an exhibiton of his codices Detention at the Border of Language opened at Edgewood College Gallery in Madison, WI. In the fall he is scheduled to have a solo exhibition at George Adams Gallery in New York, NY
A recent monograph "Alien"s was released in 2019, published by Kelly's Cove in Berkeley, California.
He is currently Full Professor at Stanford University's department of Art and Art History, and his work can be found in many public collections including the Museum of Modern Art in New York, the Metropolitan museum, the Whitney Museum of American Art, San Francisco Museum of Modern Art, and the Fine Arts Museums of San Francisco, Museo Nacional de la Estampa, Instituto de Artes Graficas de Oaxaca and Fundacion Televisa in Mexico, and ARTIUM Museum in Vitoria Gasteiz in Spain, among others. He has been recipient of numerous awards such as two NEA artists fellowships, one more from the National Academy of Arts and Letters in New York, residencies at Giverny and Cite Internationale des Arts in France, and a Tiffany Fellowship, an Honorary Doctorate from the San Francisco Art Institute in 2017, an induction to the National Academy of Design, and a Lifetime Achievement Award in Printmaking by the Southern Graphics Conference International in 2020, and a Guggenheim Fellowship in 2021.
He is represented by Anglim/Trimble Gallery in San Francisco, George Adams Gallery in New York, and Lisa Sette Gallery in Phoenix, AZ. His prints are published by Shark's Ink in Lyons, Co, Electric Works in San Francisco, CA, Magnolia Editions in Oakland, CA, ULAE Bay Shore, NY.
[1] Enrique Chagoya quoted in Steven Nash, "Borders of the Spirit," Triptych (October/November/December 1994) 24.
Featured Residents from PMRCAA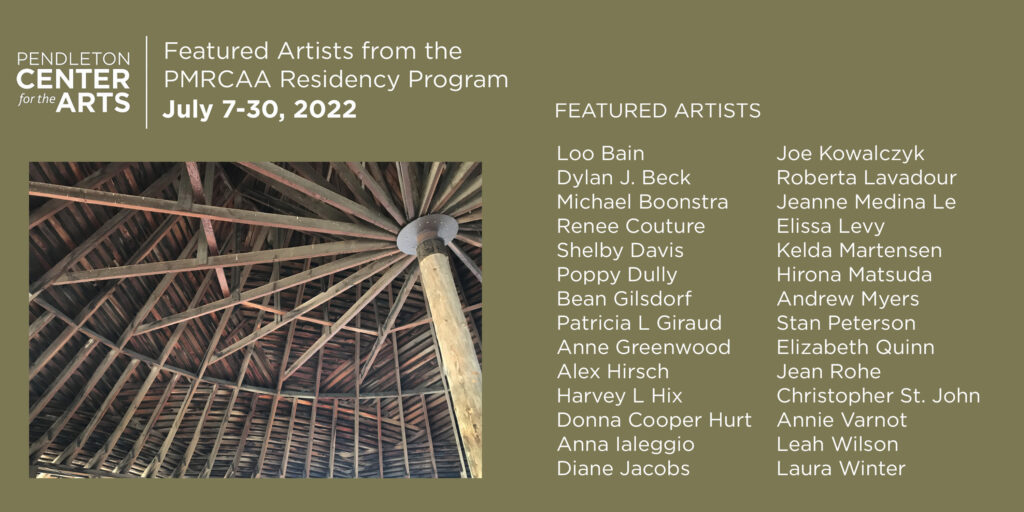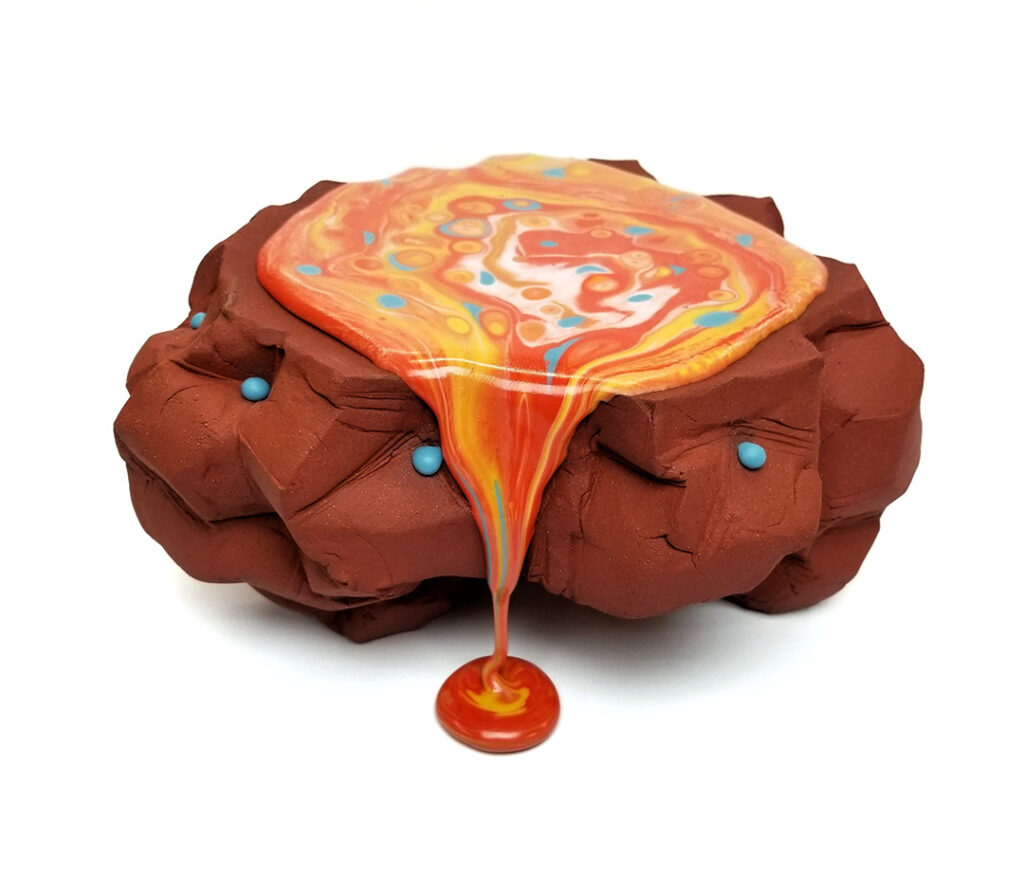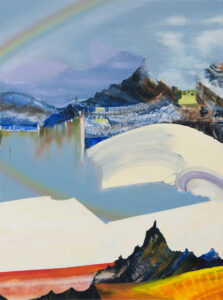 Featured Residents from PMRCAA
Watch a video walk-through HERE. 
When imagining the creation of contemporary art, a working ranch is usually not the first thing that comes to mind. But far from universities, gallery spaces, and artist's studios, Pine Meadow Ranch Center for Arts and Agriculture (PMRCAA) is fostering the creation of new work by artists, ecological scientists, and scholars. An exhibit of work by PMRCAA residents was on view in the East Oregonian Gallery in July 2022.
Pine Meadow Ranch Center for Arts & Agriculture is a 260-acre working ranch just outside Sisters, Oregon operated by the Roundhouse Foundation. They connect sustainable agricultural practices, conservation, and the traditional skills integral to ranching life with the arts, sciences, and contemporary crafts. The exhibit in Pendleton features work by twenty-eight artists who have spent time at PMRCAA in two to four-week visits over the past four years. It illustrates the wide range of media that the residency supports, including poetry and writing, photography, painting, drawing, book arts, ceramics, sculpture, printmaking, textiles, and music.
Residencies are an important facet of support for an artist or scholar. They provide time and space to work, away from the distractions and obligations of day-to-day life. PMRCAA provides not only an opportunity to live and work outside an artist's usual environment, invited guests learn about the work involved in growing food, raising livestock, and being the stewards of a gorgeous piece of land looked down upon by the Three Sisters, Broken Top and Black Butte. Whychus Creek runs through the middle of the property. Artists work in historic buildings all over the ranch, with names like the Dairy Barn, the Pickle Room, and the Old Shop.
Occasionally artists arrive at the Ranch with a project in mind, but more often they leave themselves open to responding to the place itself, which is rich in open space, beautiful scenery, and materials for art-making. Residents are asked to contribute to the ranch by taking on jobs like collecting eggs or tending gardens and often present workshops or artist's talks in the community.
Artists featured include Loo Bain, Dylan J. Beck, Michael Boonstra, Renee Couture, Shelby Davis, Poppy Dully, Bean Gilsdorf, Patricia L Giraud, Anne Greenwood, Alex Hirsch, Harvey L Hix, Donna Cooper Hurt, Anna Ialeggio, Diane Jacobs, Joe Kowalczyk, Roberta Lavadour, Jeanne Medina Le, Elissa Levy, Kelda Martensen, Hirona Matsuda, Andy Myers, Stan Peterson, Elizabeth Quinn, Jean Rohe, Christopher St. John, Annie Varnot, Leah Wilson, and Laura Winter.
The exhibit in Pendleton marks the first time that residents from the program have shown their work as a group.
"Even though we designed the residency to be highly competitive, I'm blown away by the body of work that the program has inspired and facilitated since we started in 2018," said Roundhouse Founder Kathy Deggendorfer. "Seeing it celebrated in the gallery at the Pendleton Center for the Arts was a delight."
Find links to a video about the ranch and the song Boneyard by Jean Rohe HERE.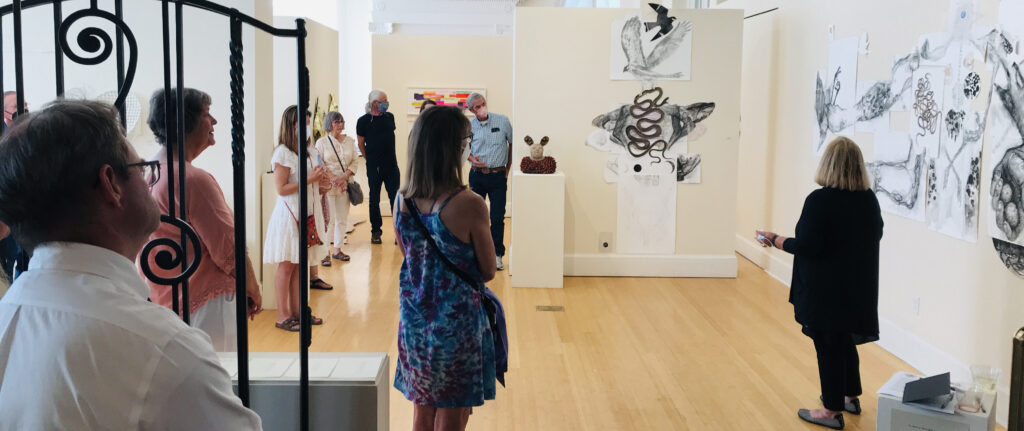 Brian Purnell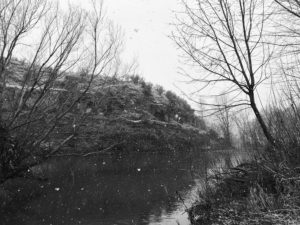 Inside Out: Recent Portraits and Landscapes
Brian Purnell's exhibit at the Pendleton Center for the Arts presented two facets of his broad interest in photography; amalgamated faces created intuitively, along with the formal composition of images of the Eastern Oregon landscape. Inside Out: Recent Portraits and Landscapes opened on June 2 in the East Oregonian Gallery and continued  through June 30.
Purnell had a long career teaching art, with many of those years spent at the Pendleton Alternative School. His influence on his pupils was evident when a past student asked him to sign a copy of the exhibit poster for him. His work with teens continued after retirement with classes at the Pendleton Center for the Arts where he is instrumental in the pottery program in the Alice Fossatti Ceramics Studio. He also provides classes for adults.
Purnell's photographic work spans a range of interests. The portraits are composite images that blend multiple faces, sometimes from one subject, sometimes from multiple subjects, into one complex and dynamic image. He works both with images that he takes himself and with found photographs from thrift stores and yard sales. He follows his intuition in the process, using a software program that allows him to manipulate layers until an image emerges that Purnell resonates with. His landscape works, by contrast, are focused on traditional composition and range of value. The subject matter is most often the Eastern Oregon landscape, a place he's inhabited for more than forty years. A number of the images were taken during the 2020 flood that sent torrents of water down the Umatilla River.
The event was supported by Great Pacific Wine & Coffee Company

Nicole Pietrantoni: The Slow Current
March 2022 in the East Oregonian Gallery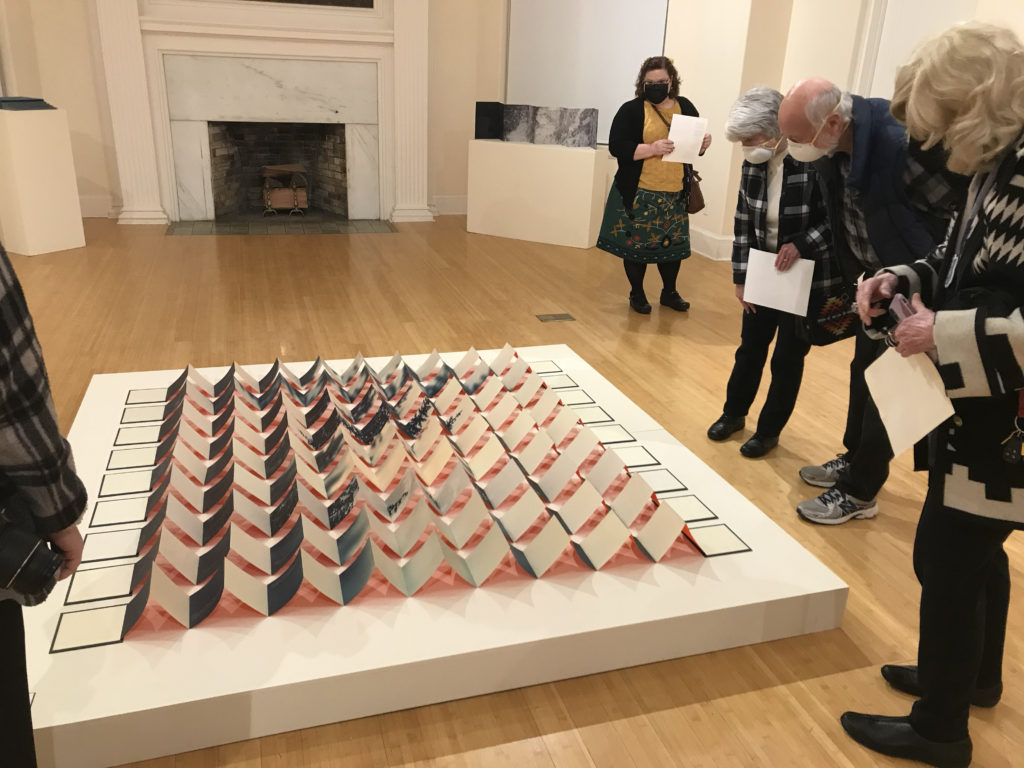 Nicole Pietrantoni's works on paper, artists' books, and installations explore the representation of beauty in times of loss, photography's role in producing memory, and humans' relationship to the environment. The Slow Current brings together works that ponder our relationship to the moment we are in – locating the present as a site for constant interpretation and reflection. The individual books, strips of color, images, and bits of text invite a meditation on the hopeful possibility of connection and joy.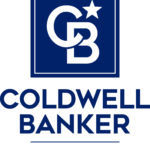 FREE Admission to our galleries is made possible through the generous support of Coldwell Banker Farley Company.
Ali Pope: A Fluid Mind
Through March 30, 2022 in the Lorenzen Gallery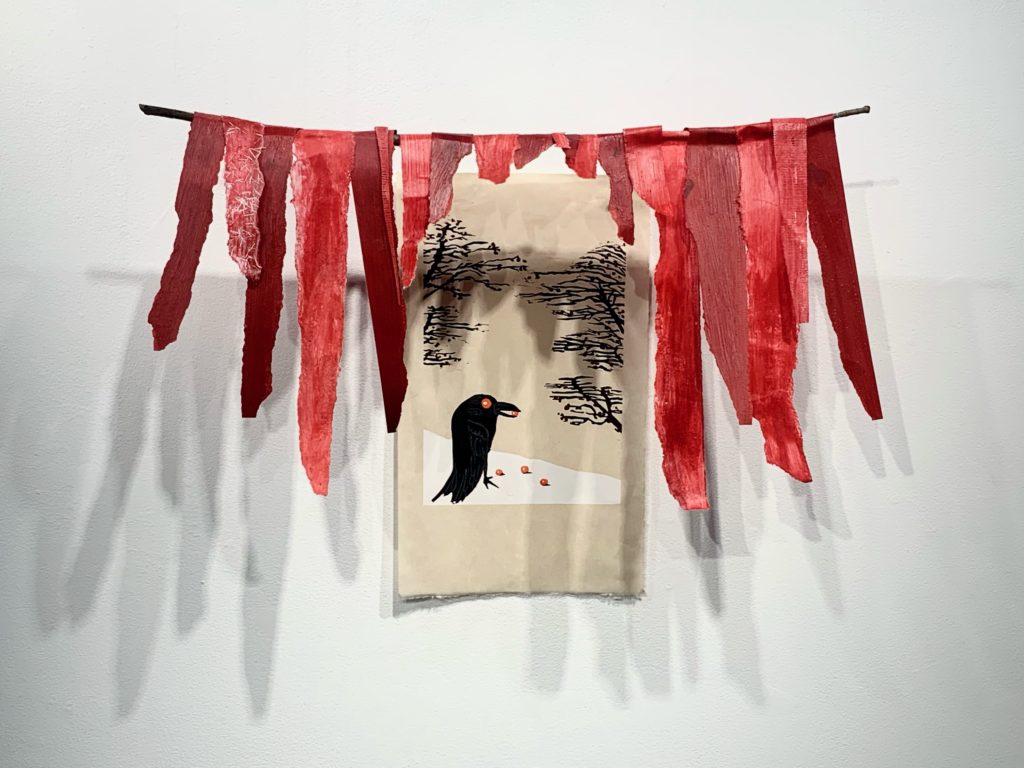 What does it mean to remember? How much can we trust our memory? Is every encounter new or can something we forgot find us again?
Memories are fluid; they flow in and out of our minds like vapor slipping between the cracks of our subconscious. They reach out to connect us with our past like shadowy fingers extending into space. Memories shine a light from the past as we remember smells, warmth, and voices. Our memories may also startle us out of our present, pulling us through time and into darkness we thought we'd left behind. These forms embody the challenge of finding what has been lost to the recesses of our minds— or the struggle to forget.
Ali Pope uses methods of painting, printmaking, and sculpture, to examine memory and question the reliability of human consciousness. Her most recent work, Edge of Memory, represents what is found and lost in the gaps of our recollection.
Linda Cromer
in the Lorenzen Gallery

Linda grew up in the Midwest dreaming of becoming an artist and living in Greenwich Village. After graduating from Carnegie Institute of Technology (now Carnegie Mellon University), Linda moved west to Arizona, traveling through Mexico and Central America. She returned to New York and eventually to Greenwich Village fulfilling the childhood dream. She has been painting her beautiful still life and floral watercolors, while exhibiting her work both nationally and internationally.
"I started painting at my mother's knee, sitting on the floor dabbing at old canvas boards with her old worn brushes. It was great fun then and still is, though my materials have improved. Watercolor has virtues; the clarity of color being primary one, and to my mind, that is the whole point of painting- it's all about color and the pleasure of the act of painting."

Linda B. Cromer, 2021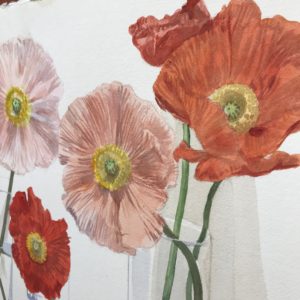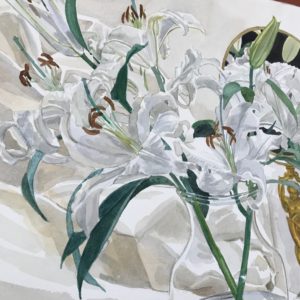 Initial Attack: Photographs by Wildland Firefighters
October 7-31, 2021
The members of the Grande Ronde Rappellers get dropped into some of the most remote and beautiful areas of the northwest and beyond, and in October their unique viewpoint will be on exhibit in the East Oregonian Gallery at the Pendleton Center for the Arts. The exhibit, INITIAL ATTACK: Photographs by Wildland Firefighters, opens Thursday, October 7th with a Zoom reception with the photographers and will be available for viewing in the gallery through October 31. (Request link at top of this page.)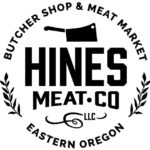 All activities are free and open to the public, thanks to the generous support of Hines Meat Co.
The Grande Ronde Rappellers is a 40-person crew of highly-trained aerially-delivered firefighters sponsored by the U.S. Forest Service's Wallowa-Whitman National Forest and based in La Grande. Members are trained at the National Rappel Academy, a performance-based program that demands a high level of physical and mental toughness of candidates. These men and women see landscapes that are often inaccessible, providing them with views rarely experienced. The twenty-six large-scale photographs featured in the exhibit were captured by Tully Bloom, Gabby Casper, Guy Hakanson, Micah Olivera, Jordin Schramm, and Adam Wunsch. Most wouldn't identify themselves as artists, and the images benefit from a lack of self-consciousness and fuss.
The photographs have been reproduced in large format and are ready for framing. 30% of the proceeds of the sale of photos will support programs at the Pendleton Center for the Arts and 70% will be donated to the Wildland Firefighters Foundation, an organization that provides financial support to families of those who died or were injured in the line of the of duty while fighting wildland fires.
"When someone is taking a photograph simply because they're struck by the beauty of what they see, it really translates to the viewer," said Arts Center Executive Director Roberta Lavadour. "We're happy to also be able to use this opportunity to celebrate the amazing work that initial attack crews do."
Watch a short video created by the GRR crew HERE.
Select any image below to begin the slide show.
Navigation tips: Hover over arrow at right center of each image or use arrow keyboard keys to advance. Select the expand button at the top right of a photo to see a larger version of that image. On mobile device, bypass slideshow and just scroll.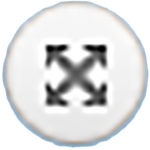 Kirsten Furlong
Through September 30, 2021
Night Passage | Kirsten Furlong
"I create images and objects about human, animal, and plant interactions in places where these relationships are defining the Anthropocene. Recent projects relate to nuclear waste in the high desert of the western United States, declining habitat in the grasslands of the Great Plains, and the effects of climate change on species everywhere. In the work, animals and plants serve as emblems of nature and as metaphors for human desires. I use detail, repetition and patterns inspired by those encountered in the natural world as a representational tool while also using mark making to express empathy, loss, and longing."
Kirsten Furlong was born in Milwaukee, WI and currently lives and works in Boise, ID. She received a BFA from the University of Nebraska (Omaha) and a MFA from Boise State University. Her work has been shown nationally and internationally in solo and group exhibitions. Experiences at artist residencies in Denali National Park in Alaska, Signal Fire and PLAYA in Oregon, Jentel and Brush Creek in Wyoming, Montello Foundation in the Great Basin of Nevada, Prairieside Outpost in Kansas, and Good Hart Artist Residency in Michigan have created the foundation for many recent projects. Kirsten is the director of the Blue Galleries and a lecturer in the Department of Art, Design, and Visual Studies at Boise State University.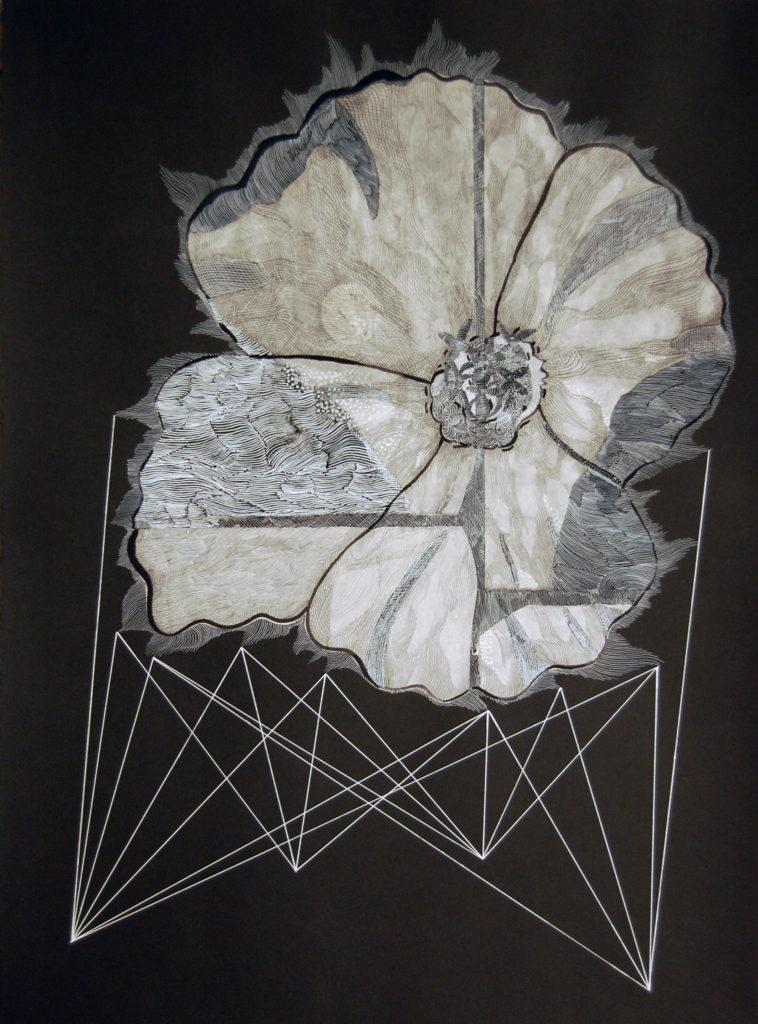 Iván Carmona and Justin L'Amie
Through July 30, 2021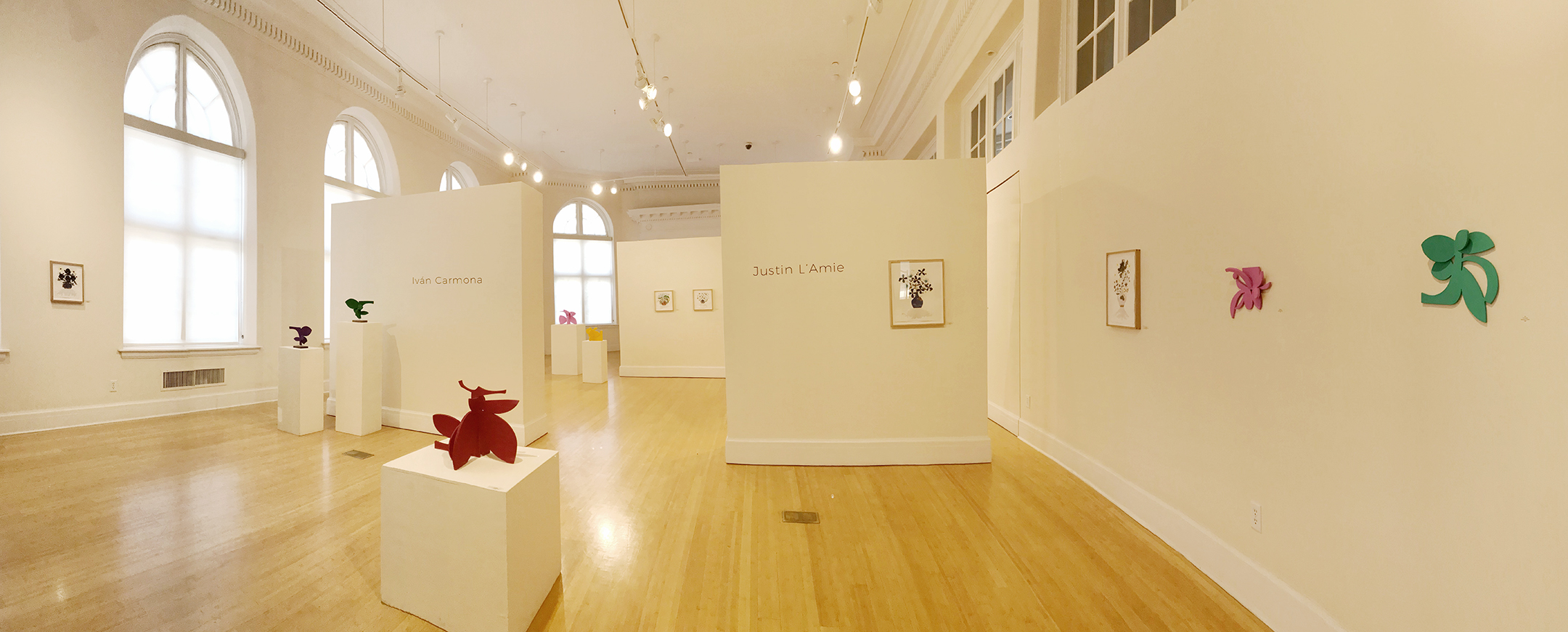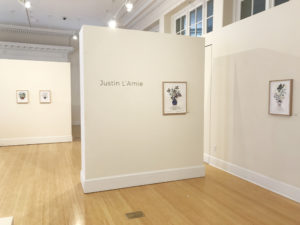 Justin L'Amie received a BFA from the Cornish College of the Arts. He has exhibited throughout the Pacific Northwest and in New York, Houston, and Miami in a number of solo and group exhibitions. In 2016 L'Amie was awarded a highly selective residency at the Morris Graves Foundation and had a solo exhibition at the prestigious Morris Graves Museum of Art in 2018.
His still life paintings reveal a contrived situation that's very fake but references real things.
"They are all completely made up and mostly improvised. Maybe I'll have an idea of a color I want to use or a certain theme. Maybe it's a flower I've come across. I always leave it completely open to what develops when I'm there. I feel like it gives the painting a sense of liveliness and playfulness."
L'Amie's work is held in the collections of the Oregon Health and Science University, Portland Community College, and the City of Portland Portable Works. as well as numerous private collections, including those of Blake Byrne, Jordan Schnitzer, and Deborah Green.
He is represented by PDXContemporary Art in Portland, Oregon.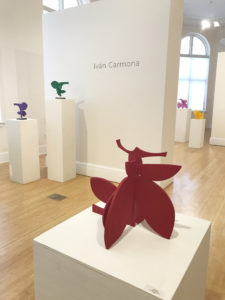 Iván Carmona made the move from Puerto Rico to Portland to study ceramics, receiving a Bachelor of Fine Arts from Oregon College of Art and Craft in 2015. Carmona's work is held in the collections of King County, Washington; Boise Art Museum, Boise, Idaho; Museo de Arte Contemporáneo de Puerto Rico, Santurce, Puerto Rico; and Gifu Prefecture Tokyo Kouryu High School, Japan.
"As a boy, I learned about Modernism through magazines and TV documentaries. It was there that I was introduced to the work of Isamu Noguchi and Alexander Calder, and began to recognize their forms in the natural world around me. The mountains and forests of Puerto Rico became sculptural constructions and swaying mobiles in my mind, and through my own visual language, I hope to communicate these intimate moments in a manner accessible to a larger audience. A shape, word, texture, or color can activate potent memories, and this sense of nostalgia is key to a reading of my work. The sculptures are abstracted, they aren't one- to-one representations. Instead, each emotional memory is passed through the sieve of Modernism, creating connections between my remembrances and recollections of the past and the timeline of art history."
Carmona is represented by PDX CONTEMPORARY ART in Portland, Oregon.
Debbie McIntosh: Mongolia Winter Migration


Twenty-three photographs document McIntosh's recent photography expedition to Mongolia, a landlocked country in Central Asia and East Asia, located between China and Russia. The terrain is one of mountains and rolling plateaus, marked by high elevation, and a cold, dry climate. The country averages 257 cloudless days a year. But it was the people who inspired McIntosh to brave the harsh terrain.
The Kazakh nomadic herders and hunters of Mongolia travel to feed their livestock, mainly yaks, camels, goats, sheep, and horses, and occasionally they allow groups of photographers and writers, with a small support team, to accompany them. Many families travel together, moving every six weeks, following vegetation that is sparce because of the harsh conditions. Finding fresh pastures for their livestock is getting more and more difficult, as climate disrupts the traditional routes and timelines. The temperature on McIntosh's trip was almost always below zero. She never had less than four layers of clothing on, and camera batteries were kept close to the body to keep them protected.
The journey was an amazing thing to document, but the Kazakh people's hunting technique provided a next level of photographic inspiration. They hunt with the help of Golden Eagles, in a falconry tradition that dates back to the Bronze age.
Artist's Statement:
Late February 2019, southwestern corner of Mongolia, a family of nomadic herders prepares to move their livestock higher into the Altai Mountains where they will spend the spring. They carry on a centuries-old lifestyle and tradition that originated in what is now present-day Kazakhstan. They were very welcoming and eager to share a glimpse of their life with a handful of photographers and I now share it with you.
While I am primarily a nature and wildlife photographer, I have learned that I am above all, a "moments" photographer. I found myself going back to this foundation when sorting through thousands of images to select those that would ultimately be included.  Although it was very tempting to tell it as one, the story in this exhibit is not a travelogue, but rather a convergence of culture and art.
Mongolia is a beautiful but harsh environment in which to raise livestock and it is necessary for Kazakh herders to move their herds of sheep, goats, yaks, and camels approximately every six weeks to provide life-sustaining pastures.  The current migration was approximately 95 miles. There was little if no vegetation on which to graze along the way. Several sheep and goats, already weakened from the winter and the extremely cold temperatures, died along the way. The last night we were migrating the temperature was 10 below and three baby sheep were born. Two died before they were discovered but one was found and warmed in time. We named him "Lucky." He got to ride to spring grazing grounds but his mother had to walk.
When we arrived at a wide open snow-covered valley, there was an immediate change in the "mood" of both the livestock and the herders that I immediately felt but didn't understand. The sheep and goats had a "lightness" in their step and picked up the pace. The herders were noticeably happy. Looking at the ground I noticed that dry grasses were sticking up through the snow for the first time since the journey began. We had arrived. Soon the rivers we had crossed would thaw and the green grass would cover the Mongolian steppe.
The practice of hunting with golden eagles also comes from Kazakh tradition and continues to be practiced by nomadic herders today. An eagle hunter captures a female eagle when it is young and keeps it for approximately ten years before returning it to the wild. During that time a strong bond is formed and the eagle learns to hunt in partnership with the hunter.
Ongoing training and hunting occurs according to traditional practices. Eagle hunters always work in pairs. During training, one hunter goes up a ridge and releases the eagle when its hunter calls to it from the valley floor.  Depending on the call, it flies to the hunter's arm or it flies to a fur pelt that is being pulled on a rope either by the hunter on foot or on horseback. At times, eagles exert their independence and comply but on their own terms. We saw one eagle land part-way down the ridge but not all the way to its hunter and refused to move. While the hunter went to retrieve his eagle, another eagle was released. While that eagle appropriately flew to its hunter, all of a sudden the recalcitrant eagle decided to also flew to that hunter, who had the surprise and challenge of accepting eagle talons with a bare hand and arm!
Eagle hunters gather once a year in the fall to compete with their eagles and horses. We were treated to a small private festival which featured a day of events with eagles and horses. I definitely got a case of deja vu as I observed contestants waiting for their turn and watching their friends compete.
Even with the addition of some modern conveniences, the life of a nomadic herder is very challenging.  It is a life that Soltanmurat and Fatiha and their entire extended family love but know is uncertain. Climate change, most visibly lack of snow, is impacting Mongolia and threatens their livelihood. Even more than the sheer adventure, it was a highlight of my life to be able to spend time with these amazing people and I am eternally grateful that they welcomed me into their life.  Thank you for the opportunity to share a glimpse with you.
~ Debbie McIntosh
Teresa Dunn: Longing to Be
February 4 – March 31, 2021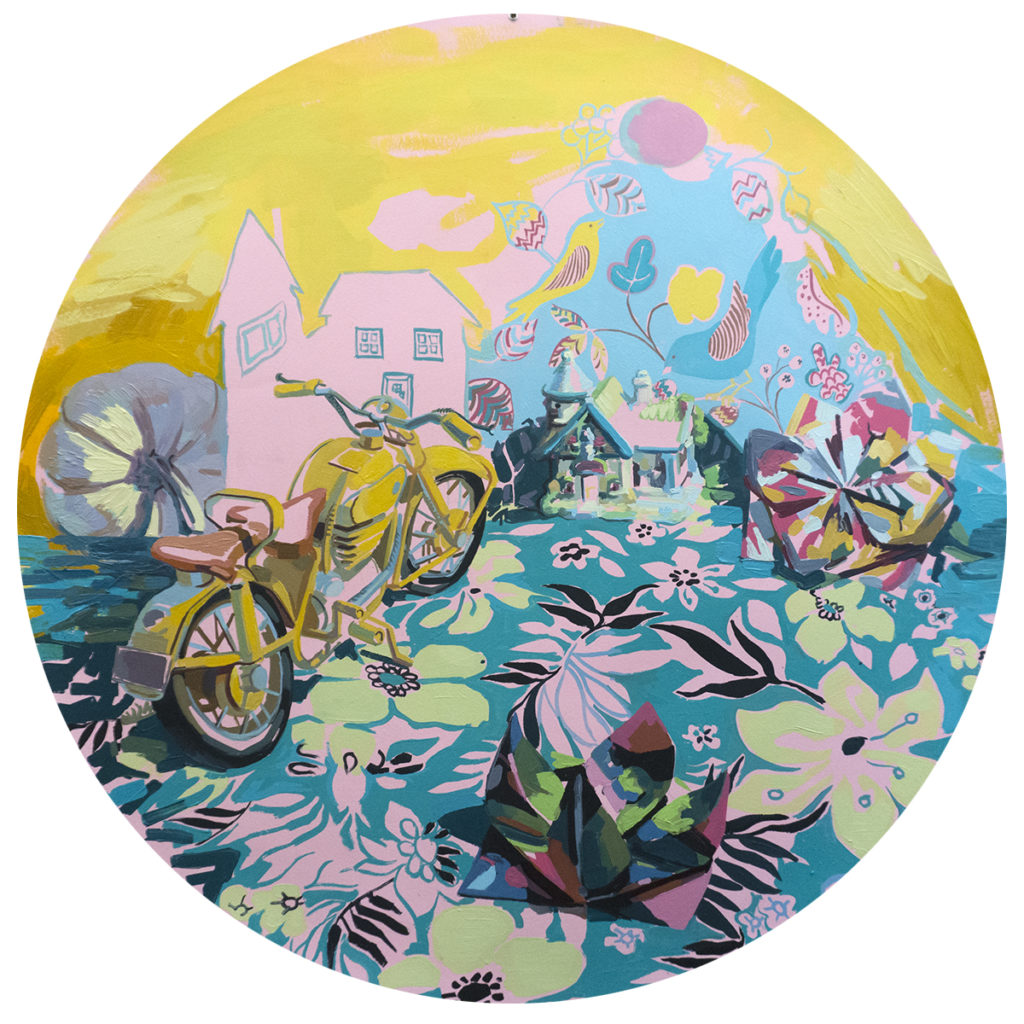 We hope you'll join us for a Zoom Gallery Talk and Tour with the Artist
Thursday, February 4th at 5:30 PM
Grab a beverage and a snack and log on to make a connection with other art lovers and PCA pals. Email director (at) pendletonarts (dot) org to receive a link!
—————-
Teresa Dunn is a Mexican American artist raised in rural Southern Illinois. Her identity, life, and art is poetically influenced by being suspended between two cultural heritages. Language, space, color, light, and storytelling find expressiveness through moving toward and away from simultaneously contradictory tensions. Gloria Anzaldúa's "Borderlands" accurately reflects Dunn's own reconciliation of her mexicansimo with her American-ness and the complexities of growing up and living as multicultural woman in the Midwest.
Dunn received her MFA from Indiana University Bloomington in 2002. She is a three-time recipient of the Elizabeth Greenshields Foundation Fellowship and received the Jacob K Javits Fellowship from the US Department of Education. Dunn is represented by First Street Gallery in NYC and Galerie l'Échaudé in Paris, France. Recent solo exhibitions include M o t h e r l o a d at the Visual Arts Center at the Washington Pavilion in Sioux Falls, SD in 2017 and First Street Gallery in NYC and Miami University of Ohio in 2016, and Ebb and Ember at Hooks-Epstein Galleries in 2015. Dunn's 2012 exhibition Strange realities/Étrange réalité at Galerie l'Échaudé was reviewed in French journals AZART and Miroir de l'Art. Dunn was a finalist in the 2000 William and Dorothy Yeck Miami University Young Painters Competition and won Best in Show at the 2008 Biennial of Contemporary Realism at the Fort Wayne Museum of Art in Fort Wayne, Indiana. She has been included in numerous publications including Studio Visits and Paint Pulse Magazine. Dunn was accepted for the inaugural year of the Cuttyhunk Island Artist Residency with featured artist Alex Kanevsky in 2017. She has conducted many visiting artist lectures including the most recent 2017 lecture and student critiques at the Rome Art Program in Rome, Italy. Teresa Dunn is currently an Associate Professor of Painting and Drawing at Michigan State University in East Lansing where she has taught since 2006.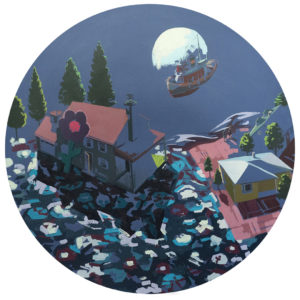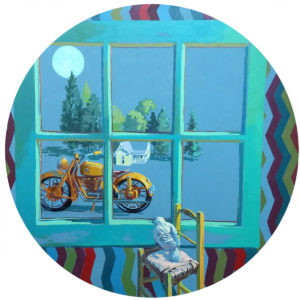 HIROKO CANNON: NEW WORK
Original watercolors, reproductions and note cards available online HERE.
Learn more about Hiroko Cannon in the current issue of 1859 Magazine. 
We're thrilled to carry work by Hiroko Cannon all year long. Cannon's depictions of the birds, insects and plants that inhabit our region are as educational as they are stunningly gorgeous.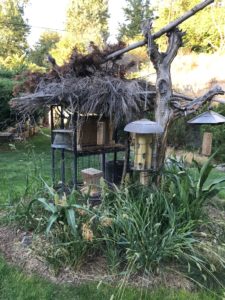 Gallery patrons often ask about the size of her brushes, since the details in the work seem to rival the actual feathers and leaves she's inspired by. But the precision doesn't detract from the artistry. Her paintings capture a point of view that is uniquely hers – whimsical while still being reverent for the beauty of our surroundings.
A visit to the garden that surrounds her North Hill home provides some insight into her process. Every plant, bundle of twigs, solitary bee house, and feeder is beautifully situated, simply because it's the best way to attract the wide variety of birds and pollinators that inhabit the space. While you can't identify anything specific, the Japanese aesthetic is evident. Everything seems to belong; nothing seems fussy or ostentatious, and  there's nothing that doesn't nurture the ecosystem as a whole. A large container of water that feeds an outcropping of yellow iris doesn't harbor mosquitos because it's filled with small fish that feed on the eggs.  Native plants like sage brush, bunch grass and flowering rabbitbrush push out the weeds that would plague a typical garden. A deep knowledge gained by observation is evident in the images of the birds and the plants she paints. We are proud to be able to share her work and help introduce it to a wider audience.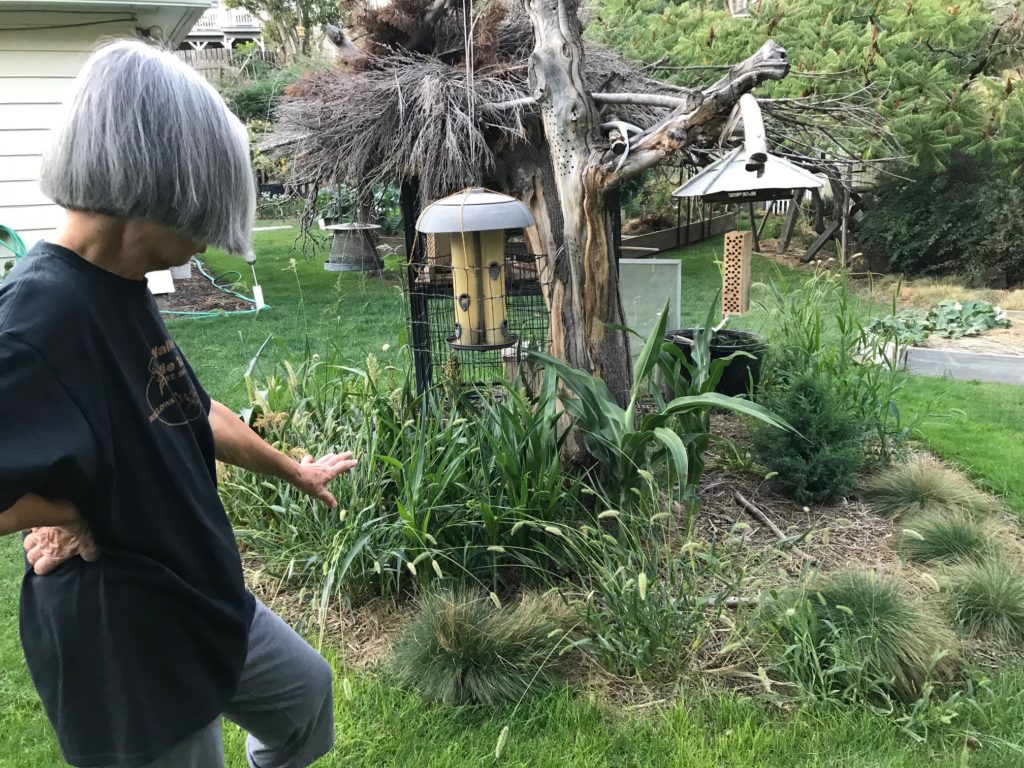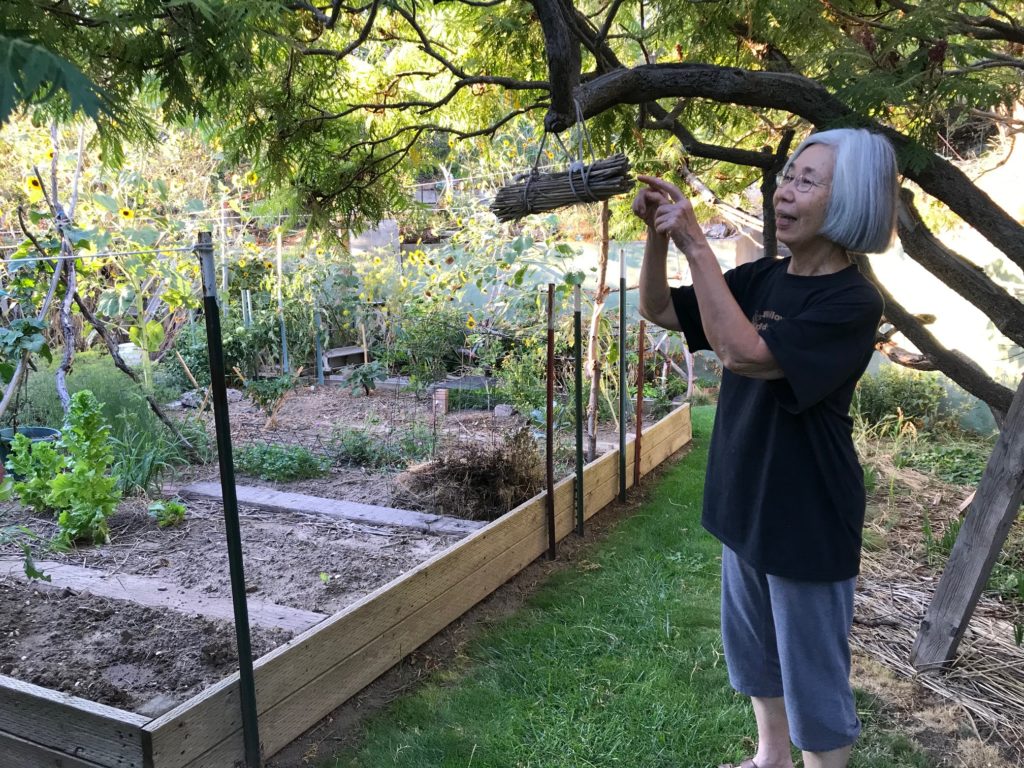 Click or tap on an image to start the slideshow below.
David Webber
July, 2019

David Webber's photographs start with images from the real world, and through transformation they become hybrid forms.  His photos confuse the boundaries of their reference and challenge the viewers' perception of what they are seeing. Superimposing images through layering, he pushes them to varying degrees of density by creating simple composites, fields of color, and meshed textures.The works are composed in the camera, with the film being advanced and re-wound to create exposures that overlap and intertwine in compelling ways. Webber is an Assistant Professor of New Media at the University of Central Oklahoma where he teaches video, sound, installation and interactive art. Originally from the Philadelphia area, Webber received a BFA from Tufts University in Medford, MA and School of the Museum of Fine Arts, in Boston, MA. His MFA in Electronic Integrated Arts was received from New York State College of Art & Design at Alfred University in Alfred, NY. As an artist, Webber works primarily with time-based media and interactive installations. In his spare time he makes analog synthesizers and electro-acoustic music.
This exhibit is made possible through the generous support of Lauren Ludwig of Edward Jones.


Check out David's website HERE.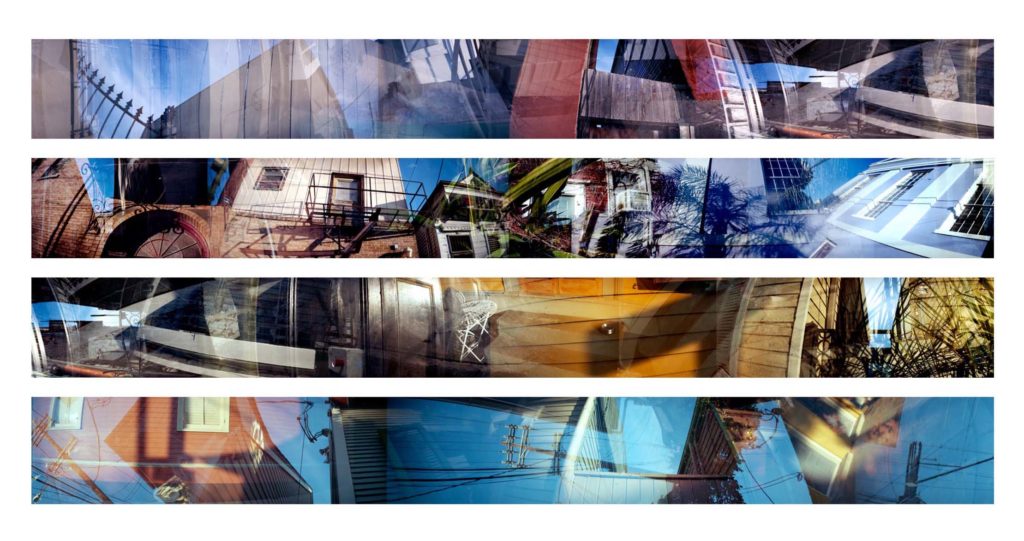 Dianna Woolley
Hot & Cold Wax: Fad or Factual
June 2019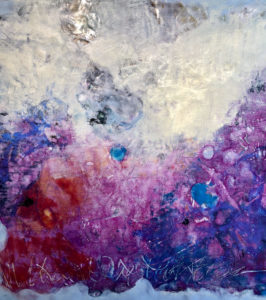 Walla Walla artist Dianna Woolley works in wax, a medium that some might consider too fragile for museum-quality works of art. But through her own artwork and a gallery talk about wax as an artistic tool, visitors to the Pendleton Center for the Arts will learn about the medium's history of strength, durability, longevity – and distinctive beauty.
Dianna Woolley began her art career making paintings that featured recognizable imagery. Her formal education at University of Oklahoma was focused on business, not art. Then, in the early 1960's she began a 5-year mentorship with New York City abstract expressionist Donald Pierce. Pierce taught her less about expressionism than he did about the fundamentals of art, composition, value, drawing, mark making – the basics of any visual artist's work. Independently, she studied the work of 20th century abstract expressionists and post painterly abstractionists, and her work moved from realism into abstract imagery. After many years of homemaking and business careers in New York City and Kong Kong, she is now a prolific painter, producing panels full of enthusiasm, motion, and memory. Woolley's imagery symbolizes her life, travels, and thirst for knowledge. She is particularly interested in adventurous personalities, both contemporary and historical. She's had eight solo exhibits in the region in the past eight years and had work accepted into juried group exhibits in nine states across the country.
Much of Woolley's study in the past few years has come in the form of artist's residencies. A residency allows an artist to focus on their work with few distractions, often in an inspiring setting. She's been awarded residencies from the Nantucket Island School of Design and Art and the Castle Hill Arts Center's Edgewood Farm in Massachusetts. Dedicated weeks outside her studio serve to strengthen a long practice of personal reflection and innovation, while enabling her to encounter new mediums, studies, techniques and other talented artists in search of camaraderie and insight into their personal art making.
Check out Dianna's website HERE.
45th Open Regional Exhibit
Through May 31, 2019
Made possible through the generous support of Banner Bank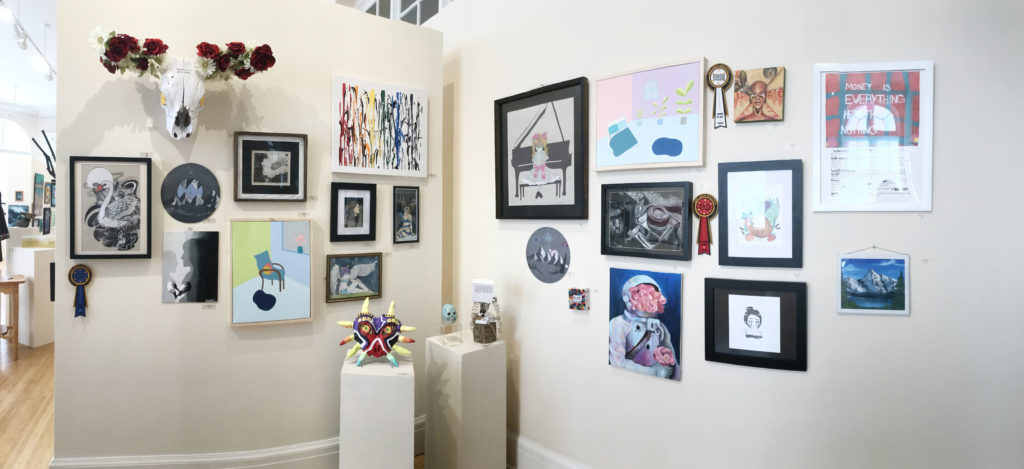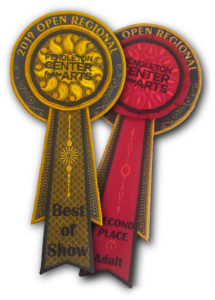 We had 145 entries submitted in this year's Open Regional Exhibit from across Northeast Oregon and Southeast Washington. Congratulation to the artists whose work was recognized with awards this year, and a huge Thank You to the men of EOCI who created the wonderful award ribbons.
Best of Show: Nici Cimmiyotti, Chemistry Brothers
Adult First Place: Bob Austin, As Flitting By Like Clouds
Adult Second Place: Sandra Westford, Communion
Adult Third Place, Kohl Konnigrud, Tripartite
Teen First Place: Jasmine Lei, Crane
Teen Second Place: Anahi Herrera, Take a Shot
Teen Third Place: Alysha de Martinez, Recomera de Maria
Honorable Mentions: Roy Anderson, Baby Guitar, Jaime Durham, Departure, Tricia Harding, Gingko Study, Ann Hooper, Lady in Red, Arlen Clark, Let's Take a Walk.
CIMMIYOTTI DOUBLES UP ON PRIZES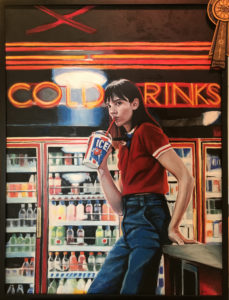 The opinions of art critics and those of the general public rarely line up. In fact, in the 45 years that the Arts Council of Pendleton, which runs the Pendleton Center for the Arts, has been hosting the Open Regional Art Exhibit, no artist has ever garnered the favor of both – until now.
At the May 9 Opening Reception, Judge Rachel Smith presented Hermiston artist Nici Cimmiyotti with the Best of Show award for her painting Chemistry Brothers. On Friday, May 31 a tally of the People's Choice ballots showed that her other painting, Cold Drinks, had received the most votes, cast by visitors to the gallery during the month. The People's Choice Award is presented in memory of Jacqueline Brown, long-time board member of the Arts Council and patron of many Pendleton cultural activities.
A graduate of Hermiston High School, Nici Cimmiyotti studied art Portland State, earning a Bachelors degree in drawing and painting then went on to get a Masters in Teaching from Eastern Oregon University. She taught at Sandstone Middle School alongside the teacher who inspired her as a middle schooler herself, and now teaches art at Hermiston High School. She paints in a figurative style that she's worked to perfect over the past few years. Two years-ago one of her portraits received a first-place ribbon in the Open Regional.
Her Hermiston classroom doubles as her painting studio and she uses her work as a teaching tool for her students, 22 of whom are working at a college level through advanced placement classes.
"They get to see how I start a painting, how I make changes as the work progresses, and how I deal with various issues that arise in the painting process," said Cimmiyotti. "Their work energizes me, and I hope mine does the same for them."
She was trained in oils but taught herself to make the switch to acrylics, because that's what students use in high school.
"If I'm going to have my students do it, I figured that I should be using acrylics as well.
Cimmiyotti's next move in her artistic career is to get her work into exhibits outside of the region and across the northwest.
The Open Regional exhibit is made possible through the support of Banner Bank of Pendleton. The event invites artists from northeast Oregon and southeast Washington to participate. The 2020 exhibit will feature photography, then in 2021, every medium except photography will be accepted.
March 14 – May 3, 2019
Ellsworth Kelly: From the Collection of Jordan D. Schnitzer and His Family Foundation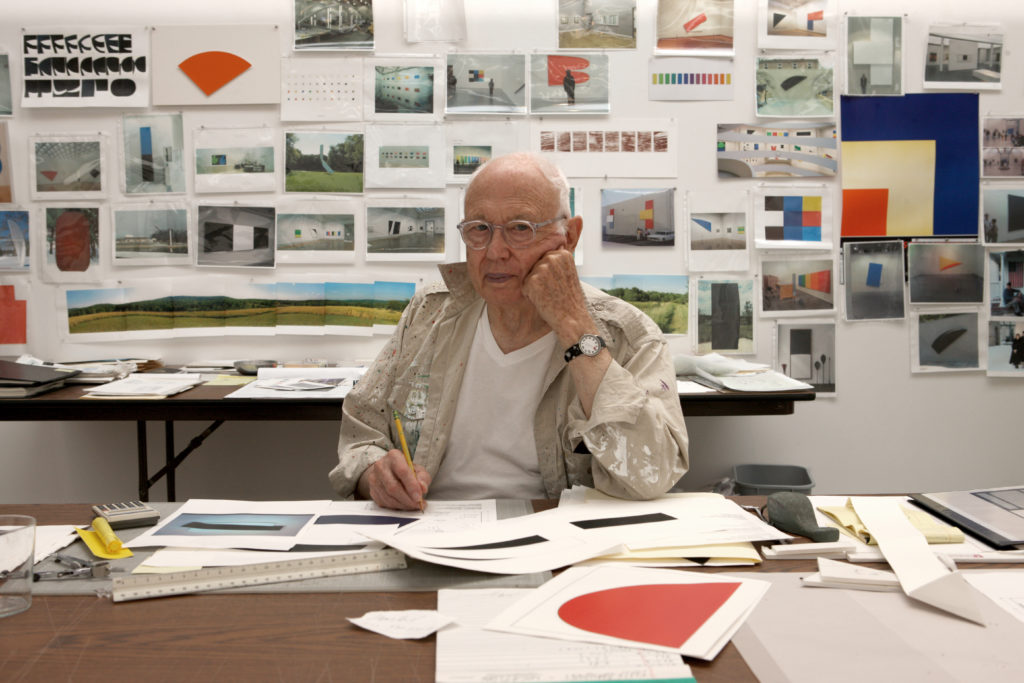 We're thrilled to be hosting an exhibit of one of the most important artists of the past 100 years.
Cory Peeke: On the Tip of My Tongue
February, 2019

That something that you feel that you know, but somehow can't quite articulate. You can see it, the pieces come together but they form only a suggestion. A suggestion that engages, troubles and even delights the mind and eye. A puzzle of relationships. Deceptive in their spare simplicity, these works are evidence of lives lived and connections, however ephemeral, made. They contain very little and yet everything necessary. They are like a memory, a trace of something past. An intangible, fleeting connection to something greater than ourselves – something we can't quite name.
"On the Tip of My Tongue" is an exhibition of new work by Cory Peeke which also features a small, representative sampling of work by Evan Clayton Horback, Lita Kenyon and Melinda Tidwell. Cory has selected these works in order to survey the connection between the familiar and the undefined as well as illuminate the allure of the unassuming.
Jenny Morgan: New Work
October 4-31, 2018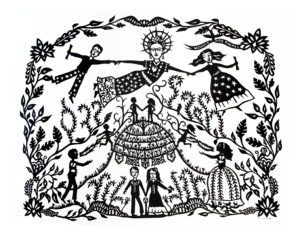 When Jenny Morgan worked at Ghost Ranch in the 1990's, one of the perks of the job was being able to take classes with the visiting artists who taught there. When a master of Polish papercutting visited at the New Mexico facility, Morgan was intrigued. She never imagined that the craft technique would form the foundation for a serious artistic practice.
Morgan's newest papercuts were on exhibit Oct. 4-31, with free admission thanks to support from Coldwell Banker/Whitney & Associates.
Polish papercuts – wycinanki (pronounced vee-chee-non-key) – were traditionally made by peasants to decorate their cottages. They depicted scenes from everyday life and special events like weddings and holidays. It was an inexpensive way in the mid-19th century to decorate homes, and women often worked with sheep-shearing scissors.
In creating her contemporary images, Morgan uses tiny manicure scissors, working meticulously for hours at a time. Starting with drawings she's made on the back of special, flexible yet strong paper, she sometimes folds the paper into halves or quarters to create symmetry side to side or top to bottom. Her designs are inspired from a range of influences, from favorite musicians and songs, to characters from literature, to chance encounters.  Visitors to the gallery can use their smart phones to listen to Morgan talk about each piece, and sometimes, listen to the songs that served as inspiration.
Morgan's work was noticed many years ago by the PCA staff and board members at different charity auctions. She was generous in donating her framed images to support local nonprofits and families in need but didn't see herself as an artist. In 2008 she was invited to exhibit small pieces in the Lorenzen Board Room Gallery, and for the first time, buoyed by the response she got from viewers and buyers, she understood that she was doing important work. Last year, the exhibit committee at the Pendleton Center for the Arts recognized that the work she was doing warranted an invitation to exhibit in the East Oregonian Gallery, a space reserved for established artists, and she started in on the major body of work that visitors will see.
Concurrent with the East Oregonian Gallery exhibit, Brian Purnell and Alice Thomas had work on display in the Lorenzen Board Room Gallery.

Check out these images of Jenny's work…
Tap on an image to launch audio of Jenny talking about what inspired it.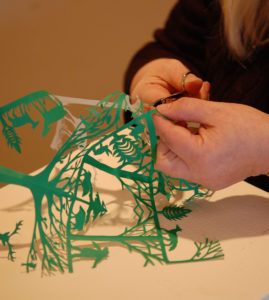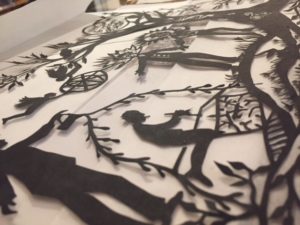 Bonnie Zahn Griffith: Pure Color
September 2018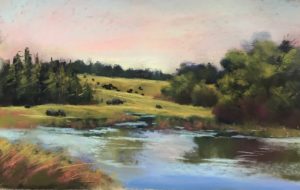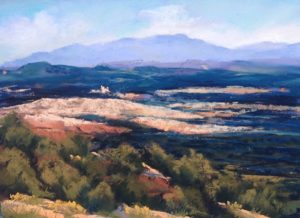 Bonnie paints the western landscape using the rich pigments of pastels and oils. Working in a representational yet impressionistic approach, she tells a story with her paintings; one that will resonate with the viewer from their own viewpoint.
"I am drawn to these mediums because they allow my best representation of the landscape with the brilliant pigments creating texture, light and mood in my paintings. My goal is to create works that draws the viewer in; allowing them to use their senses to experience the time of day, the warmth or coolness, the message of the painting – for themselves, to merely "get lost" in the work, experience it and make it their own. If that happens, then I have done my job."
Bonnie grew up in north central Montana on a ranch near the Missouri Breaks. Early on she experienced the rugged country, the big skies, the vegetation of this landscape mostly from the back of a horse. Memorable childhood vacations included trips to Glacier Park to enjoy the sharp contrasts of the landscape from central Montana. These trips continued through the years and painting some of the views of the park has been part of those experiences. Her parents were ranchers; her mother a talented visual artist; her father a musician. Art appreciation came early and studying the effects of light on the landscape and the colors were imprinted deep. She declared at an early age that she was an artist and that carried through along with a career in the medical arena until she began painting full time in the mid 1990's.
Bonnie has studied with several instructors such as Lorenzo Chavez, Robert Moore, Ned Mueller and others in developing her work. She works mostly en plein air, taking every opportunity to paint from life.
"My work turned the proverbial corner once I started painting seriously from life. You learn to see better, to capture light accurately and express yourself differently when working from photos. I do studio work as well, often with the aid of plein air studies."
The artist is a current resident of southwestern Idaho and spends significant time painting in Montana and Utah throughout the year. She participates in numerous plein air events in the western US, judges competitions and offers workshops in pastel techniques, both studio and plein air. Her work is represented by galleries across the western states. Collectors include corporate and private throughout the US, Canada and Australia. Bonnie's work can be seen on her website , Instagram (@bonniezahngriffith) and her Facebook page (Bonnie Griffith Landscape Artist).
Brian Sostrom: New Work
August 2018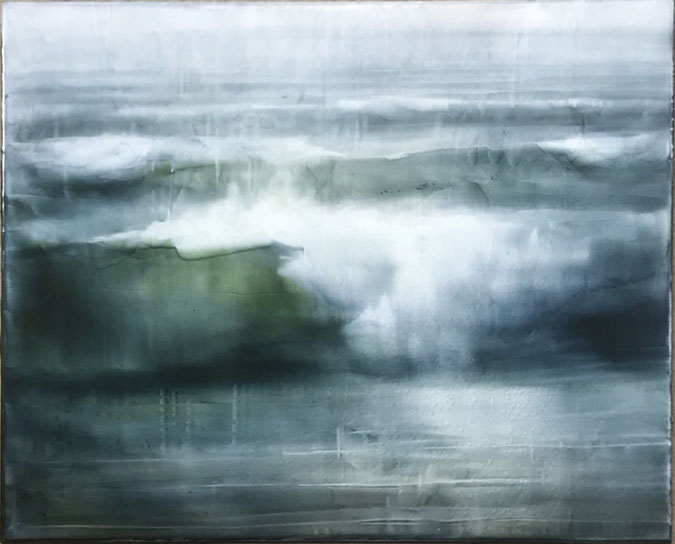 Brian Sostrom loves the physical nature of painting; the movement created, the bold marks, subtle blends, and strange ticks in the paint that seem to belong for no logical reason.
"The best work I make is the work I couldn't possibly reproduce," he says.
Sostrom will be exhibiting his work at the Pendleton Center for the Arts in August, beginning with an opening reception on Thursday, August 2 from 5:30 – 7:00 PM. The event is free, and membership is not required.
After spending a large portion of his life in front of a computer making digital art, creating something with a physical presence is important to him. Sostrom attended Washington State University, experimenting with all types of mediums, then learning about computer generated art and design. His commercial credits include a range of book cover designs, illustrations, and video games. While he considers his painting to be a vast departure from his on-screen pursuits, viewers often describe his paintings as having a "digital quality."

"I have really become obsessed with mark making; the contrast between the sharp and soft use of paint. The unusual result of various ways of applying paint is a fascinating thing to me."
While he loves the work of masters like Gerhard Richter, Albert Bierstadt and J.M.W. Turner, it's important to him that his work feels new and fresh as opposed to simply following the old traditions.
"I am always experimenting with my approach and materials," he said. "It drives my creativity and nurtures my curiosity."
One distinct and unique quality that is immediately apparent in the work is the surface texture.
"For years I was building up translucent surfaces with acrylic medium because I love the physical depth. At a certain point I was literally spending too much time waiting around watching paint dry. I thought, 'why not buy plexiglass and try that?' I waited about two years before actually trying it. I loved the slick, non-absorbent surface. It is unforgiving and captures every mark I make."
These marks often evoke landscapes that feel familiar. While his paintings don't depict distinct places, they are firmly rooted in the land and water of the Pacific Northwest, where he was born and raised. Based now in Idaho, he grew up around the rural Northwest and has strong ties to Astoria, which explains the prevalence of water in his imagery.
Sostrom's paintings seek to elicit a personal, emotional response, with moody darks and luminous lights that combine to create places that are at once empty and eternal.
Roberta Jones
in the Lorenzen Board Room Gallery
August 2018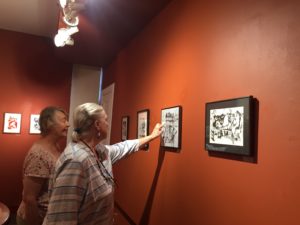 Concurrent with Sostrom's exhibit in the East Oregonian Gallery, local artist Roberta Jones will exhibit her monotypes and mixed media works in PCA's Lorenzen Board Room Gallery. Jones holds a master's degree in painting and served as an art instructor and art coordinator in Pendleton for many years. She's considered one of the pillars of Pendleton who fostered the art and music scene decades ago, laying the foundation for what's now a vibrant cultural community.
In this new body of work, she is interested in the formal aspect of art making but also things like movement abstraction.
"I love the dynamism of space and shapes," she says. "I don't want to label things for the viewer; I want the viewer to move closer, then step back. Your view and interpretation of an artwork changes greatly when you step back."
Though she is also known for her sculpture and painting, it's printmaking that was Jones' refuge as her late husband became ill and continues in her journey through dealing with grief.
"When I'm making prints, I'm operating on an unconscious level," she said. "I'm working water-based ink onto a glass plate, and at some point it's no longer in motion. At that stage I cover the plate with paper and rub the back of the page with my fingertips."
Jones then peels back the paper and decides whether she needs to respond to the image with additional marks. She sometimes incorporates pencil, collage or other mediums, but always keeps the imagery open to interpretation.
"It's a way for people to see into themselves and to see into my thought process too," she says.
Katherine Treffinger: New Work
July 2018

Open Regional Photography Exhibit Recap
We had 147 entries in this year's Open Regional event. Our congratulations go out to Larry Wright, winner of this year's Best of Show award, and to Adam Sims, whose photo "Face Rock" garnered the most votes for the Jacqueline Brown People's Choice Award.

Adam Sims was born in Eastern Oregon in 1988 and has lived here his entire life. He didn't develop his interest in photography until 2007, and he is completely self-taught through research and practice. Adam Sims has always been interested in the natural world around him. He believes that photography has given him the opportunity to not only appreciate the beauty around him but interact with it as well. Adam's work is always simply titled with the subject and date the photograph was taken.
Louise Bourgeois:
Selections from the Collection of Jordan D. Schnitzer and His Family Foundation
We were proud to present work by one of the most important artists of the 20th Century in the East Oregonian Gallery here at PCA. Louise Bourgeois (1911-2010) was a French-American artist whose work explores themes of childhood, domesticity, family, gender roles and sexuality. While her room-sized spider sculptures are probably the most recognizable works of her long career, she was an accomplished printmaker whose works on paper were created over a span of 70 years. The images selected from the collection of Jordan D. Schnitzer and His Family Foundation provided an important overview of her work.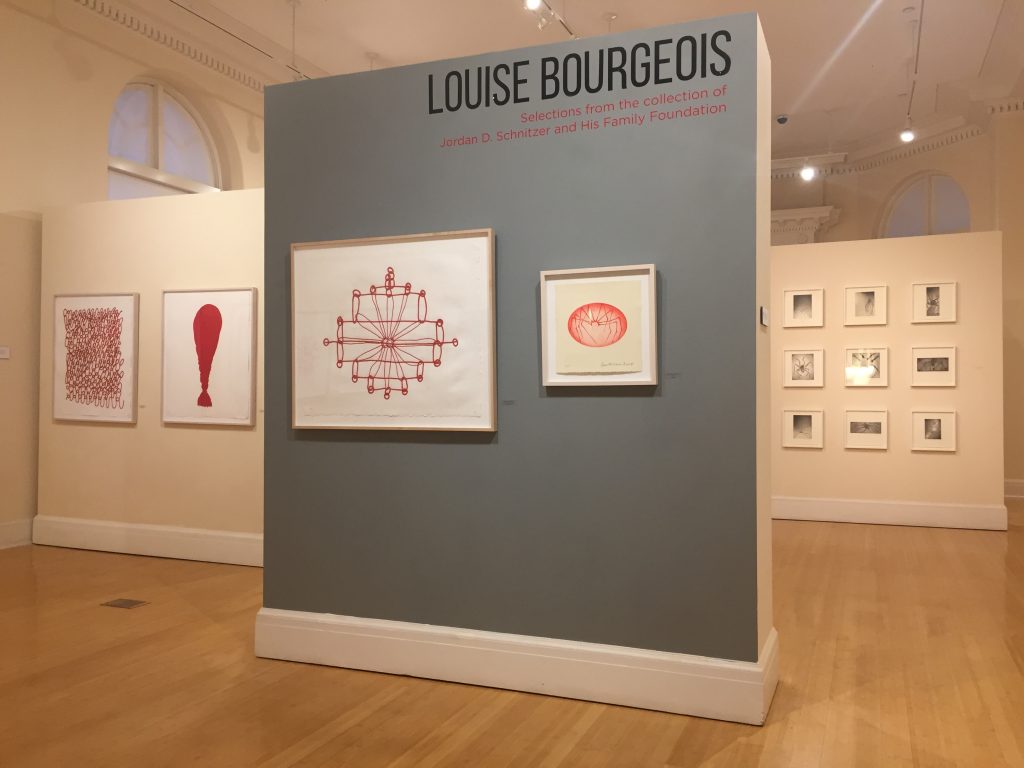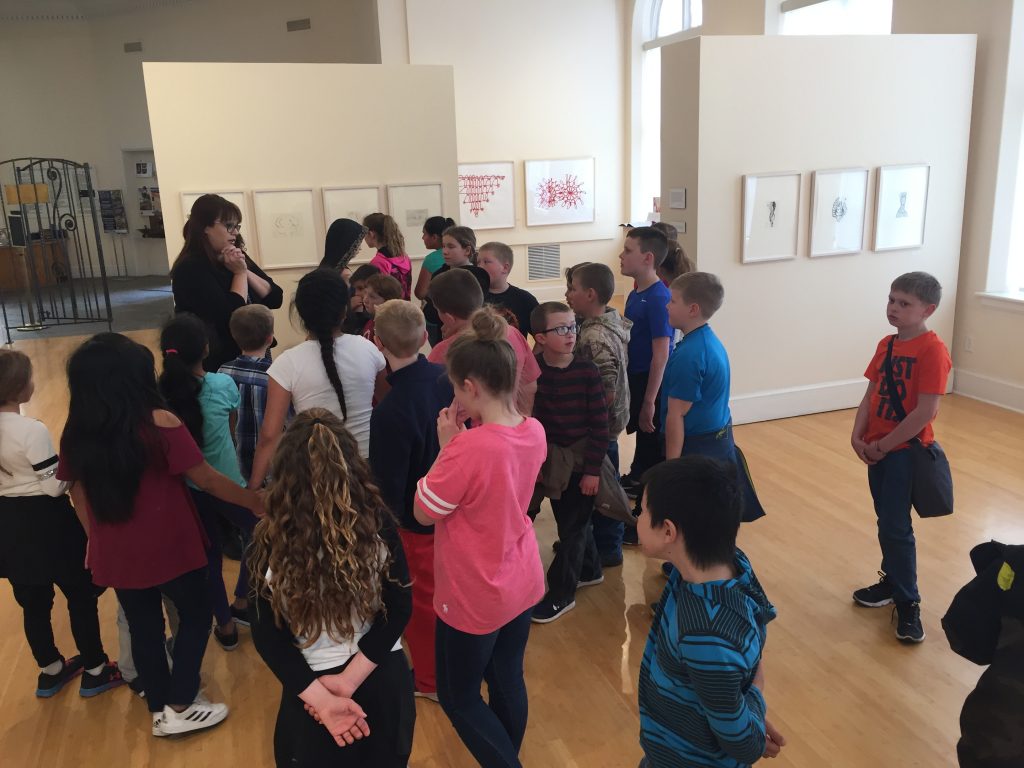 Chuck Close:
Selections from the Collection of Jordan D. Schnitzer and His Family Foundation
If you love ink, paper, and masterful printmaking technique then Chuck Close is probably one of your favorite artists. His explorations into how shape and color can be combined to create images that appear to be continuous tone from afar but are abstract up close are a delight to see in person. More than 1000 kids got to learn about his life and work, and many were inspired by his ability to overcome obstacles to become successful.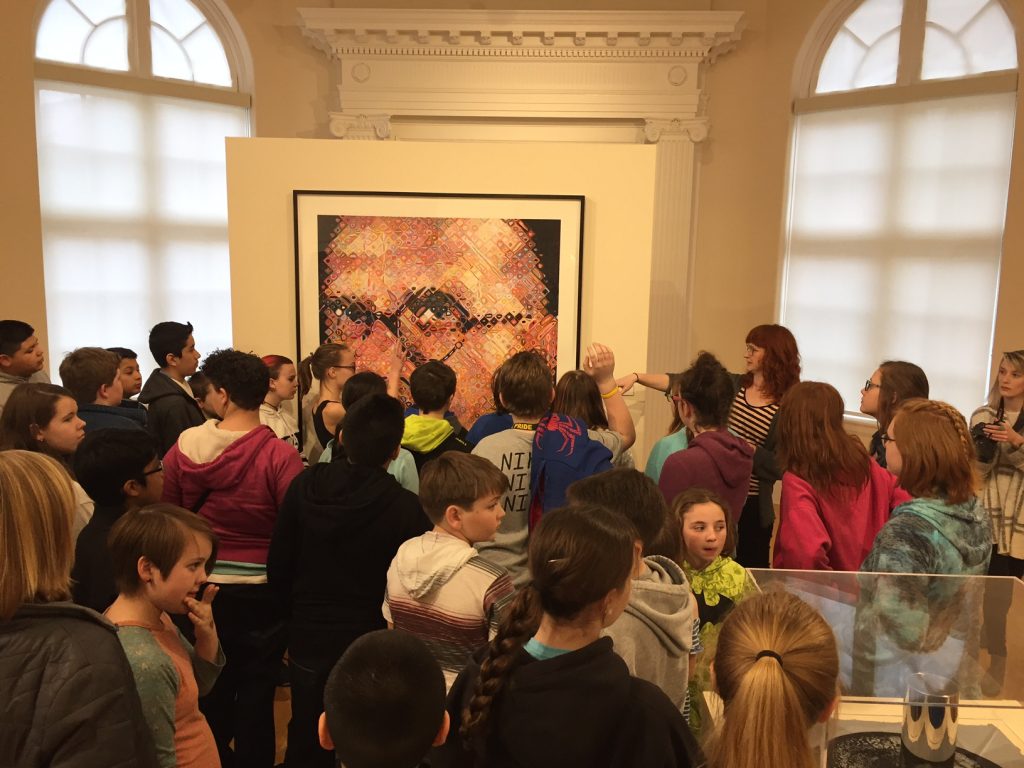 Frank Janzen: Above/Below
"Having grown up with abstract art as my first love I am surprised, in some ways, to be doing 'landscapes'. I arrived in 2001 and it wasn't until 2005 that my artwork changed and I have become fascinated with the plateau area with it's many shapes, patterns, colors and the multiplicity of forms that it takes on under varying light and weather conditions.
After a two-year drought of any art making, the Above/Below series came in being and is a continued exploration of not only the external land that we see but also a glimpse of possibilities of what may lie underneath.
Over a period of time of studying the patterns in the land, driving back and forth to work, it struck me that the soft, gently rolling hills actually form triangles which is one of the most stable geometric forms. This is noted not only in the hills but also in the fields laid out in strange angles with the greens (of which there are many different hues) blending into various ochres and into the grays and browns of raw earth. The jet-blacks of a burnt stubble fields only accentuate and intensify the surrounding colors.
The smoke is an ephemeral element, visible when created by the fire below and dissipating unseen into the summer haze when the burning is complete. The only control that I have in creating the smoke on paper is the number of matches used. What patterns come out are totally beyond my control so I become fascinated by using the hard-edged contours to respond to it."
Frank Janzen, Tamarind Master Printer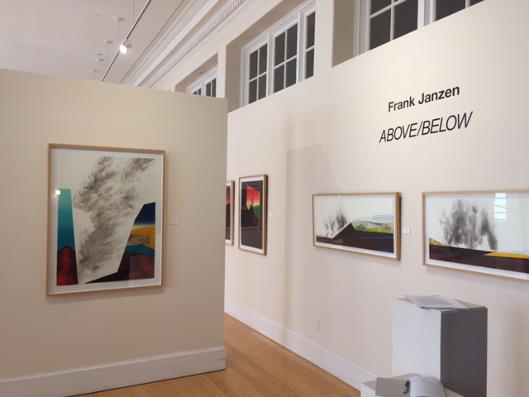 Reflections on the Columbia Plateau
Each year artists and printmakers descend on Crow's Shadow Institute of the Arts and create works on paper inspired by the amazing landscape surrounding the studio, nestled in the foothills on the Umatilla Indian Reservation. This exhibit showcased the best work made in the past 5 years.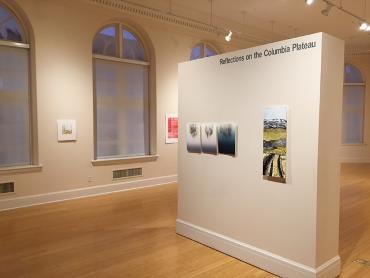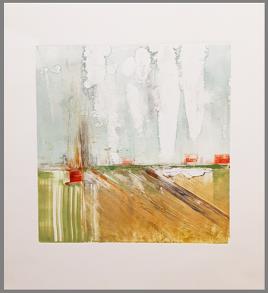 We Tell Ourselves Stories
in Order to Live
This traveling exhibit is a showcase of the 12 Oregon artists honored by the Ford Family Foundation with Hallie Ford Visual Arts Fellowships. View some of the best work being done in the United States, accompanied by a fantastic 20-page catalog you can read online or pick up in print during the exhibit.
View more images from the exhibit when it was at the Museum of Contemporary Craft HERE
Read up on Joan Didion and find several great essays HERE
We Tell Ourselves Stories in Order to Live is organized by the Museum of Contemporary Craft in partnership with Pacific Northwest College of Art, Portland, Oregon. The exhibition is made possible by major funding from The Ford Family Foundation, along with the Western States Arts Federation (WESTAF), National Endowment for the Arts (NEA) and the Oregon Arts Commission (OAC).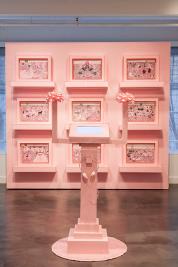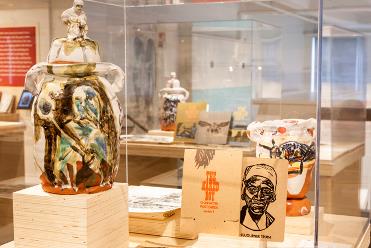 2010  Daniel Duford, David Eckard, Heidi Schwegler
2011   Sang-ah Choi, Bruce Conkle, Stephen Hayes
2012  Ellen Lesperance, Akihiko Miyoshi, Michelle Ross
2013  Mike Bray, Cynthia Lahti, D.E. May
Other exhibits in the East Oregonian Gallery
Joanne Donaca.  July/ August 2004
Contemporary Western Exhibit. (Patricia Freeman Martin, Joey Lavadour, Marlene Lavadour, Suzanne O'Rourke, Lillian Pitt, Richard Stapleman, Zan and Patience Traughber, Duff Severe, Cass Spangerude), September 2004
Palma Corral and Aaron Engum, October 2004
Frank Janzen: Land Whispers, January, February 2006
Places: Four Points of View (Cheryl Cosner, Roy Anderson, Jim Simpson, Joyce Anderson). May/June 2006
Colleen Sargen/Andrew Geaslend: Mixed Media. June/July 2006
Don Gray/Don Gray: A Two-Man Show, July/ August 2006
Jan Beitel and Randy Gundlach, September 2006
Healing Through Art: Women, AIDS and Hope in South Africa, October 2006
Carole McCarty: Cloudscapes, Jan/Feb 2007
Glenn Grishkoff: Brushing Away the Dust, March 2007
Eva Lake: Earth Quake, May/June 2007
Squire Broel, June/July
Lillian Pitt: Ancestors, July/ Aug 2007
Doug Gisi: New Work, Sept/Oct 2007
Bonnie Zahn Griffith: A Hundred Mile Radius, Sept/Oct 2007
Mare Blocker: Palouse Narratives, Oct/Nov 2007
Margaret Jamison: Inner Circle, Jan/Feb 2008
Printers Trifecta: Three Print Portfolios curated by MaLynda Poulsen Jones, Feb/March 2008
Jean Christofori Howton, April 2008
Art/Craft: New Intersections (Bill Piper, Claude Birt, Ed Brannon), June/July 2008
Kat Galloway: The Belted Galloways, July/Aug 2008
Jeremy Lilwall: Internal Rhythms of Madcap Inquires, August 2008
Philip Miner, Sept 2008
Catherine J. Lee, Oct/Nov 2008
Michelle Acuff, February 2009
Meredith Re'Grimsley: Honey and Pearls Feb, March 2009
Julia Henning, April 2009
Woven Works by Northwest Masters (Joey Lavadour, Pat Courtney Gold, Joe Fedderson, Mary Schlick, Patrice Hall-Walters), June/July 2009
Anne Greenwood, July 2009
Artist Series Tapestries from the Pendleton Woolen Mills, Aug/Sept 2009
Marie Watt: Pendleton Stories, Sept/Oct 2009
Oregon College of Art and Craft Invitational, Nov 2009
James Thompson: The Vanishing Landscape, Jan-March 2010
Jennifer Ishimatsu, Views: Open and Obstructed, March/April 2010
Steve Henderson: In Search of Quiet Places, April/May 2010
Monica Stobie: THREADS, June/July 2010
Pendleton Roundup at 100: Design Binding Competition, July/Aug 2010
Sandra Jones Campbell: Recollections, Sept 2009
MaLynda Poulsen: The Gilded West, Oct/Nov 2010
Sam Collette: Recent Works, Jan/Feb 2011
Sandra Harris March, April 2011
Janice Jakielski May, June 2011
Kevin Boylan: Windows, June-Aug 2011
Doug Kaigler, Aug/Sept 2011
Patricia Freeman-Martin: Works on Paper, Sept/Oct 2011
Mary Farrell: Line Upon Line, Oct/Nov 2011
Melinda Thorsnes, Feb 2012
Nell Warren/Greg Misarti: Remnant, March 2012
Glass of Eastern Oregon (Kevin Boylan, Andy Nichols, Tom Dimond, Jake Kurtz, Brent Wydrinski, Russel Ford, Charlene Fort), April 2012
Dawn Forbes: Creature Comforts, July 2012
Margaret Jamison:Character Studies, July 2012
Generations: Betty Feves, Aug/Sept 2012
Jessica Plattner: Babyscapes, Oct 2012
Oregon Artists in Collaboration with Crow's Shadow Press, Feb 2013
Christy Wyckoff: Landscapes Observed and Created, March 2013
Arlen Clark: 30 Years of Painting, April 2013
Keiko Hara: Prints 1981-2013, July 2013
Clay Invitational, Aug 2013
Don Gray, Sept 2013
Peter Bryan: Works on Paper, Oct/Nov 2013
Stephen Wadner/Tom Clement, Feb 2014
Susan Murrell: Embedded, March 2014
Keaney Rathbun, April 2014
James Thompson: Linear Metaphysics, July 2014
Gregory Pierce, Aug 2014
Peter Christian Johnson, Sept 2014
We Tell Ourselves Stories in Order to Live, Oct 2014
Reflections on the Columbia Plateau, Feb 2015
Whispers: Collaborative Quilt Series, March 2015
James Lavadour Venice Biennale Preview Exhibit, March 2015
Open Regional Exhibit, April/May 2015
Aaron Robert Miller: Accomplishments, June/July 2015
Frank Janzen: Above/Below Series, Aug 2015
Dale DeGabriele: Images of Round-Up, Sept 2015
Hiroko Cannon: New Work, Oct 2015
Tom Prochaska/Christy Wyckoff: In the Footsteps of Charles Heaney, Feb 2016
Frances Stilwell: Oregon's Botanical Landscape, March 2016
Nika Blasser: light mirror | mirrow shadow, June 2016
Mike King: SMASH HITS! July 2016
Peter Rock: SPELLS, Aug 2016
East Oregonian Photography Exhibit: (Kathy Aney, E.J. Harris, et. al.), Sept 2016
Arlen Clark: New Works, Oct 2016
Whitney Minthorn, February 2017
Chuck Close: Selections from the Collection of Jordan D. Schnitzer and His Family Foundation, March/April 2017
PDX->PDT (Amjad Faur, Bean Finneran, Ellen George, Johannes Girardoni Elizabeth Knight, James Lavadour, D. E. May, Kristen Miller, Wes Mills, Megan Murphy, Vanessa Renwick, Tad Savinar,  Adam Sorensen, Barbara Stafford, Storm Tharp, Terry Toedtemeier, Gus Van Sant, Molly Vidor, Nell Warren, Marie Watt, Anna Gray + Ryan Wilson, Masao Yamamoto), July 2017
Small Works Invitational (Joyce Anderson , Roy Anderson, Judith Baumann, Lorie Baxter, Nika Blasser, Kevin Boylan, Hiroko Cannon, Shari Dallas, Bonnie Griffith, Carl Merkle, Penny Michel, Michelle Miller, Brian Purnell, Amy Rogers, Lori Sams, Alice Thomas) August 2017
Malcolm Phinney: Prairie Paintings, Sept. 2017
James Allen: Book Work, Recent Excavations, Oct. 2017
Wilderness and Sublimity: Photography and the Conservation of Hells Canyon, Feb. 2018
Louise Bourgeois: Selections from the Collection of Jordan D. Schnitzer and His Family Foundation, March/April 2018
Katherine Treffinger: New Work, July 2018
Brian Sostrom: New Work, August 2018
---