Rock & Roll Camp August 7-11, 2023
8:30 AM – 4:30 PM each day
**REGISTER TO SAVE YOUR SPOT HERE.**
It's FREE for

teen

s

13-18.



Enjoy a slide show of the amazing images taken by Pendleton photographer Francie Foster…
Rock & Roll Camp XVII is in the books, but it's not too early to get ready for 2023. You can take FREE guitar classes at PCA all year if you want to hit RRC XVIII with some new skills. Check out FREE teen classes HERE.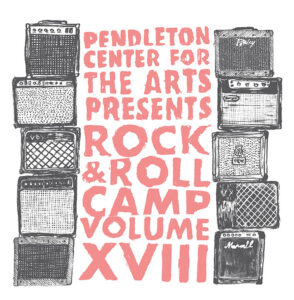 What will I do at Rock & Roll Camp??
Excellent question. 
First, we need to know what you need at home to make this the best experience. We can loan guitars (acoustic and electric), basses, amps, ukuleles, –even drum kits.
Students work on getting better at their instruments (or learning to play) and writing and performing original music. Other campers spend the week on rock journalism.
Some other things campers do:
Meet other cool people who are into making music and being creative
Get tips on how to be a rock star
Make a camp blog
Develop your musician persona
Learn how to put together concerts during the rest of the year
And so much more …
Want to know more? Here are some answers to the questions we get most often.
So what is rock camp, exactly?
It's five daily sessions of FREE rock & roll learning with teachers from West Coast indie bands. Some people put together bands, write original music and record their songs. Others work on rock journalism, putting together a camp zine and generating video for YouTube.
Where's it going to be?
At the Pendleton Center for the Arts, 214 North Main Street, Pendleton, OR 97801
Who can come?
Rock & Roll Camp is open to anyone 13-18 years old. No residency requirement.
Do I have to play an instrument?
Nope. You could be a singer or get started on an instrument during camp. Otherwise, you can learn everything from how to set up sound systems to how to design and make band merchandise. Or work with a music editor from Willamette Week on rock journalism… we need zinesters, writers, photographers and movie-makers.
How much is this going to cost me?
Not a penny. Rock & Roll Camp is absolutely FREE, including a sweet FREE camp t-shirt.
What can I do to get ready?
Like us on Facebook. Just search "Rock & Roll Camp" to find us. This is your spot to talk with other campers, post links to songs and add pictures and video from years past.
(Want to support Rock & Roll Camp? We could use your donation to make it extra special this year. Get info HERE.)
BROWSE PICS AND VIDEOS FROM PAST CAMPS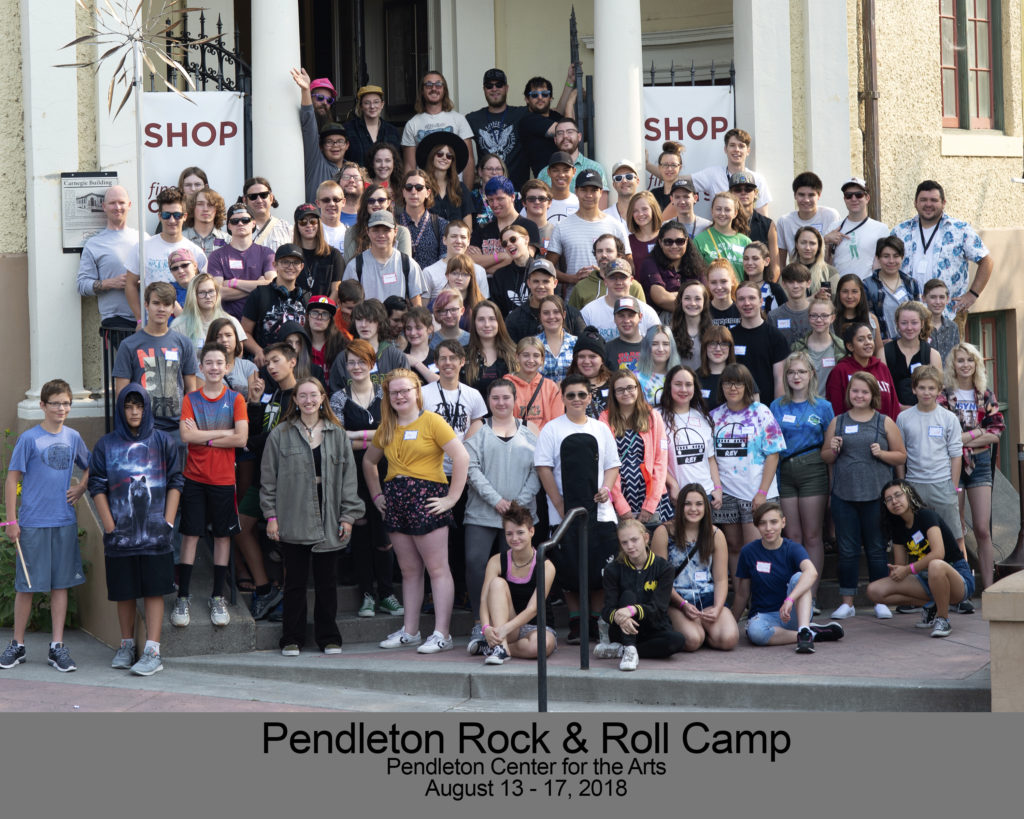 Get a feel for Camp life from this 2009 video produced by Brandon DeCicio
Thank you Rock & Roll Camp Supporters!
Rock & Roll Camp is made possible by the generous support of many organizations, businesses, and individuals who contribute to making this event run smoothly and creating the best experience possible for campers. Here is a growing list of supporters for Rock & Roll Camp 2018:
Ford Family Foundation
PGE Foundation
Herbert A. Templeton Foundation
Robert and Marcia Randall Charitable Trust
Umatilla County Cultural Coalition
Roberta Jones
Hot Topic
SKB Cases
Elkhorn Media Group
Great Pacific – Wine & Coffee Co.
Trish Wilkins
Legacy Ford La Grande
Knights Inn
Sodexo
Grocery Outlet
City of Pendleton
Main Street Cowboys
Pendleton Parks & Recreation
Sherwood Elementary School
First Christian Church
Zimm Sound
Interested in contributing? Contact us at 541-278-9201.