Youth Classes
Our programs are made possible through the support of the Oregon Community Foundation and others.
Our Youth classes are offered to kids up to 12 years old. If you're over the age of 12, don't worry! Classes for teens are FREE through our Art Rocks Teens program. Members of the Pendleton Center for the Arts pay a reduced fee for classes. Join now here!
Parent Permission forms are required for all Youth students. Permission forms must be updated annually. Please bring a signed and completed permission ready to turn in on the first day of class.
Permission forms can be downloaded here: Parent Permission YOUTH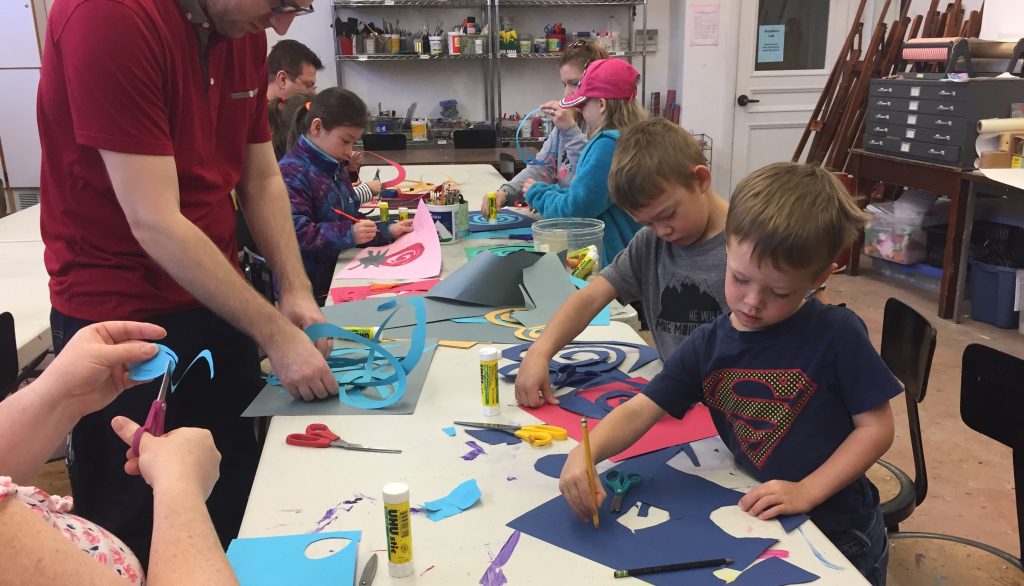 FREE FOR ALL! (UP TO AGE 12 OR SO) – a FREE drop-in class!
EVERY SATURDAY, 9:30 – 10:15 AM
We're back at PCA!
Stop in for a fun, free Saturday morning art project with one of our creative and enthusiastic staff members. Pop your head in or stay for the whole session! Kids under 8 must be accompanied by a parent or older pal to help them with the project.

PCA CREATION STATION!
Tuesday-Friday 11 AM – 3:30 PM, Saturdays 12:30 PM-3:30 PM
FREE drop-in art experience.
We've transformed a portion of the Pearson Auditorium into the PCA Creation Station. Kids and families (locals and tourists alike!) can drop by during our open hours to enjoy a self-directed free-play art-making experience. We'll supply all the materials, inspiration, and space to make things. We even have a comfy lounging area for supervising adults to relax and unwind. Come by when you can, or make it a structured part of your weekly routine. We'll have new materials each week.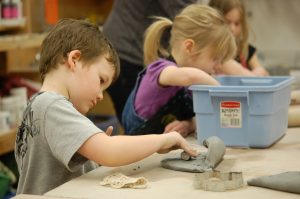 CLAY CREATIONS TO GO (kids and families of all ages)
with Kate Peck and Kate Brizendine
You'll find everything you need to make your own pinch pots, clay creations, and more in this clay kit. Students will have the flexibility of creating their clay play in the comfort of their own home. When you register you'll receive a call back to schedule curbside pick up of the kit. You'll return your piece for bisque firing, then make an appointment for a 20 minute slot in the clay studio for glazing. 
$40 – add a kid at the same household for $5. Add to your cart any time and you'll get a call from our staff to schedule clay kit pick up.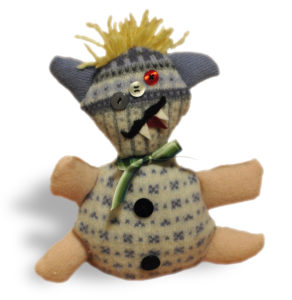 MAKE A MONSTER (Youth(s) w/an Adult Helper)
with Stephanie Huffman
FAMILY DATES: SATURDAYS, 1:00 – 3:00 PM
May 14 & 21, 2022 (Two Sessions)
You'll create your very own "monster plush" in this quirky class! These little creatures are fun to make and are customized by you. This class is being offered to adults and teens, as well as the opportunity to partake in this class with your child/teen as an activity to do together! (Ages 8 and up) This class is being offered to all skill levels, beginners included. If you'd like to add some knit features, Stephanie can teach you some beginning stitches. Masks required. 
 $10 per Adult + up to 3 kids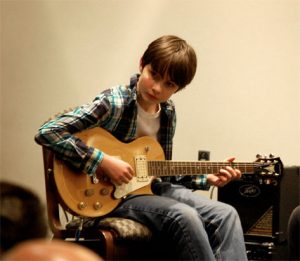 YOUTH GUITAR (8-12)
Look for new dates soon!
(We're looking for an awesome instructor. If you know someone, let us know!)
Kids can join for a one month session, or as many months as they like. Join anytime. 
Learn and grow or continue basic guitar skills to entertain yourself, and possibly others! Students will learn basic major and minor chords, strumming styles and techniques, and will be able to play one song by the end of the course. Please bring a guitar to each class. Please visit Pendleton Music Co. for affordable instrument rentals. This is a great way to prepare for future Rock & Roll Camp endeavors! Thanks to our Grant Writer JD Smith, this class is now being offered for FREE! Registration is required.
Class size is limited, and good fitting masks will be required to lower risk for students, instructors and staff.