Youth Classes
Our programs are made possible through the support of the Oregon Community Foundation and others.
Our Youth classes are offered to kids up to 12 years old. If you're over the age of 12, don't worry! Classes for teens are FREE through our Art Rocks Teens program. Members of the Pendleton Center for the Arts pay a reduced fee for classes. Join now here!
Parent Permission forms are required for all Youth students. Permission forms must be updated annually. Please bring a signed and completed permission ready to turn in on the first day of class.
Permission forms can be downloaded here: Parent Permission YOUTH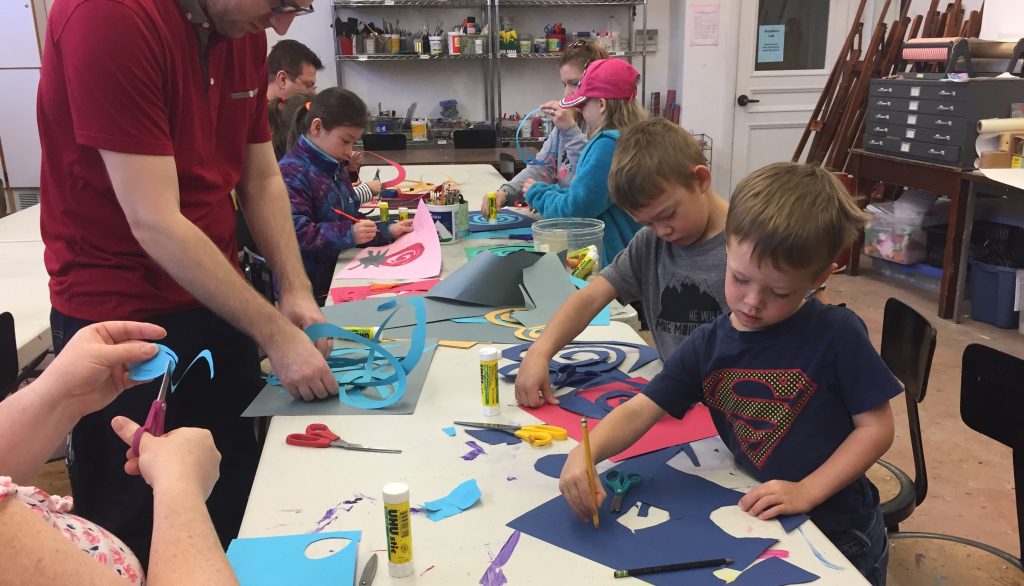 FREE FOR ALL! (UP TO AGE 12 OR SO) – a FREE drop-in class!
EVERY SATURDAY, 9:30 – 10:15 AM
Stop in for a fun, free Saturday morning art project with one of our creative and enthusiastic staff members. Pop your head in or stay for the whole session! Kids under 8 must be accompanied by a parent or older pal to help them with the project.

MONDAY ART STUDIO – a FREE drop-in class!
with Kate Peck
MONDAYS, 4:00 – 5:30 PM
January 13 – February 10 (5 SESSIONS)
Kids of all ages now have full access to the PCA's art materials and studio space! Inspire your kids to explore art independently through open-ended drawing, painting, and collage or try out a new technique by working along with the group on a facilitated project (we'll have a fun optional project going on each time). The emphasis is on creative learning and play through art making. Kids are welcome to drop in for 15 minutes or stay for the full session if they would like. Parents can participate too! (Children 8 and under must have a parent present)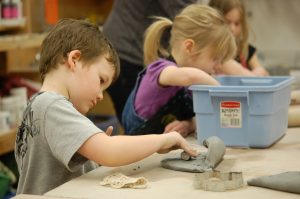 CLAY CREATIONS STUDIO
with Kate Peck
1st & 3rd Saturday every month
Beginning in January 2020
10:30 AM – 12:00 PM
We asked and you answered! Beginning this September our Youth Clay Creations will be held the first and third Saturdays of each month, unless it lands on a holiday. Drop in between 10:30 AM and Noon to explore clay building open studio style. That means we'll be there each time helping with building ideas such as pinch pots, slab constructed boxes, free-form clay sculptures and so much more! Students will then have the flexibility of creating on their own timeline and glaze as pieces have been bisque fired. We do get messy so make sure to send your student in suitable clothes. We still appreciate registering early so we can always make sure we have enough clay.
$10 PER SESSION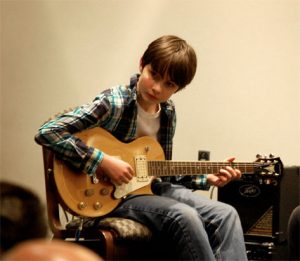 YOUTH GUITAR
with David Orr
MONDAYS, 4:00 – 5:00 PM
January 13 – March 9
Learn and grow or continue basic guitar skills to entertain yourself, and possibly others! Students will learn basic major and minor chords, strumming styles and techniques, and will be able to play one song by the end of the course. Please bring a guitar to each class. Please visit Pendleton Music Co. for affordable instrument rentals. This is a great way to prepare for future Rock & Roll Camp endeavors! Thanks to our Grant Writer JD Smith, this class is now being offered for FREE! Registration is required.

BEING PRESENT IS A PRESENT
with Kate Brizendine
WEDNESDAYS, 11:15 AM – Noon
January 8 – January 29 (4 SESSIONS)
Are you a stay at home parent in need of an outing with your littles? In this class, we'll explore the power behind positivity, staying present, and being mindful. We will begin each session with a relaxing and kid-friendly reading, followed by an art project that coincides with the overall theme of this class. This is a FREE class that we hope you'll enjoy!