Jay Anderson: In the Thicket
In the East Oregonian Gallery Through February 29, 2020


Artist's Statement
"The world is separating. Facts are no longer factual. The internet and social media are invisibly woven around us, following along with our every step. News outlets are tailored to every point of view, any opinion can be substantiated. What information can we use as fact from our surrounding world to gather conclusions of what our eyes, ears, and guts are telling us? What is 'fake' and what is 'real'? Our senses can no longer be relied upon.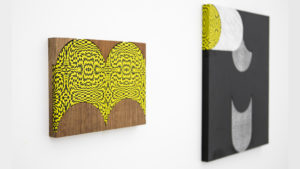 "My recent body of work has grown out of an interest in this phenomenon and how it might affect the way we exchange ideas with one another moving forward. The work on view is constructed of cut plywood that has been painted and covered with a hydrographic transfer; a process which allows for printed images to be wrapped and adhered to three dimensional objects. With this technique, any product manufacturer can easily cover their products in digital or photographic patterns such as a rifle with forest camouflage or a plastic car dashboard with wood grain.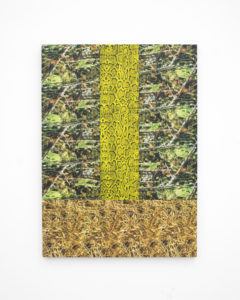 "These mixed media objects combine elements of sculpture, painting, photography and collage. The subject matter of the work is varied but tied together by themes of confusion and uncertainty. The goal is not simply to be unclear or to create a space for a subjective interpretation. It is to point out the irony and complexity in differentiating between fact, fiction, and opinion. The word "ambiguous," which is often taken to mean 'uncertain,' can also mean "something that is understood in two or more ways.' This second definition has routes in military terminology where it can also mean 'a haziness of reality' or a situation where one might be 'attacked from two sides at once.' I feel that this is the most appropriate way to interpret the topic I am undertaking and the best way to describe the world today."
Alysha de Martinez
In the Lorenzen Board Room Gallery through February 29, 2020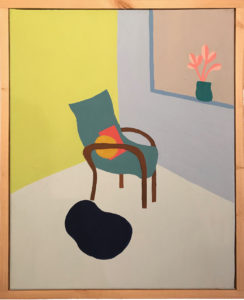 Artist's Statement:
"I am a young artist born and raised in Pendleton, Oregon. Inspiration rises through my work in
the roots of my culture and heritage, passion for fashion, and inspiration from global artists. My pieces of
artwork are a collection of my self evolution as a woman in the continuous world of art. I desire for my
various pieces to express my touch in my native language, abstract shapes, colors, tones and to release a
subtle womanly influence. As my creative flow is falling along the phases and eras of my life through
new environments and discoveries, I work on keeping my pieces as expressive and genuine to myself
while openly sharing it with the world.
"I am currently a senior in high school and soon to graduate in the month of May and I plan on
continuing my life as a growing artist and student. I hope to find my new community at either Laguna
College of Art and Design in Laguna Beach, California or Oregon State University in Corvallis, Oregon
in the fall of 2020. I plan to major in Graphic Design and minor in Art History at either institutions"