Small Works Invitational
In the East Oregonian Gallery Through Sept. 30, 2019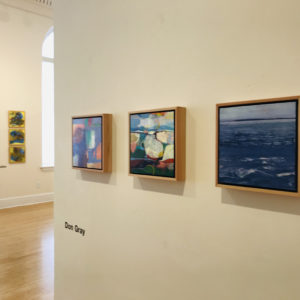 Less is definitely more, as evidenced by this exhibit. The Small Works Invitational will be on display September 5 – 28 in the East Oregonian Gallery. The exhibit features 14 artists from the region who were invited to create works that measure no more than 12 inches in any direction.
"We wanted to provide a chance for people to start an art collection, or add to an existing one, with works that are both great pieces of art and affordable," said PCA executive director Roberta Lavadour. "These works are small, but they pack a real punch. We were thrilled that so many of the artists we invited were able to participate."

Featured artists include Joyce Anderson, Nika Blasser, Shari Dallas, Don Gray, Anne Haley, Alysha de Martinez, Asa Mease, Carl Merkle, Michelle Miller, Brian Purnell, Amy Rogers, Lori Sams, Alice Thomas, and Sandra Westford.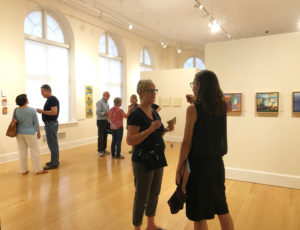 A second exhibit runs concurrently in the Center's Lorenzen Board Room Gallery, where Lori Sams' exhibit One Summer (of Motherhood) is on display. Free admission to the Arts Center during September is made possible through the support of Northwest Farm Credit Services and the Oregon Arts Commission. More information is available by calling 541-278-9201 or visiting online at pendletonarts.org.

This exhibit is made possible through the generous support of Northwest Farm Credit Services. 


Lori Sams: One Summer (of Motherhood)
In the Lorenzen Board Room Gallery through Sept. 30, 2019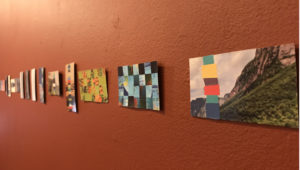 Artists' residencies are a time for artists to create new work, often in a distinctive setting. They are usually highly competitive and offer a rare opportunity for artists to focus on their work without distraction. This summer, local artist Lori Sams participated in a residency that ran counter to the traditional model and was more about using the distractions in everyday family life as fuel for art making. 
From June 7 – August 29 Sams participated in the Artist in Residency in Motherhood (ARiM) program, a project conceived by Lenka Clayton while she cared for her own young children. With ARiM's goal of "reframing of parenthood as a valuable site for creative practice, rather than an obstruction to be overcome" Sams was encouraged to look around and embrace all that was around her as a parent.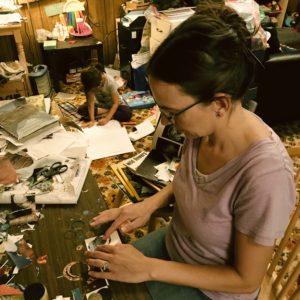 "Changing my perspective in this way, from being frustrated by perceived artistic constraints of motherhood, to embracing and incorporating them, has been very liberating, freeing and exciting," she said.
Artists sign up for the residency at Clayton's website, filling out a form to keep them accountable and finding ideas for structuring their experience. Instead of traveling to an exotic location, participants work at home, with their locations added to a map on ARiM's website. There are currently over 750 Artists-in-Residence-in Motherhood participants in 55 countries.
To allow for an ongoing sense of completion over the summer, Sams worked to make 100 3.5" x 2" collages out of materials she had close at hand. This format allowed her to work in ten-minute creative bursts, and also allowed her to re-purpose a large stack of business cards left over from a job she held before becoming a mother. She exceeded her goal, completing 103 works.
"Luckily my daughter is interested in creative activities too, so I can sometimes find a few minutes while she's busy drawing or coloring."