The Gallery is OPEN! Visit us 11-4 PM Tue-Fri and 12-4 PM Saturdays.
Initial Attack: Photographs by Wildland Firefighters
October 7-31, 2021
The members of the Grande Ronde Rappellers get dropped into some of the most remote and beautiful areas of the northwest and beyond, and in October their unique viewpoint will be on exhibit in the East Oregonian Gallery at the Pendleton Center for the Arts. The exhibit, INITIAL ATTACK: Photographs by Wildland Firefighters, opens Thursday, October 7th with a Zoom reception with the photographers and will be available for viewing in the gallery through October 31. (Request link at top of this page.)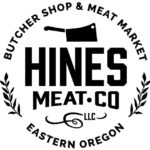 All activities are free and open to the public, thanks to the generous support of Hines Meat Co.
The Grande Ronde Rappellers is a 40-person crew of highly-trained aerially-delivered firefighters sponsored by the U.S. Forest Service's Wallowa-Whitman National Forest and based in La Grande. Members are trained at the National Rappel Academy, a performance-based program that demands a high level of physical and mental toughness of candidates. These men and women see landscapes that are often inaccessible, providing them with views rarely experienced. The twenty-six large-scale photographs featured in the exhibit were captured by Tully Bloom, Gabby Casper, Guy Hakanson, Micah Olivera, Jordin Schramm, and Adam Wunsch. Most wouldn't identify themselves as artists, and the images benefit from a lack of self-consciousness and fuss.
The photographs have been reproduced in large format and are ready for framing. 30% of the proceeds of the sale of photos will support programs at the Pendleton Center for the Arts and 70% will be donated to the Wildland Firefighters Foundation, an organization that provides financial support to families of those who died or were injured in the line of the of duty while fighting wildland fires.
"When someone is taking a photograph simply because they're struck by the beauty of what they see, it really translates to the viewer," said Arts Center Executive Director Roberta Lavadour. "We're happy to also be able to use this opportunity to celebrate the amazing work that initial attack crews do."
Watch a short video created by the GRR crew HERE.
Select any image below to begin the slide show.
Navigation tips: Hover over arrow at right center of each image or use arrow keyboard keys to advance. Select the expand button at the top right of a photo to see a larger version of that image. On mobile device, bypass slideshow and just scroll.