Live Music/Performances
We bring the community together by hosting a wide variety of live music events that celebrate our heritage and expose us to new perspectives. From Celtic and bluegrass to jazz and rock & roll, the Pendleton Center for the Arts is a great spot to experience the power of live music. You can keep up with all our Facebook events HERE.
Up Next: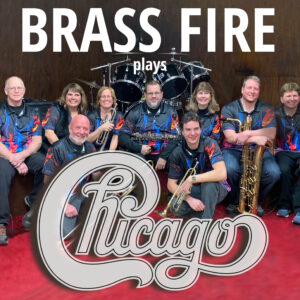 BRASS FIRE PLAYS CHICAGO
Saturday, October 22, 2022
7:00 PM – doors open at 6:30 PM
Tickets $10
All 110 reserved seats have been sold for this show. At show time, we will have seats just outside the auditorium available for purchase at the door on a first come, first served basis. 
After two years of perfecting the challenging repertoire of the band Chicago, the musicians of Brass Fire are ready to present it in a very special, first-ever performance at PCA.
Made possible through the generous support of The RBH Group.
When Brad Rozema describes the band Brass Fire, often he first has to dispel the stereotype that those unfamiliar with the group jump to; that it's a LOUD brass band. The truth is that the group, while sporting a large horn section, features musicians who have spent years honing their craft and the nuance of their instruments. That work will be on display when the group performs a tribute to Chicago, one of the most popular bands of the 1970's, on Saturday, October 22 at the Pendleton Center for the Arts. Doors open at 6:30 PM and the show starts at 7:00 PM.
Rozema formed the band nine years ago with a core group of musicians and over the years other performers have joined in. The group has had members from Tri-Cities, Walla Walla, Umatilla, Pendleton, Ione, and Hermiston, and the current ensemble features a diverse age group.
"We've got a musician who's 16, and people in their 20s, 30s, 40s, 50s, and 60s," Rozema said.
The current players include Jill Scanlan on trumpet, Dan Allen on trumpet, Andy Cary on saxophone, Steve Anderson on saxophone, Cindy Eddy on bass guitar, Jeff Bemrose on drums, Carlie Allen on piano, Jonna Kopta on vocals, Ron Taft on guitar, and Rozema on trombone.
The playlist of the band Chicago is particularly suited to the group, as a vast majority of the music was written for three horns – trumpet, trombone, and tenor sax – all of which are featured in Brass Fire. The music is more challenging than traditional pop music, much of which focuses on lyrics or the vocal tonality of the singer, but often relies on simple cords and structure.
"From the standpoint of musicianship, these songs require much more practice and finesse," said Rozema.
The band Chicago is still touring today, fifty-five years after forming and forty-six years after their first number one song, "If You Leave Me Now," hit the Billboard charts. Their iconic sound formed the backdrop for the 70s, with songs like "25 and 6 to 4", "Does Anybody Really Know What Time It Is?" and "Saturday in the Park." An incredible 25 of their 32 albums have been certified platinum and they've sold more than 100 million records.
The show is made possible through the support of Harriet Isom, a long-time local patron of the arts. Tickets are $10 and available at PendletonArts.org. For more information contact the Pendleton Center for the Arts at 541-278-9201 or by email at director@pendletonarts.org.
Grant Gordy and Jacob Jolliff
CANCELLED – we hope to reschedule as soon as Grant announces the new West Coast Tour dates.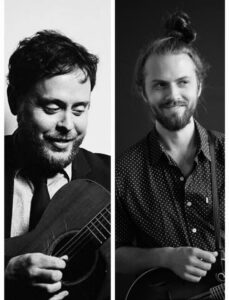 Guitarist Grant Gordy and mandolinist Jacob Jolliff have had a long musical partnership built around their shared love of bluegrass, jazz, and other styles. They released their first duo album, Our Delight, in early 2022. While the record is primarily jazz, the live show will feature vocal and instrumental bluegrass as well—a varied repertoire that will hopefully keep people guessing!
GRANT GORDY
**********************
For several years Brooklyn-based guitarist Grant Gordy has been a major voice on the American acoustic music scene, and one of the most highly regarded young instrumentalists of his generation. Having held the guitar chair in the legendary David Grisman Quintet for six years, he's also worked alongside such musical luminaries as Edgar Meyer, Steve Martin, Tony Trischka and Darol Anger. Grant has performed all over North America and Europe, everywhere from Carnegie Hall to Montreal Jazz Festival; Jazz at Lincoln Center to Bonnaroo.
His music has been heard on NPR's Morning Edition, All Things Considered and Tiny Desk Concerts, and he's received attention from international music periodicals such as The Fretboard Journal, Acoustic Guitar Magazine, Japanese bluegrass publication Moonshiner, Just Jazz Guitar and Flatpicking Guitar Magazine.
JACOB JOLIFF
**********************
After many years touring with Yonder Mountain String Band, mandolinist Jacob Jolliff now fronts the The Jacob Jolliff Band, a group of virtuosic pickers that play Jacob's original instrumentals, as well as showcase his singing. They tour nationally in the US and have also travelled to Scotland and Australia to perform.
Jacob's all-original first album, entitled, "Instrumentals, Vol. 1" was released in 2018.
Over the years, Jacob has had pleasure of sharing the stage with many legendary musicians spanning many genres including Darol Anger, Tony Trischka, Sam Bush, Ronnie McCoury, Jerry Douglas, Bryan Bowers, The David Grisman Quintet, Michael Daves, and Béla Fleck's My Bluegrass Heart. Currently, he lives in New York City, and can be heard around town playing with his own projects as well as sitting in with his friends' groups in a wide range of styles.