Live Music
We bring the community together by hosting a wide variety of live music events that celebrate our heritage and expose us to new perspectives. From Celtic and bluegrass to jazz and rock & roll, the Pendleton Center for the Arts is a great spot to experience the power of live music. You can keep up with all our Facebook events HERE.
COMING UP:
Simon Karakulidi
Friday, November 8, 2019 at 7:00 PM

This Russian-born pianist is one of Portland Piano International's Rising Stars, and he's simply amazing. Here's a video of him performing as a student (!!) back in 2015. The program for our recital will be Liszt, Schubert and Franck. Not familiar with classical music? This is the PERFECT introduction. Well-behaved kids are welcome and attire is casual. Join us!
Little Missy
Friday, November 15, 2019 at 7:00 PM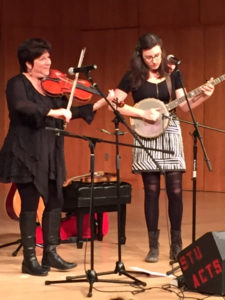 Janie Rothfield and Shona Carr are both powerhouse American Roots musicians who meld traditional Appalachian/Old Time music with their own compositions and songs. They are also mother and daughter, and perform under the band name Little Missy. Both highly accomplished fiddlers, guitarists, clawhammer banjo players and singers, Jane and Shona celebrate their individuality and their undeniable genetic connection with hot tunes, soulful ballads, and great harmonies.
Janie Rothfield is an internationally known fiddler, clawhammer banjo player, tune composer, dance musician, and band leader. As a young teen in Connecticut she was exposed to traditional fiddling and started going to fiddle contests. Janie has played with and learned from many older generation musicians, including French Canadian Traditional fiddler Leo Beaudoin, Kentucky fiddlers Paul David Smith and Jimmy McCown and North Carolina native Eddie Lowe. In addition to her old time music influences, she lived in Scotland for many years, and toured throughout the UK and USA with her contemporary Scottish/Old Time trio, Hadden, Rothfield and Carr.
Shona Carr is an award-winning singer and song writer who grew up surrounded by the fiddle and banjo music of her mother and Scottish traditional singing and Celtic music from her father, Allan Carr. Shona's music and singing reflects the fusion of these musical styles and she is known for her unique voice, song and tune writing. Shona plays fiddle, banjo, tenor guitar and guitar and performs with her bands, Lost Indian, The Buck Stops Here and as a duo with partner, Sam Stallings.
Here's a peek at a house concert from a couple years ago…