Live Music
We bring the community together by hosting a wide variety of live music events that celebrate our heritage and expose us to new perspectives. From Celtic and bluegrass to jazz and rock & roll, the Pendleton Center for the Arts is a great spot to experience the power of live music. You can keep up with all our Facebook events HERE.
COMING UP:
West My Friend
Friday, January 31, 2020

Described as everything from indie-roots to chamber-folk, West My Friend has an acoustic blend of instruments and four-part harmonies that challenges the conventions of popular music. The band features pure and thrillingly elastic vocals with catchy arrangements of bass, guitar, mandolin, and accordion that draw from jazz, classical, folk, and pop influences.
Inspired by artists such as Owen Pallett, Joanna Newsom, Bright Eyes, The Decemberists, and the Punch Brothers, and forged from a sonically adventurous acoustic music scene on Canada's west coast, West My Friend is proving to be a key part of a new generation of grassroots folk music.
Grant Gordy and Ross Martin
Monday, February 3, 2020 at 7:00 PM

Grant Gordy and Ross Martin's duet recording Year of the Dog brings together two of acoustic music's most forward-thinking virtuoso guitarists, both of whom have deep backgrounds in the American musical vernacular. The album combines originals from each with well-chosen covers from the bluegrass and jazz worlds in which they've made their homes. The duo, born of impromptu musical meetings and jams, honors its birth in spontaneity with plenty of seat-of- the-pants soloing as well as some elaborate two-guitar arrangements that recall other great guitar pairings: Eddie Lang and Lonnie Johnson, John Scofield and Bill Frisell, Lennon and Harrison, Rice and Blake, Garcia and Weir, and McLaughlin and DiMeola, to name a handful.
Improvisation, fluency in different styles, and thoughtful arranging are also hallmarks of some of the bands in which Grant and Ross have previously made their marks. Grant held the guitar chair in the legendary David Grisman Quintet for six years, and currently plays in Mr. Sun with DGQ alum Darol Anger. Ross has been the guitarist in the Matt Flinner Trio, probably the best keeper-of- the-flame of the vibrant new acoustic music created by Grisman and his numerous stellar sidemen since the DGQ's launch in the mid-1970s.
Made possible through the generous support of RBH Group CPAs.

Baron Fenwick
Sunday, February 23, 2020
2:00 PM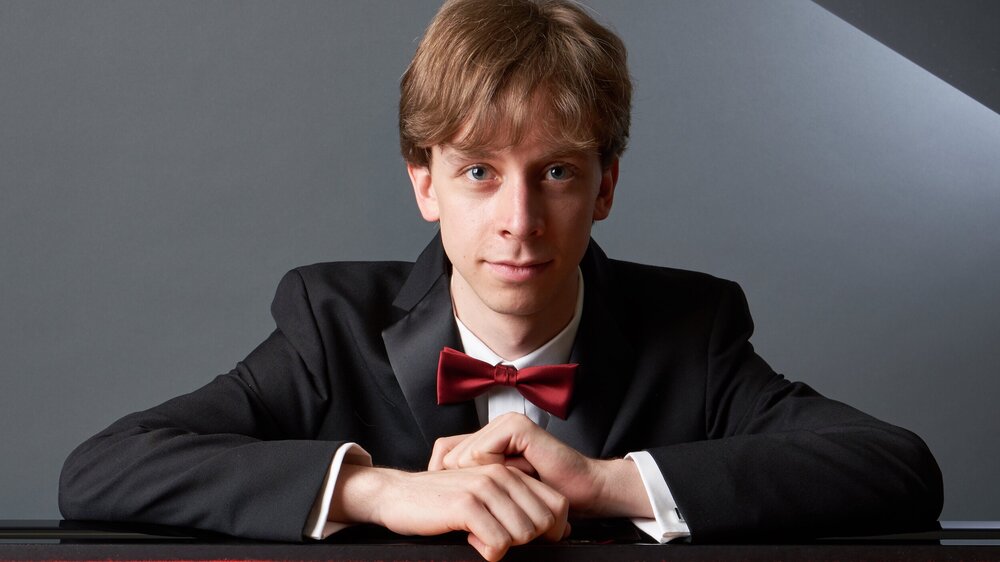 We're excited to present our next event in the Portland Piano International Rising Stars series. At twenty-five years old, Baron Fenwick has performed throughout the United States. He has performed as a soloist with the Flint Symphony Orchestra, the Western Piedmont Symphony, the Chamber Orchestra of Southern Maryland, the South Shore Symphony, the Hudson Valley Philharmonic, the Charlotte Symphony Orchestra, the South Carolina Philharmonic, the Mannes Orchestra, and the Wintergreen Festival Orchestra, among others. His performance with conductor Erin Freeman and the South Carolina Philharmonic was called "brilliant" by David Lowry of the Columbia Free-Times. "His driving rhythm, virtuosic technique, musical treatment and careful attention to the ensemble were all stunning. Put two or three more years on this young man, and we might well have a major star."

Next date in the Rising Stars Series…Sunday, April 5th, 2 PM
Performer to be announced soon!