Live Music
We bring the community together by hosting a wide variety of live music events that celebrate our heritage and expose us to new perspectives. From Celtic and bluegrass to jazz and rock & roll, the Pendleton Center for the Arts is a great spot to experience the power of live music. You can keep up with all our Facebook events HERE.
COMING UP:
The EOcenes: Top Flight Bluegrass
THURSDAY & FRIDAY, SEPT. 13 & 14, 7:00 pm – TICKETS $12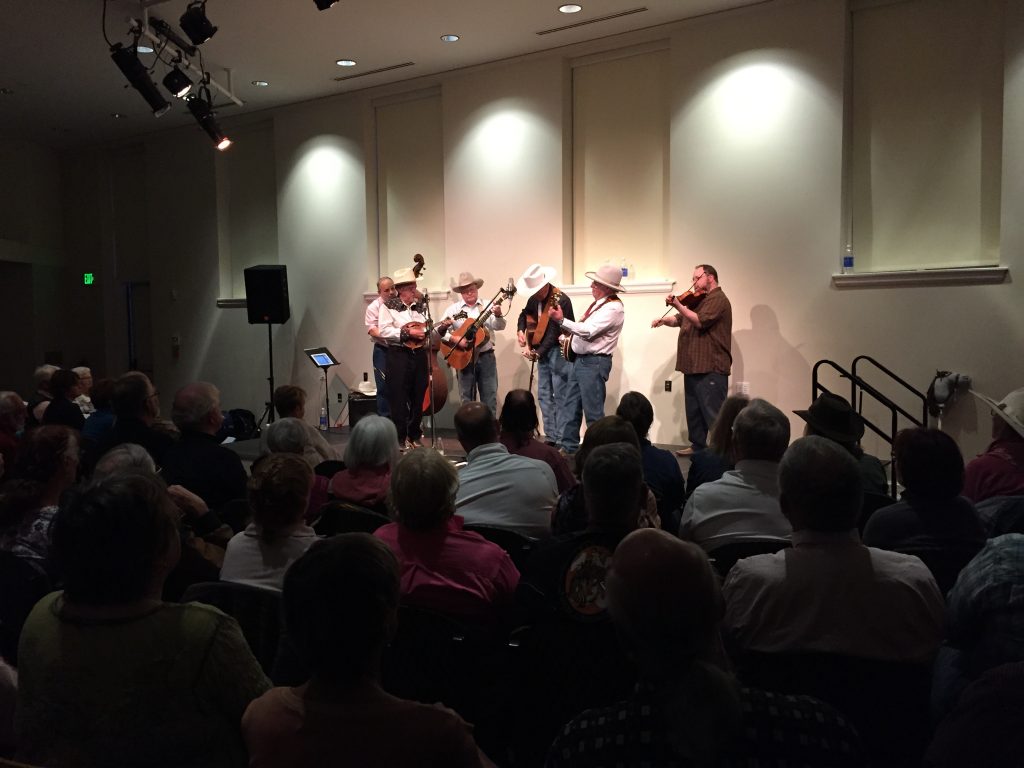 Just as Round Up comes around every year, so does first-rate bluegrass with The EOcenes. With the fluid grace that comes only with musicians who've played together for more than 50 years, this group puts on a show that will delight both you and your Round Up guests. Reserve seats early! Made possible, once again, through the generous support of Dr. Cynthia Holmes.
About the group:
Ron Emmons, well known as the front man for the popular Cabbage Hill bluegrass band, brings his classmates Hugh McClellan, Duane Boyer and Hal Spence back to eastern Oregon each Round Up week. The group is typically joined by Alan Feves on bass and National Oldtime Fiddle Champion Dan Emert on fiddle.
Emmons and Boyer met during freshmen orientation week at Eastern Oregon College and connected with Spence and McClellan through their involvement in the Eastern Oregon College Ambassadors, a musical touring group that performed high school assemblies all over the Northwest. Each man went on to have great success over the past five decades on the national bluegrass scene, performing with a wide range of groups and ensembles.
Bluegrass musicians tend to mix and match themselves into different arrangements for different performances. The name EOCenes is a play on the college's monogram, EOC (which later became EOU) and the Eocene epoch, a period on the geological time scale that occurred 55-34 million years ago.
Emmons lives in Hermiston and has played mandolin and sung lead tenor and baritone with the Blue Mountain Crested Wheatgrass Boys, the Muddy Bottom Boys, Blue Heat and The Thatchmasters, as well as Cabbage Hill.
Boyer now lives in Haines, Oregon and plays banjo and guitar, and sings lead, tenor and baritone. He taught banjo and guitar at EOC and played a major role in bringing national Bluegrass acts to that part of the state.
McClellan resides in Oregon City and plays rhythm guitar, harmonica and is known for is low, lonesome bass voice. He's also fronted a country-swing band and sang in a gospel quartet.
Hal Spence of Dallas, Oregon played guitar and sang tenor for 27 years with The Sawtooth Mountain Boys, one of the nation's best known bluegrass bands, whose travels included three tours of Europe.
Both shows are made possible through the generous support of Dr. Cynthia Holmes. Check out a snippet here:
Molly's Revenge
TUESDAY, OCTOBER 16, 2018, 5:30-7:00 PM – TICKETS $15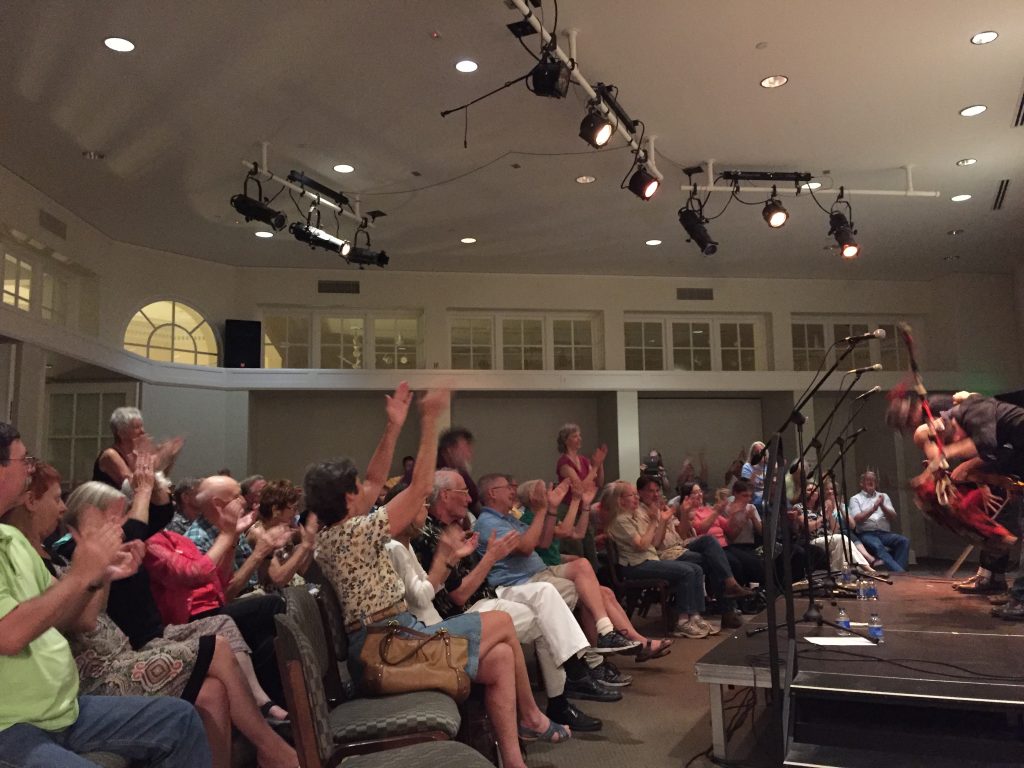 Molly's Revenge is a dynamic, acoustic Celtic band known for its unique and infectious enthusiasm. The classic combination of bagpipes, whistle, and fiddle, with a backdrop of guitar, mandola, and bodhran guarantees an enjoyable experience for all fans of Scottish and Irish music. Molly's Revenge has performed at many of the top folk festivals and performing arts events in the USA, and prestigious events in Scotland, Australia and China. Their arrangements of traditional Celtic jigs and reels bring these dance tunes up to date with a driving, hard-edged accent that always leaves audiences shouting for more.
David Brewer: Highland bagpipes, border pipes, whistles, bodhran.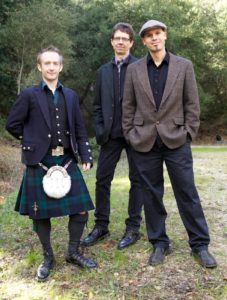 John Weed: Fiddle, Stuart Mason: Guitar, mandola.
David Brewer has been playing whistle and four types of bagpipes for about 20 years. He studied in Scotland at the Ceolas Music School in South Uist under the tutelage of some of the best pipers in the world. His authentic and unique style of playing has earned him the reputation of being one of the most accomplished pipers on the West Coast. David has composed close to 200 traditional style tunes, many of which have appeared on recordings, independent films, and television.
John Weed is a classically-trained violinist who switched to playing Irish fiddle about 20 years ago. John lived in Ireland in 2000 and taught fiddle workshops at the Flowing Tide International Music School in Doonbeg, County Clare. He attended the Frankie Kennedy Winter School in Dunlewey, County Donegal where he has studied with Ciaran O'Maonaigh and Dermot Mcloughlin.
Stuart Mason has been collecting and performing traditional music for over 40 years. He has appeared on stage from Ireland to China performing Celtic, old time bluegrass, and his original compositions, which have won awards from the West Coast Songwriters Association.

We're proud to work with the fine folks at Lindell Auto and Blue Mountain Towing to bring Molly's Revenge back.