Dianna Woolley 
HOT & COLD WAX: Fad or Factual
Through June 29, 2019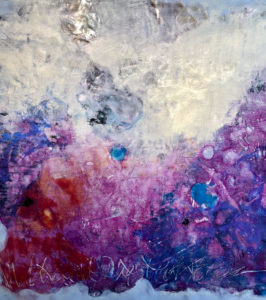 Walla Walla artist Dianna Woolley works in wax, a medium that some might consider too fragile for museum-quality works of art. But through her own artwork and a gallery talk about wax as an artistic tool, visitors to the Pendleton Center for the Arts will learn about the medium's history of strength, durability, longevity – and distinctive beauty. 
Dianna Woolley began her art career making paintings that featured recognizable imagery. Her formal education at University of Oklahoma was focused on business, not art. Then, in the early 1960's she began a 5-year mentorship with New York City abstract expressionist Donald Pierce. Pierce taught her less about expressionism than he did about the fundamentals of art, composition, value, drawing, mark making – the basics of any visual artist's work. Independently, she studied the work of 20th century abstract expressionists and post painterly abstractionists, and her work moved from realism into abstract imagery. After many years of homemaking and business careers in New York City and Kong Kong, she is now a prolific painter, producing panels full of enthusiasm, motion, and memory. Woolley's imagery symbolizes her life, travels, and thirst for knowledge. She is particularly interested in adventurous personalities, both contemporary and historical. She's had eight solo exhibits in the region in the past eight years and had work accepted into juried group exhibits in nine states across the country.
Much of Woolley's study in the past few years has come in the form of artist's residencies. A residency allows an artist to focus on their work with few distractions, often in an inspiring setting. She's been awarded residencies from the Nantucket Island School of Design and Art and the Castle Hill Arts Center's Edgewood Farm in Massachusetts. Dedicated weeks outside her studio serve to strengthen a long practice of personal reflection and innovation, while enabling her to encounter new mediums, studies, techniques and other talented artists in search of camaraderie and insight into their personal art making.
Check out Dianna's website HERE.