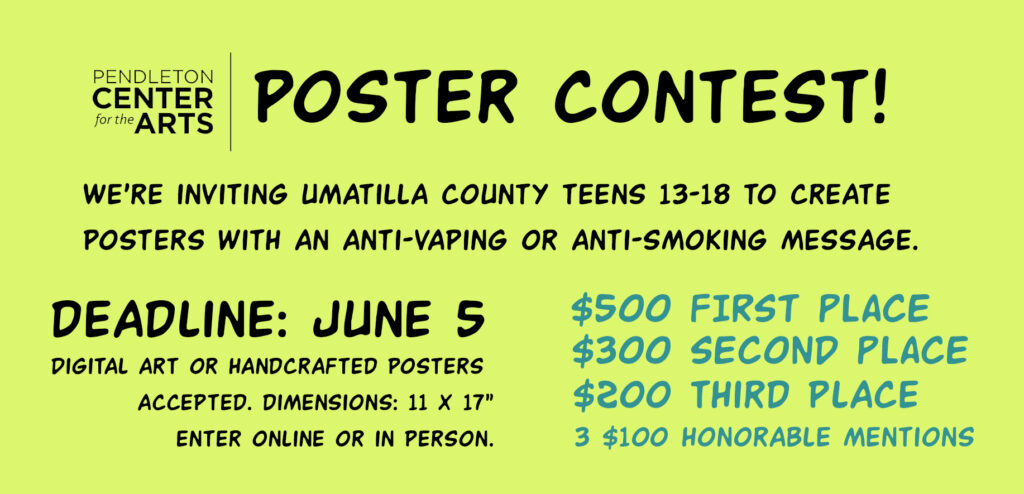 WHO'S ELIGIBLE?
Any teen 13-18 who resides in Umatilla County.
WHAT IF I DON'T HAVE ART-MAKING MATERIALS?
We've got you covered! Stop by PCA and we'll load you up with 11 x 17″ cardstock to take home. You can use all of the paints, Sharpies, and collage materials you'd like in our Creation Station, open Tue-Fri 10:30-3:30 PM and Saturday 12-3:30 PM. Just drop in!
CAN I MAKE ART ON MY COMPUTER?
Absolutely! We accept digital art OR hand-crafted posters. Please make your files 11 x 17″ (portrait OR landscape) and save as jpegs. Files must be smaller than 300MB for our system to accept them.
WHO WILL JUDGE THE SUBMISSIONS?
Local artist Sofi Smith will judge the entries and select her favorites for awards. Sofi has an active studio practice and is a well-regarded graphic designer who has worked in the industry for more than 20 years.
WHEN WILL WINNERS BE ANNOUNCED?
We'll have an award ceremony and pizza party on Saturday, June 10th at 5:30 PM! We hope you'll join us. Select posters will remain on exhibit in the Lorenzen Gallery at the Pendleton Center for the Arts through the month of June.
IS THERE A COST TO PARTICIPATE?
Nope! It's free to enter.
Have other questions? Give us a call at 541-278-9201