2021 Open Regional Exhibit
Each year since 1974 the Arts Council of Pendleton has hosted the Open Regional Exhibit, inviting established, emerging, and beginning artists to share their work with the community.  In 2020 we went virtual to keep everyone safe, and this year we're back in the East Oregonian Gallery with a virtual companion exhibit. Guest can choose the viewing option that is right for them.
Banner Bank of Pendleton is providing $1000 in cash awards this year, and the Brown/Picken family is once again sponsoring the $200 Jacqueline Brown People's Choice Award.
Important dates:
SCHEDULE DROP-OFF TIME: Before April 1 by calling 541-310-7413
DROP OFF WORK: Sat. April 3, 9 AM—5 PM
JUDGE'S CRITIQUE & AWARD CEREMONY: 5:00 pm Thursday, April via Zoom—request link at
director (at) pendletonarts.org
GALLERY VISITS AVAILABLE: 10:00 AM-5 PM Tue-Saturday April 9—May 28, 2021. Call 541-310-7413 to schedule a visit
We prefer cash or checks for entry fees, but if you must use a credit card, you can process payment HERE. Thanks!
About this year's Judge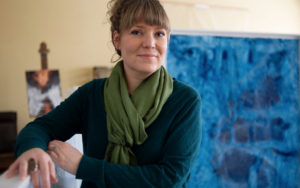 Nika Blasser received her Bachelor of Arts in Painting, Drawing and Printmaking from Portland State University and her Masters of Fine Arts from the University of Alberta, Edmonton, Alberta. In addition to exhibiting work in solo and group exhibitions, she teaches college-level art classes and serves as the Marketing Director for Crow's Shadow Institute of the Arts.
"I have an ongoing interest in the intermingling of a mediating hand with the reclamations made by the forces of nature. Many of my works involve heavily repeated elements—a simple form or action repeated until a mutation unfolds. The repetitive process, whether making the same mark with a pencil or piercing a thousand holes, becomes a meditation for me until I reach a physical limitation. I am also continually trying to push the boundaries of what I can create out of common substances, working to let the materials direct the movements of the process and reveal their most essential, and often unseen, nature. Some of the most mundane materials unfold in remarkable ways when given the opportunity—charcoal powder becomes a sooty waterfall, carborundum discloses patterns of sound and a reflective surface trembles to a visible heartbeat—all of which are able to transcend their ordinary origin. I am fascinated by meditative, obsessive mark making and forcing seemingly organic forms out of materials. The center of my work lies in compounding organic forms and exploiting the dynamism of my materials. Most of my pieces are highly formalist which leaves the audience room to have their own space of meditation and exploration into the works, extrapolating meaning and creating associations through their own eyes and mental filters."