Meet Tiffany Hegarty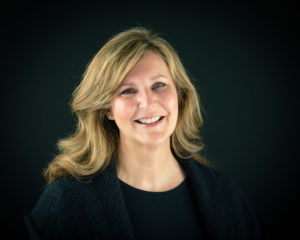 In over 25 years working with nonprofit organizations, Tiffany Hegarty has helped secure over $7.5 million in funding to support their important work. Serving in roles that include volunteer, board member, Development Director, Executive Director and consultant, Tiffany has used creativity and strategic processes to develop resources to help organizations realize their mission.
Prior to her work in the nonprofit field Tiffany had a career in the film industry, developing and producing network television movies, series, and specials. Tiffany and her husband Mike have made Pendleton their home since 2007, raising two children, Morgan and Reilly, who are now following their career paths in Portland and Southern California. Despite being married to a golf professional, Tiffany requires lots of mulligans on the golf course but hopes to improve by the time she retires. Cooper, their 7-year-old Labrador Retriever, is her favorite co-worker.
We wanted to know more, and she graciously consented to be interviewed:
Many people in the community know you as an organizer, technical writer, and volunteer. Tell us some things about your creative background that we may not know.
I have always loved writing, but I originally intended a career in the performing arts! After a childhood performing in regional theatre I studied in New York, and then moved to Los Angeles with the intent of landing TV or film roles. I needed a job, and a friend of a friend who worked in the industry connected me with a commercial production company where I started as an assistant, and eventually I moved up and on to producing films for television. I really liked being part of the film projects from concept to editing, and I realized early on actors rarely have much of a say in the creative process, so I left my acting aspirations behind.
In that work, did you have any cool brushes with celebrity you can share?
My work included lots of celebrities – but this was in the late 80's and early 90's, so the names might not be as exciting today. During the time I worked in commercial production celebrities would film commercials that would air in Japan for big money without hurting their film careers here in the U.S., so I worked with several "movie stars" during that time, including a Japanese noodle commercial with Arnold Schwarzenegger who was at the height of his Terminator fame. Years later I also worked with his wife (now ex) Maria Shriver on a talk show she developed. I was working on a project on the NBC lot when Johnny Carson filmed his last Tonight Show and got to watch it from backstage.
What brought you to Pendleton?
My husband Mike is a former professional golfer who was recruited by the PGA in 2007 to fill the head golf professional position at Wildhorse Resort. We wanted to raise our children outside of the big city, and Pendleton offered us that opportunity. I was born in Portland, and Mike is a proud University of Oregon graduate, so moving to Oregon felt a bit like coming home. Our kids are now college graduates that live in Portland and Los Angeles, but Pendleton gave them a foundation for what a supportive community looks like.  
What got you interested in working with a local organization?
The bulk of my work with nonprofits in the last 14 years has been all across the state, and I wanted to use my experience and skills to focus on an organization that is doing good work here in my own community. When the position opened due to the retirement of longtime grant writer J.D. Smith it felt like kismet – the timing was right, and I couldn't be a bigger fan of the Pendleton Center for the Arts and the important role it plays in our community as a creative hub.
How did you get connected with PCA?
I've always felt an affinity with local arts centers, as one played a prominent role in my own childhood. My mother is quite a renaissance woman – she is skilled in many creative arts and was heavily involved in our local arts institute (in Kalamazoo, Michigan), even curating several art exhibits there. That early exposure to art made quite an impression on me, and I'm naturally drawn to creative people and a wide variety of creative arts.
When we moved to Pendleton our daughter was in middle school, a time it can be hard to find your "group" if you aren't already in one or involved with sports. She was a prolific writer, and I happened to be in conversation with PCA's Executive Director Roberta Lavadour in a social situation and mentioned how I wished there were more opportunities for kids like Morgan to develop their interests. Not long after Roberta called to invite Morgan to a new creative writing class they were starting at the Art Center for teens. Morgan really bloomed there and went on to take other classes and even joined the teen advisory group that helped develop and promote classes for peers. (She graduated from the University of Oregon with a degree in Journalism and continues to write!)
Several years later I saw a magazine article about women learning to use power tools, and I asked Roberta if it was something that PCA could hold a class on as I was intimidated by using the tools in our garage, which held me back from DIY projects I yearned to do. In short order PCA had a class that was full of women doing projects with power tools! I love that PCA is so responsive to the needs and interests of the community, not only in the classes offered but also with exhibits and events.
What do you love about development work?
Initially my work with nonprofits began as a way to serve my community – while growing up my mother modeled this as an important value. As an adult I frequently looked for ways to volunteer, eventually taking on more leadership roles and serving on boards in organizations. Transitioning to nonprofit work as a career was a natural transition after I had children, as the hours in the film industry were not family friendly.
I have always enjoyed writing, and I see grant writing as a creative process, crafting a story that compels others to invest in the mission. I also love the strategic process of connecting resources to work that positively impacts people and communities.
What do you see as the opportunities for PCA moving forward?
PCA has a fantastic core that are so supportive of the work that is accomplished here, but I'm realizing many in our community have never been inside our beautiful building! Staff does a wonderful job of creating a wealth of opportunities to engage in creative expression and art appreciation, and we can always do better in making sure ALL in the community know what we do and to feel welcome here. We are so lucky to be housed in this historic Carnegie Library, but it can be intimidating for some people. We believe in equitable opportunity and seek to be inclusive in all we do. I love that PCA's leadership prioritizes free admission to the exhibits and that much of our resource development is to support no or low-cost activities for all in the community to enjoy. Financial support from our community has been essential to continue to provide the level of arts not typically available in rural areas. I'm looking forward to connecting with more in our community, and to partner with other businesses and organizations to be able to create even