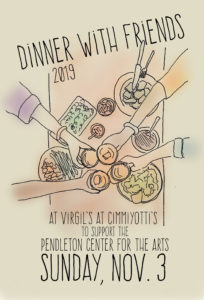 Sunday, Nov. 3, 2019
5:30 pm – no host cocktails & mini-auction
6:30 pm – 10 course tasting menu
at Virgil's at Cimmiyottis
Four years ago, between Gala Auctions, we thought it would be fun to have a casual get-together with our Arts Council members to raise money for the cause and share some great food. It was so successful, it's become one of our favorite traditions. The PCA staff and board members will cook up their own signature dishes along with special wine and beer tastings. We've got a few great auction items and other fun surprises too. It's a delicious way to connect with others who value the creative energy of our community and support a good cause at the same time.
$40 per person / $75 per couple


Also available by calling 541-278-9201
AUCTION ITEMS
Custom End Table
This unique piece was created from the very last card catalog cabinet from original library building. Countless patrons opened these drawers, discovered books, and often, found new passions. These drawers are perfect for organizing all your living room odds and ends—remote controls, cards, mail, stamps, coasters, etc. Tuck photos, collages or other fun things in the label frames.
Value: Priceless!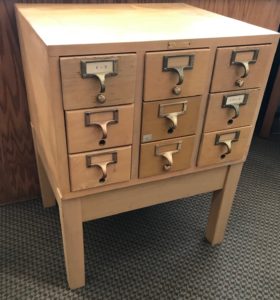 Round Up Package!
This is great if you invite friends or family to town for Round Up week. They will enjoy west grandstand seats on Wednesday or Thursday and Happy Canyon seats on either evening as well. Comes with a nice bottle of Pendleton Whisky and two Pendleton Round Up mugs made by the Pendleton Woolen Mills.
Donated by Pendleton Round Up, Pendleton Mixer & Cigar and Staff.
Value: $120
Custom Screen Door by Jeff Blackwood
After a consultation with you, Jeff will create a custom wood door for your home, bed and breakfast, cabin, business, or ?. This has become one of the most popular items in our auctions over the years. If you can't use it, it makes a GREAT gift.
Donated by Jeff Blackwood
Value: $350
Handmade Book by Roberta Lavadour
In her other life Roberta studies all things book-related. Part of her active studio practice includes creating bindings in the tradition of the 19th C. English craftsmen. This half-leather binding would make a nice journal or guest book for you or a friend.
Donated by Roberta Lavadour
Value: $120
Go Blazers!
Support the home team with this snazzy pennant – it was signed by most of the 2018 roster!
Donated by the Portland Trailblazers.
Value: $75
David Waln Platter
One of Eastern Oregon's most
collected potters, David Waln has been making ceramic work for more than30 years. This handsome platter is large enough for some serious entertaining.
Donated by MaryAlice Ridgway
Value: $100
1/8 Pg Color Ad in the East Oregonian
This is a GENEROUS size ad that would be perfect for your business or organization. Can't use it yourself? Bid on it then donate to PCA—we LOVE advertising in the EO!
Donated by the East Oregonian
Value: $300
PIES! PIES! PIES!
Our favorite Pie Superhero, Jamie Kile, will bake a pie for you once a month for three months!
Donated by Jamie Kile
Value: $75
Betty Feves Mini Mugs
Betty and Jan Dow created fifteen mugs to celebrate the opening of Lorie Baxter's Empire Gallery in the 1980's. Alan Feves authenticated these two as classic Betty pieces, from the weight to the handle detail to the glazing. These gems come with tiny bottles of Bailey's – they're to use, not just look at!
Value: $100
$100 Plateau Fine Dining Certificate
Plateau is Wildhorse's upscale dining venue and it's got a fantastic view of the Blue Mountains. Enjoy the great cuisine and friendly service that they've become known for!
Donated by Wildhorse Resort
Value: $100
$100 Art & Antiques on Main
What's more fun than shopping?? Viki Pearce keeps a dynamic and captivating selection of antiques and vintage pieces at her shop, and you'll get to pick out your favorite(s).
Donated by Art & Antiques on Main
Value: $100
Party Party Party! …with Music!
If you have a large event coming up in the next year—wedding, retirement, or other family milestone—the Arts Center is the perfect place to celebrate. You'll get an 8 hour rental of both the Bamboo Room and Pearson Auditorium AND Emily Muller– Cary and Alan Feves will assemble a band to play two sets of live music!
Donated by PCA, Alan Feves, Emily
Muller-Cary and friends.
Value: $500-700
Vertical Wine Tasting
You and three friends will taste four
vintages of the Tresori Vineyards Estate Pinor Noir (2012-2015) in a special
setting along with hors d'oeuvres and appetizers. These are top flight wines and Susan and Joe will provide a
memorable gathering.
Donated by Susan & Joe DeMarsh
Value $230
Pony Rides!
Elizabeth Bailor will give two 30-40 min. lessons that include grooming, pony care and riding. Your child or grand-child 4-12 years old will be delighted!
Donated by Elizabeth Bailor
Value: $100
Pendleton Ballet Theatre Tickets
You and a pal will have reserved seats at the Dec. 8th performance of The Nutcracker Ballet at the Bob Clapp Theatre. Watching these budding dancers in a classic ballet will add joy to your day.
Donated by Pendleton Ballet Theatre
Value: $15
Kat Galloway Monotype
Kat Galloway (1964-2009) was an art professor at Eastern Oregon University and a notable artist whose paintings and prints captured the spare beauty of the Eastern Oregon landscape. This piece was done shortly before she passed away in 2009. Classically framed by Pendleton Art & Frame.
Donated by Pam & Mike Forrester and Pendleton Art and Frame
Value: $350