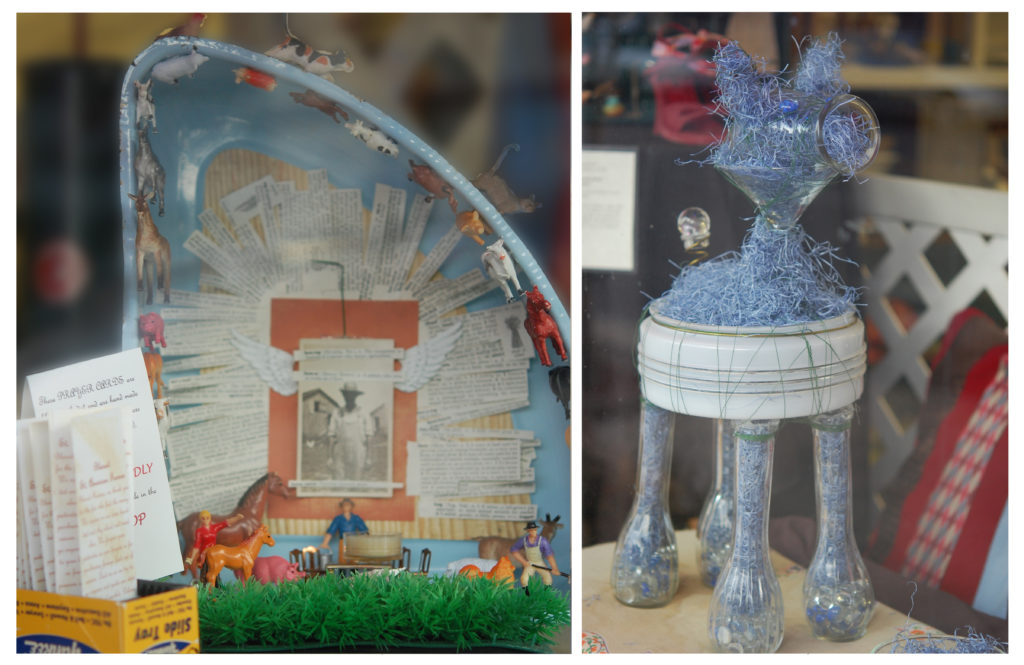 The Pendleton Center for the Arts and the Community Thrift Shop are teaming up to invite YOU to create ART from thrift store finds.
Create a work of art featuring materials you've purchased at the Community Thrift Shop (CTS); sculpture, 2D work, assemblages, textiles, wearable art, anything goes!
Drop off your completed work with an entry form at the Community Thrift Shop, 138 SE Court Av. on July 28-30, 2022.
View all the items in the front window display at CTS August 1-31.
No cost to participate, Ages 13 and UP.
We'll present four $50 cash awards in Adult and Teen categories.
MORE INFO:
The Pendleton Center for the Arts is teaming up with Heritage Station and the Community Thrift Shop to issue a challenge to artists: Recycle something old into a cool piece of art! The Community Thrift Shop (formerly the Community Bargain Counter) has long been a favorite source of materials and inspiration for artists who work with reclaimed, recycled, and "found" objects. The staff at the Arts Center has even built some of their "Hip & Handmade" and "FREE for All" Saturday classes around some of the fun materials they have found at the popular thrift store. Working with thrift store finds has been a staple of the strong D.I.Y. (Do It Yourself) art movement that has dominated the national arts scene in the past decade.
"We want everyone to know about the Community Thrift Shop, not just as a source for outfitting a dorm room, new apartment or picking up affordable essentials, but also as a place to find really fun and unexpected art-making tools and materials", said Roberta Lavadour, Executive Director of the Arts Center. Participating artists will be invited to purchase objects and supplies from the ever-changing inventory at the store on SE Court Avenue and then will have a 8 weeks to create a sculpture or mixed-media piece. The finished works will then be put on exhibit in the Community Thrift Shop's front window during the month of August. Participants can find entry forms and more information at the PCA website, PendletonArts.org. Participation is free, and awards will be presented.
"Thrift store shopping plays in so perfectly with the slow fashion movement, one facet of which focuses on re-purposing textiles and vintage clothes into entirely new designs," said Lavadour. "We hope to see some cool wearable art in addition to 2D and 3D works."
The thrift shop was originally founded to support nursing scholarships through the Community Hospital Auxilliary but over the past seven years Heritage Station has managed the store and all proceeds support the museum's programs and exhibits. Generous donations from community members keep the inventory fresh and ever evolving.
The Arts Center and the Heritage Station Museum have developed a strong working relationship over the years and are looking at even more ways to work together on projects and promotion.