Selected Past Exhibits
We've been proud to host a wide range of exhibits in the East Oregonian Gallery, from blue-chip icons of contemporary art to notable northwest talent to local emerging artists whose work is on the rise. You can browse through materials on some of our past exhibits a the Oregon Arts Commission's Oregon Visual Arts Ecology Project. Check out some of our favorite exhibits below.
Katherine Treffinger: New Work
July 2018

Open Regional Photography Exhibit Recap
We had 147 entries in this year's Open Regional event. Our congratulations go out to Larry Wright, winner of this year's Best of Show award, and to Adam Sims, whose photo "Face Rock" garnered the most votes for the Jacqueline Brown People's Choice Award.

Adam Sims was born in Eastern Oregon in 1988 and has lived here his entire life. He didn't develop his interest in photography until 2007, and he is completely self-taught through research and practice. Adam Sims has always been interested in the natural world around him. He believes that photography has given him the opportunity to not only appreciate the beauty around him but interact with it as well. Adam's work is always simply titled with the subject and date the photograph was taken.
Louise Bourgeois:
Selections from the Collection of Jordan D. Schnitzer and His Family Foundation
We were proud to present work by one of the most important artists of the 20th Century in the East Oregonian Gallery here at PCA. Louise Bourgeois (1911-2010) was a French-American artist whose work explores themes of childhood, domesticity, family, gender roles and sexuality. While her room-sized spider sculptures are probably the most recognizable works of her long career, she was an accomplished printmaker whose works on paper were created over a span of 70 years. The images selected from the collection of Jordan D. Schnitzer and His Family Foundation provided an important overview of her work.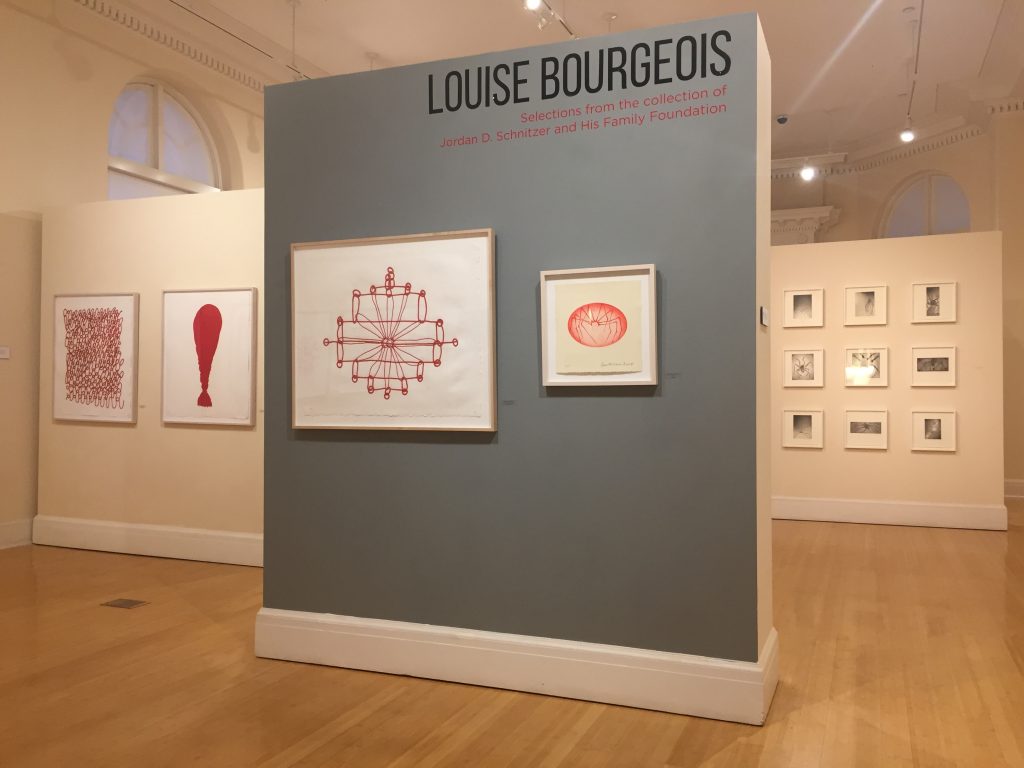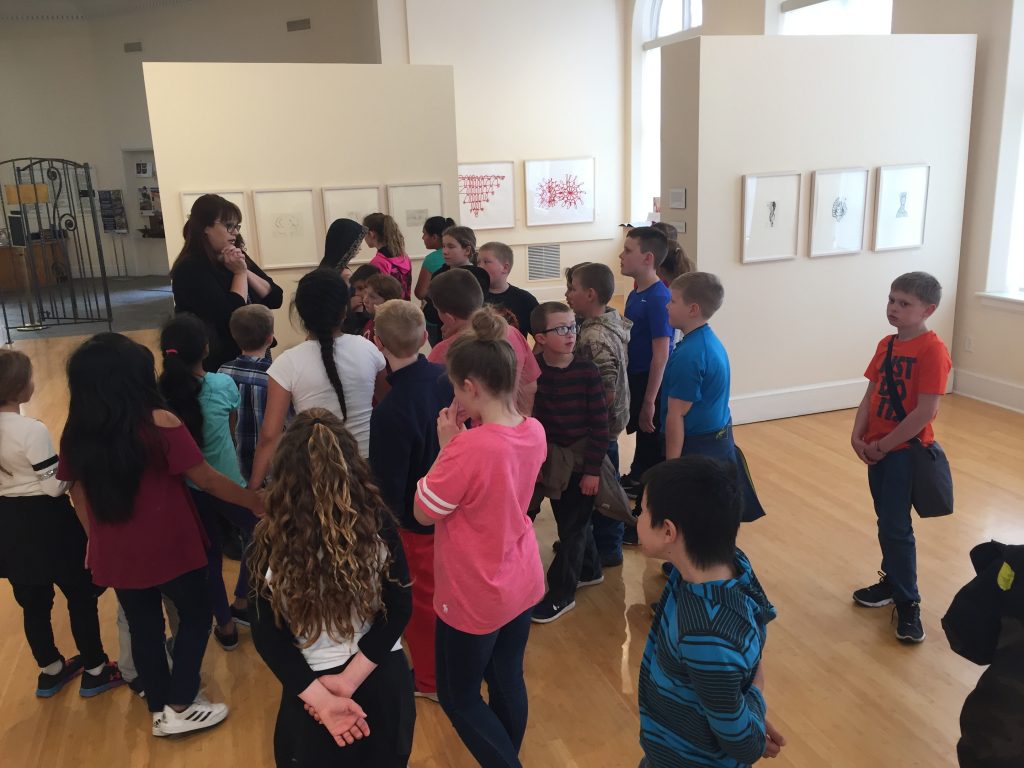 Chuck Close:
Selections from the Collection of Jordan D. Schnitzer and His Family Foundation
If you love ink, paper, and masterful printmaking technique then Chuck Close is probably one of your favorite artists. His explorations into how shape and color can be combined to create images that appear to be continuous tone from afar but are abstract up close are a delight to see in person. More than 1000 kids got to learn about his life and work, and many were inspired by his ability to overcome obstacles to become successful.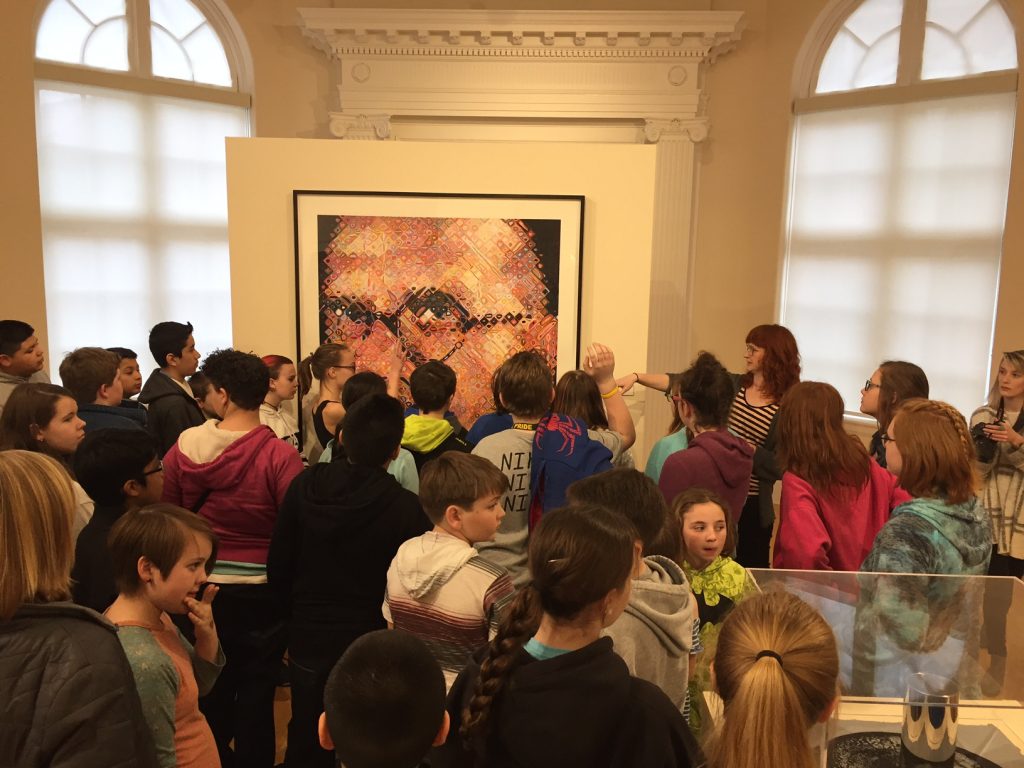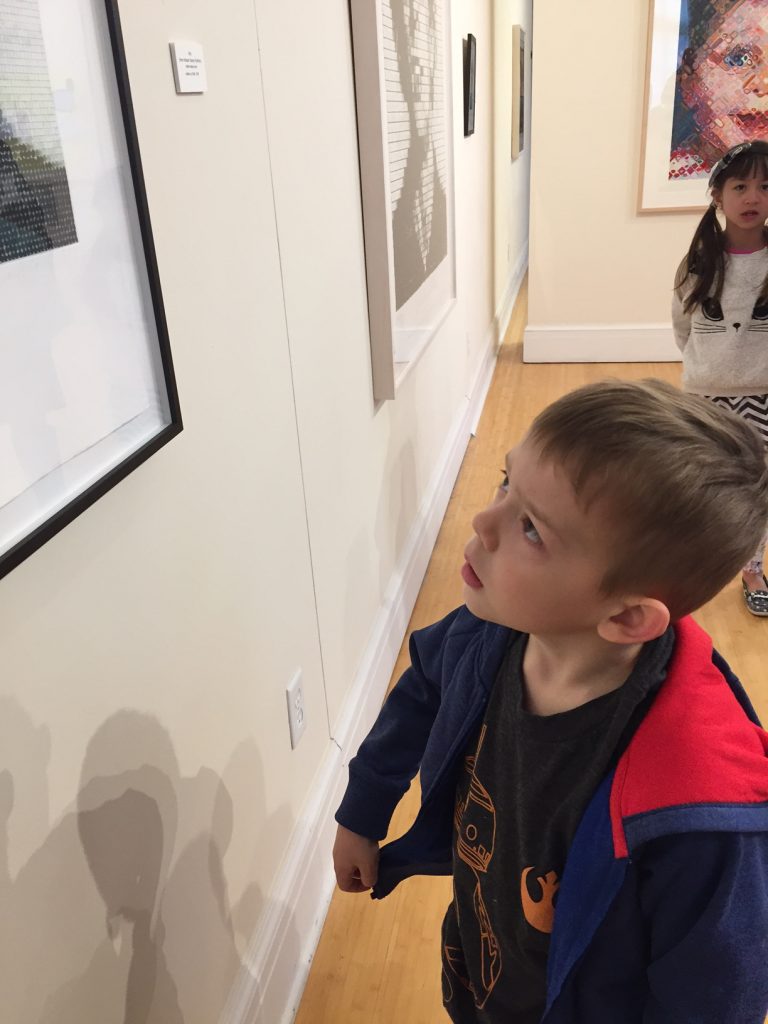 Frank Janzen: Above/Below
"Having grown up with abstract art as my first love I am surprised, in some ways, to be doing 'landscapes'. I arrived in 2001 and it wasn't until 2005 that my artwork changed and I have become fascinated with the plateau area with it's many shapes, patterns, colors and the multiplicity of forms that it takes on under varying light and weather conditions.
After a two-year drought of any art making, the Above/Below series came in being and is a continued exploration of not only the external land that we see but also a glimpse of possibilities of what may lie underneath.
Over a period of time of studying the patterns in the land, driving back and forth to work, it struck me that the soft, gently rolling hills actually form triangles which is one of the most stable geometric forms. This is noted not only in the hills but also in the fields laid out in strange angles with the greens (of which there are many different hues) blending into various ochres and into the grays and browns of raw earth. The jet-blacks of a burnt stubble fields only accentuate and intensify the surrounding colors.
The smoke is an ephemeral element, visible when created by the fire below and dissipating unseen into the summer haze when the burning is complete. The only control that I have in creating the smoke on paper is the number of matches used. What patterns come out are totally beyond my control so I become fascinated by using the hard-edged contours to respond to it."
Frank Janzen, Tamarind Master Printer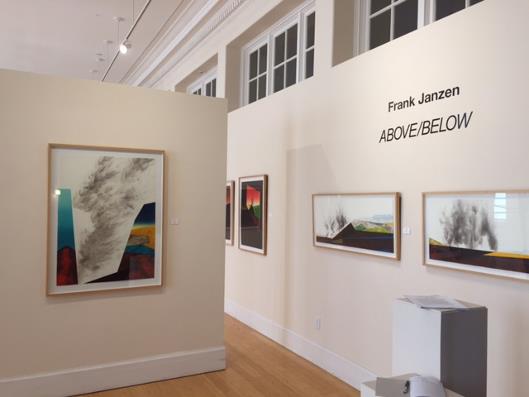 Reflections on the Columbia Plateau
Each year artists and printmakers descend on Crow's Shadow Institute of the Arts and create works on paper inspired by the amazing landscape surrounding the studio, nestled in the foothills on the Umatilla Indian Reservation. This exhibit showcased the best work made in the past 5 years.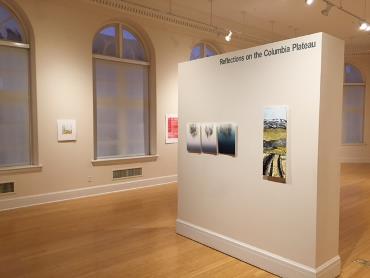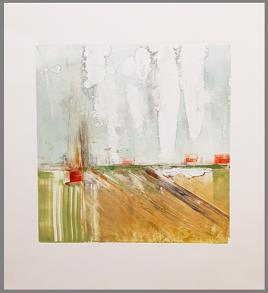 We Tell Ourselves Stories
in Order to Live
This traveling exhibit is a showcase of the 12 Oregon artists honored by the Ford Family Foundation with Hallie Ford Visual Arts Fellowships. View some of the best work being done in the United States, accompanied by a fantastic 20-page catalog you can read online or pick up in print during the exhibit.
View more images from the exhibit when it was at the Museum of Contemporary Craft HERE
Read up on Joan Didion and find several great essays HERE
We Tell Ourselves Stories in Order to Live is organized by the Museum of Contemporary Craft in partnership with Pacific Northwest College of Art, Portland, Oregon. The exhibition is made possible by major funding from The Ford Family Foundation, along with the Western States Arts Federation (WESTAF), National Endowment for the Arts (NEA) and the Oregon Arts Commission (OAC).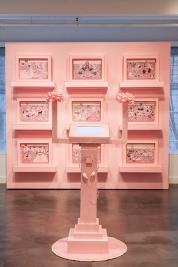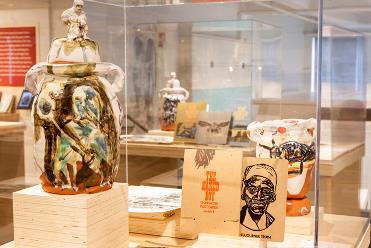 2010  Daniel Duford, David Eckard, Heidi Schwegler
2011   Sang-ah Choi, Bruce Conkle, Stephen Hayes
2012  Ellen Lesperance, Akihiko Miyoshi, Michelle Ross
2013  Mike Bray, Cynthia Lahti, D.E. May
Other exhibits in the East Oregonian Gallery
Joanne Donaca.  July/ August 2004
Contemporary Western Exhibit. (Patricia Freeman Martin, Joey Lavadour, Marlene Lavadour, Suzanne O'Rourke, Lillian Pitt, Richard Stapleman, Zan and Patience Traughber, Duff Severe, Cass Spangerude), September 2004
Palma Corral and Aaron Engum, October 2004
Frank Janzen: Land Whispers, January, February 2006
Places: Four Points of View (Cheryl Cosner, Roy Anderson, Jim Simpson, Joyce Anderson). May/June 2006
Colleen Sargen/Andrew Geaslend: Mixed Media. June/July 2006
Don Gray/Don Gray: A Two-Man Show, July/ August 2006
Jan Beitel and Randy Gundlach, September 2006
Healing Through Art: Women, AIDS and Hope in South Africa, October 2006
Carole McCarty: Cloudscapes, Jan/Feb 2007
Glenn Grishkoff: Brushing Away the Dust, March 2007
Eva Lake: Earth Quake, May/June 2007
Squire Broel, June/July
Lillian Pitt: Ancestors, July/ Aug 2007
Doug Gisi: New Work, Sept/Oct 2007
Bonnie Zahn Griffith: A Hundred Mile Radius, Sept/Oct 2007
Mare Blocker: Palouse Narratives, Oct/Nov 2007
Margaret Jamison: Inner Circle, Jan/Feb 2008
Printers Trifecta: Three Print Portfolios curated by MaLynda Poulsen Jones, Feb/March 2008
Jean Christofori Howton, April 2008
Art/Craft: New Intersections (Bill Piper, Claude Birt, Ed Brannon), June/July 2008
Kat Galloway: The Belted Galloways, July/Aug 2008
Jeremy Lilwall: Internal Rhythms of Madcap Inquires, August 2008
Philip Miner, Sept 2008
Catherine J. Lee, Oct/Nov 2008
Michelle Acuff, February 2009
Meredith Re'Grimsley: Honey and Pearls Feb, March 2009
Julia Henning, April 2009
Woven Works by Northwest Masters (Joey Lavadour, Pat Courtney Gold, Joe Fedderson, Mary Schlick, Patrice Hall-Walters), June/July 2009
Anne Greenwood, July 2009
Artist Series Tapestries from the Pendleton Woolen Mills, Aug/Sept 2009
Marie Watt: Pendleton Stories, Sept/Oct 2009
Oregon College of Art and Craft Invitational, Nov 2009
James Thompson: The Vanishing Landscape, Jan-March 2010
Jennifer Ishimatsu, Views: Open and Obstructed, March/April 2010
Steve Henderson: In Search of Quiet Places, April/May 2010
Monica Stobie: THREADS, June/July 2010
Pendleton Roundup at 100: Design Binding Competition, July/Aug 2010
Sandra Jones Campbell: Recollections, Sept 2009
MaLynda Poulsen: The Gilded West, Oct/Nov 2010
Sam Collette: Recent Works, Jan/Feb 2011
Sandra Harris March, April 2011
Janice Jakielski May, June 2011
Kevin Boylan: Windows, June-Aug 2011
Doug Kaigler, Aug/Sept 2011
Patricia Freeman-Martin: Works on Paper, Sept/Oct 2011
Mary Farrell: Line Upon Line, Oct/Nov 2011
Melinda Thorsnes, Feb 2012
Nell Warren/Greg Misarti: Remnant, March 2012
Glass of Eastern Oregon (Kevin Boylan, Andy Nichols, Tom Dimond, Jake Kurtz, Brent Wydrinski, Russel Ford, Charlene Fort), April 2012
Dawn Forbes: Creature Comforts, July 2012
Margaret Jamison:Character Studies, July 2012
Generations: Betty Feves, Aug/Sept 2012
Jessica Plattner: Babyscapes, Oct 2012
Oregon Artists in Collaboration with Crow's Shadow Press, Feb 2013
Christy Wyckoff: Landscapes Observed and Created, March 2013
Arlen Clark: 30 Years of Painting, April 2013
Keiko Hara: Prints 1981-2013, July 2013
Clay Invitational, Aug 2013
Don Gray, Sept 2013
Peter Bryan: Works on Paper, Oct/Nov 2013
Stephen Wadner/Tom Clement, Feb 2014
Susan Murrell: Embedded, March 2014
Keaney Rathbun, April 2014
James Thompson: Linear Metaphysics, July 2014
Gregory Pierce, Aug 2014
Peter Christian Johnson, Sept 2014
We Tell Ourselves Stories in Order to Live, Oct 2014
Reflections on the Columbia Plateau, Feb 2015
Whispers: Collaborative Quilt Series, March 2015
James Lavadour Venice Biennale Preview Exhibit, March 2015
Open Regional Exhibit, April/May 2015
Aaron Robert Miller: Accomplishments, June/July 2015
Frank Janzen: Above/Below Series, Aug 2015
Dale DeGabriele: Images of Round-Up, Sept 2015
Hiroko Cannon: New Work, Oct 2015
Tom Prochaska/Christy Wyckoff: In the Footsteps of Charles Heaney, Feb 2016
Frances Stilwell: Oregon's Botanical Landscape, March 2016
Nika Blasser: light mirror | mirrow shadow, June 2016
Mike King: SMASH HITS! July 2016
Peter Rock: SPELLS, Aug 2016
East Oregonian Photography Exhibit: (Kathy Aney, E.J. Harris, et. al.), Sept 2016
Arlen Clark: New Works, Oct 2016
Whitney Minthorn, February 2017
Chuck Close: Selections from the Collection of Jordan D. Schnitzer and His Family Foundation, March/April 2017
PDX->PDT (Amjad Faur, Bean Finneran, Ellen George, Johannes Girardoni Elizabeth Knight, James Lavadour, D. E. May, Kristen Miller, Wes Mills, Megan Murphy, Vanessa Renwick, Tad Savinar,  Adam Sorensen, Barbara Stafford, Storm Tharp, Terry Toedtemeier, Gus Van Sant, Molly Vidor, Nell Warren, Marie Watt, Anna Gray + Ryan Wilson, Masao Yamamoto), July 2017
Small Works Invitational (Joyce Anderson , Roy Anderson, Judith Baumann, Lorie Baxter, Nika Blasser, Kevin Boylan, Hiroko Cannon, Shari Dallas, Bonnie Griffith, Carl Merkle, Penny Michel, Michelle Miller, Brian Purnell, Amy Rogers, Lori Sams, Alice Thomas) August 2017
Malcolm Phinney: Prairie Paintings, Sept. 2017
James Allen: Book Work, Recent Excavations, Oct. 2017
Wilderness and Sublimity: Photography and the Conservation of Hells Canyon, Feb. 2018
Louise Bourgeois: Selections from the Collection of Jordan D. Schnitzer and His Family Foundation, March/April 2018
Katherine Treffinger: New Work, July 2018
---