Each year our blockbuster exhibits bring in more and more visitors. We're humbled that Jordan D. Schnitzer and His Family Foundation allow us to borrow works from the collections. To get an up close and personal look at multiple originals from icons like Chuck Close, Louise Bourgeois, and now, Ellsworth Kelly, is something we're so proud to offer to this rural Eastern Oregon community and the people who travel here to visit us.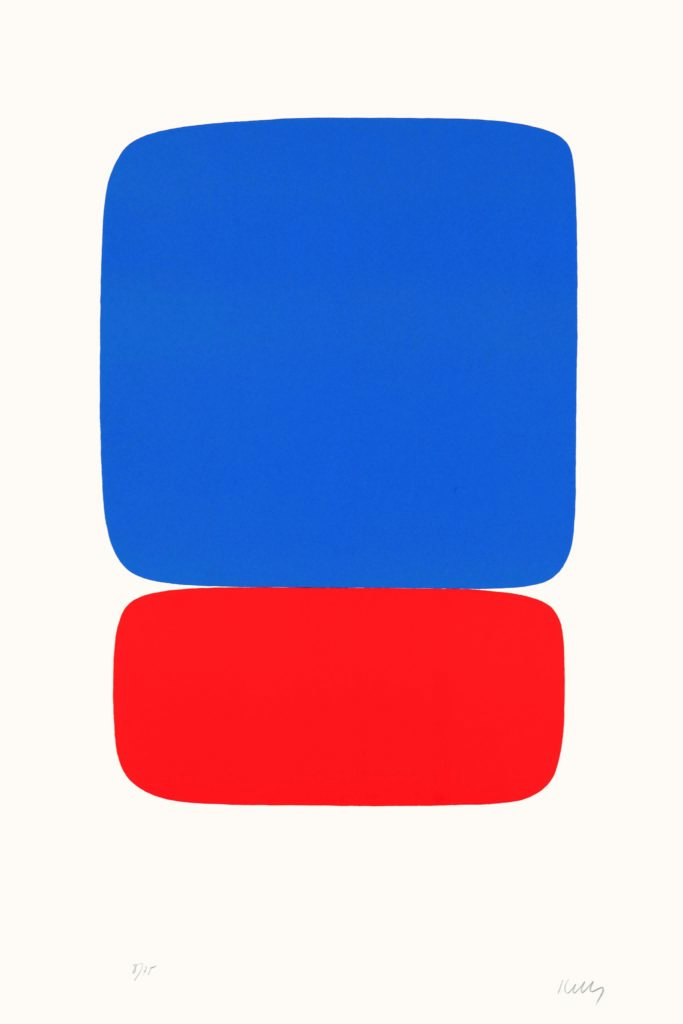 March 14 – May 3, 2019 you'll be able to view works by one of the most iconic artists of the last 100 years. Ellsworth Kelly was born in New York in 1923. He created paintings, sculpture and prints over his 70-year career that showed a strong independence from any formal school or art movement. His parents, skeptical that art could provide a living wage, agreed to pay his tuition at the Pratt Institute in Brooklyn only if he studied technical art. He served during World War II in the 603rd Engineers Camouflage Battalion's Ghost Army where he designed military propaganda posters and camouflage patterns and learned the art of silk-screen printing. After the war he studied at the School of the Museum of Fine Arts in Boston on the G.I. Bill. Kelly then spent five years in Paris, studying everything from Romanesque architecture to Turkish art to Chinese calligraphy. He had his first exhibit there in 1951. His practice of "transcribing" the structural essences of random, found objects formed the basis for much of his lifelong artistic exploration. Kelly is best known for his abstract contours that are sharp and precise. In the 1960s Kelly began applying his approach to color, form, and line to printmaking.

Kelly's work has been the subject of major exhibitions in some of the most prestigious venues in the world, including the Fondation Beyeler in Basel, Haus der Kunst in Munich, the Los Angeles County Museum of Art, the Museum of Fine Arts in Boston, the Museum of Modern Art, the Solomon R. Guggenheim Museum and the Whitney Museum of American Art.
Ellsworth Kelly died in 2015 in New York at the age of 92. He was relentless about producing work until his last days, despite a respiratory condition that kept him tethered to a machine. Among numerous awards he received in his lifetime are Japan's Praemium Imperiale Award in 2000, Officier de la Legion d'Honneur presented by President of France Nicolas Sarkozy in 2009, and the National Medal of Arts presented by President of the United States Barack Obama in 2012.

The Jordan Schnitzer Family Foundation has been collaborating with museums to exhibit and lend prints since 1997. The expansive collection features work from the 1960s to the twenty-first century and includes more than 8000 works on paper by more than 250 artists. The collaboration with the Pendleton Center for the Arts is built on Schnitzer's passion for making great art accessible and a deep affection for the Pendleton community. He has been a major sponsor of the Pendleton Round Up and has also funded a college scholarship program for the Round Up Court and the Happy Canyon Indian Princesses.

The Pendleton exhibit is one of more than 110 exhibits in 150 museums that Schnitzer and the Foundation have sponsored over the past 25 years. Through the support of the Foundation, many class groups will have an opportunity to visit the gallery, and schools will receive books about Kelly and his work.

"We're so proud to be part of the Foundation's outreach efforts," said PCA Executive Director Roberta Lavadour. "It's incredibly gratifying to see people in the community form a deep appreciation for an artist's work after seeing it in person. To see a local kid come in and connect with a great work of art, coming to understand that art and culture is not something that's above them or beyond their reach – that's one of the best parts of my job."

The exhibit is on view through May 3, 2019 and admission is free for all ages. Group tours, gallery presentations and after-hours access are available by emailing director (at) pendletonarts (dot) org. Through our ArtZOOM program, the staff can Skype in to a classroom, provide a virtual gallery tour and lead place-bound students through an art project, all free of charge.  More information is available by calling 541-278-9201.
Check out this short video about Kelly's life and work HERE.