Youth Classes
Our programs are made possible through the support of the Oregon Community Foundation and others.
Our Youth classes are offered to kids up to 12 years old. If you're over the age of 12, don't worry! Classes for teens are FREE through our Art Rocks Teens program. Members of the Pendleton Center for the Arts pay a reduced fee for classes. Join now here!
Parent Permission forms are required for all Youth students. Permission forms must be updated annually. Please bring a signed and completed permission ready to turn in on the first day of class.
Permission forms can be downloaded here: Parent Permission YOUTH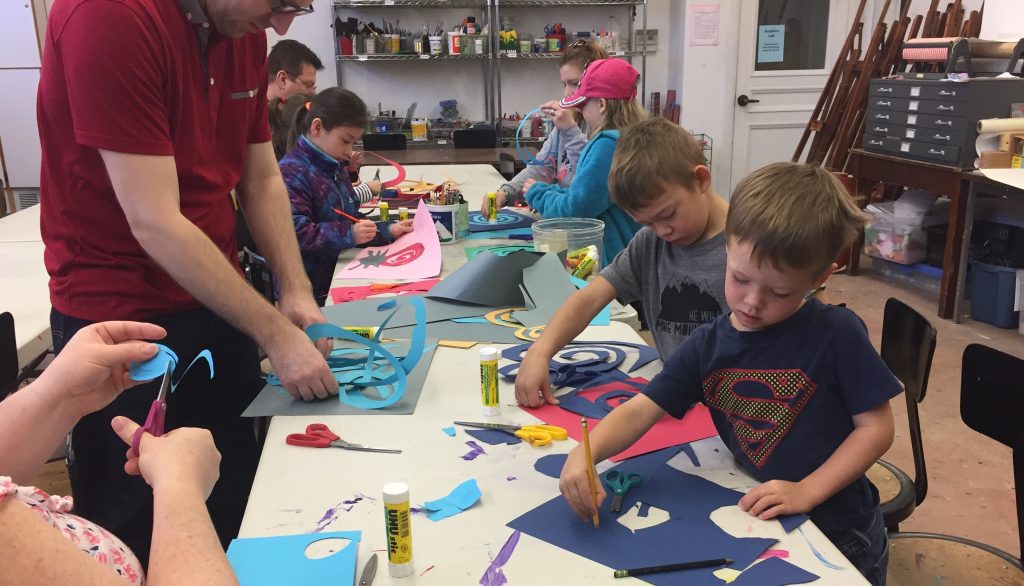 FREE FOR ALL! (UP TO AGE 12 OR SO) – a FREE drop-in class!
EVERY SATURDAY, 9:30 – 10:15 AM
Stop in for a fun, free Saturday morning art project with one of our creative and enthusiastic staff members. Pop your head in or stay for the whole session! Kids under 8 must be accompanied by a parent or older pal to help them with the project.

ART STUDIO (AGES 0-12) – A FREE drop-in class!
with Kate Peck
MONDAYS, 4:00-5:30
June 21 – July 26 (6 SESSIONS)
*No Class on days the Pendleton Public District is not in session
Kids of all ages now have full access to the PCA's art materials and studio space! Inspire your kids to explore art independently through open-ended drawing, painting, and collage or try out a new technique by working along with the group on a facilitated project (we'll have a fun optional project going on each time). The emphasis is on creative learning and play through art making. Kids are welcomed to drop in for 15 minutes or stay for the full session if they would like. Parents can participate too! (Children 8 and under must have a parent present)

CLAY CREATIONS (AGES 7-12) – A DROP-IN CLASS!
with Kate Peck
SATURDAYS, 10:15 AM – NOON (three sessions)
July 6 & 20, (2 Sessions)
Drop in to explore clay building! We'll make pinch pots, slab constructed boxes, and free-form clay sculptures. Students will work with wet clay the first two sessions, and the last session will be reserved for glazing. Clay pieces will be ready to pick up the week after the glazing class. Please wear clothes that can get messy.
$10 PER SESSION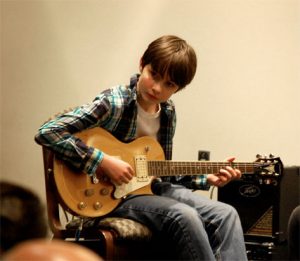 BEGINNING GUITAR FOR YOUTH (AGES 6-12)
with David Orr
MONDAYS, 4:00-5:00 pm 
July 1 – July 29 (5 SESSIONS)
Learn and grow or continue basic guitar skills to entertain yourself, and possibly others! Students will learn basic major and minor chords, strumming styles and techniques, and will be able to play one song by the end of the course. Please bring a guitar to each class. Please visit Pendleton Music Co. for affordable instrument rentals.
$60 MEMBERS/ $65 NONMEMBERS 

PAINTING ROCKS FOR YOUR TRESURE BOX!
with Teri Atkins
SATURDAYS, 11:00 – 12:00 PM
June 15, 22, & 29
Join us for this fun journey of creation. In this class, you'll decorate and paint rocks to make them unique and beautiful. You will then be given a small oak wood treasure chest for you to keep your new collection of painted rocks in! You are encouraged and welcomed to personalize your treasure chest with full access to our art studio- glitter, paints, stamps, ribbon and so much more will be at your fingertips. Come along for this adventure! Registration is required.
$30 MEMBERS/ $35 NONMEMBERS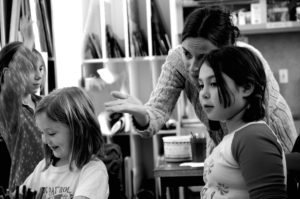 COLLAGE-O-RAMA YOUTH EDITION
with Lori Sams
June 11, 12, 13 (3 Sessions)
10:00 – 11:00 AM
In this class we'll make a variety of projects all exploring different collage techniques. Students will make their own collage materials and then create collaged ice cream sundaes, landscapes, animals, and more! This class is for everyone, whether you've never collaged before or if it's your favorite! Please register for this class.
$10 per Session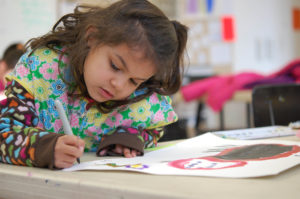 ART ADVENTURES!
with Erica Edwards, Kim Chavez and Kate Peck
(AGES 0-12)
Drop in for 1 day or sign up for a full week. Join as many weeks as you would like! We'll be doing fun, creative projects all summer long. Summer classes are for all ages up to 12 years old; we'll tailor the project to fit different ages. Parent permission form required. Children 8 and under must have a parent or responsible adult present.
TUESDAYS, WEDNESDAYS & THURSDAYS
10:30-12:00 EACH DAY
$20 PER WEEK OR $10 DROP-IN FOR ONE SESSION
JUNE 25-27: THE EARTH THAT INSPIRES US: get inspired by the world around you and create art out of nature with Kate Peck
JULY 9-11: WORLD OF COLOR: Explore color and creativity with Kim Chavez
JULY 16-18: ARTSY SCIENCE PART 1: Combine the elements of science and the beauty of art and infuse the two together for this one of a kind week with Erica Edwards
JULY 23-25: MAKING MARKS: Drawing and painting of all kinds with Kim Chavez
JULY 30- AUGUST 1: ARTSY SCIENCE PART 2: More science and art fun with Erica Edwards