Adult Classes
Our programs are made possible through the support of the Oregon Community Foundation, Oregon Arts Commission, and donations from people like YOU.
Older teens, ages 16-18, are welcome to join adult/evening classes for FREE as part of our Art Rocks Teens program. Our members pay a reduced fee for classes – join the team here!
---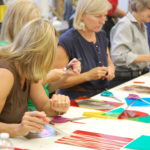 HIP & HANDMADE – a FREE drop-in class!
EVERY SATURDAY, 11:00 AM – NOON
Join one of our creative and enthusiastic staff members for this casual, no pressure get-together. We gather around a big table to work on a different project each week, depending on what has captured our interest.
No need to sign up, no tuition, just come on by!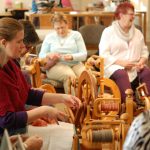 SPIN IN – a FREE drop-in offering!
FIRST SATURDAY OF THE MONTH
1:00 – 4:00 PM
SEPT. 1, OCT. 6, NOV 3
Join the fiber fun gang on the first Saturday of every month at the Pendleton Center for the Arts. Those who spin, knit, crochet or do any creative hand work are welcome.  If you just want to learn more about these fiber arts, come on by! We love to do demonstrations, answer questions, or help you with the "darned" knitting problem (pun intended).

JAM NIGHT – a FREE drop-in offering!
Sponsored by the Pendleton Music Company
FIRST THURSDAY OF EVERY MONTH
7:00 – 8:30 PM
SEPT. 6, OCT. 4, NOV 1
A casual and fun get together for musicians of all experience levels. Blues, rock, country, pop, and more. We'll experiment with a variety of music styles and a variety of instruments. Guitars, mandolin, bongos… bring what you have and join us for an awesome jam session.

KNIT LAB – a drop-in offering
with Nikii Murtaugh
WEDNESDAYS, 5:00 – 7:00 PM
SEPTEMBER 26 – NOVEMBER 28
*No class October 31 & November 21
Available for anyone who needs help on a knitting project. Nikii's ready to assist with questions on how to start or continue a pattern, yarn and needle advice, and inspiration to get moving on those previously shelved projects. Drop in for one evening or come every week! Crocheters welcome too!
$10 PER SESSION

PAINTING STILL LIFE
with Arlen Clark
TUESDAYS, 6:00 – 8:00 PM
SEPT. 25 – OCT. 16 (4 SESSIONS)
Painter Arlen Clark is back, this time with still life paintings on the agenda. Arlen has much experience creating his own colorful, still life paintings and will help advise students as they work on their own painting. Students can use their own composition from a drawing, photograph, or object they bring in or find in the art center's collection. Arlen will also provide insight into the art history side of things too. The setting is relaxed and casual while also providing a lot of freedom for students to discover their own style under the watchful eye of an experienced painter. Materials, including one canvas, paints, and brushes, will be provided.
$55 MEMBERS / $60 NON-MEMBERS +$20 MATERIALS FEE

GUITAR FOR BEGINNERS 1
with Charlie Herrington
TUESDAYS, 6:00 – 7:00 PM
SEPTEMBER 25 – NOVEMBER 27 (10 SESSIONS)
Learn basic guitar skills and build a foundation for playing all kinds of music, from country to blues to rock & roll. You'll start with scales and basic rhythms and work your way up to playing some simple solos. No guitar experience is necessary. Please bring an acoustic or electric guitar- visit Pendleton Music Co. for affordable instrument rentals.
$60 MEMBERS / $65 NON-MEMBERS

GUITAR FOR BEGINNERS 2
with Charlie Herrington
TUESDAYS, 7:00 – 8:00 PM
SEPTEMBER 25 – NOVEMBER 27 (10 SESSIONS)
Taken Charlie's class before? Continue learning and practicing songs as a group in the Beginners 2 session. Bring an acoustic or electric guitar- visit Pendleton Music Co. for affordable instrument rentals.
$60 MEMBERS / $65 NON-MEMBERS

KNITTING WITH CABLES
with Nikii Murtaugh
TUESDAYS, 5:30-7:30 PM
SEPTEMBER 25 – OCTOBER 23 (5 SESSIONS)
Cables are a design element in knitting.  They add interest, texture, and make otherwise plain knitting look special.  Cables can be knit in the round (hats, gloves, socks, sweaters) or flat (sweaters, scarves, shawls). You will learn the most common cables and how to understand both written and charted instructions.  You will also learn how to knit simple cables without a cable needle.
You must be comfortable knitting and purling.  Bring US Size 7 or 8 needles to class (straight or circular).  Synthetic yarn will be provided for swatches (don't worry – it's coming from Nikii's too-ample stash).  If you have a project in mind, bring it as well.
$60 MEMBERS / $65 NON-MEMBERS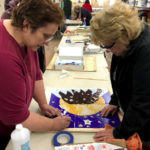 BEGINNING STAINED GLASS
with Celia Hampton
WEDNESDAYS, 6:00 – 8:00 PM
SEPTEMBER 26 – NOVEMBER 28 (8 SESSIONS)
*no class October 31 or November 21
Learn to craft beautiful stained glass pieces. Over the course of this class, you'll start with the basics of glass cutting and work through the whole stained glass process. You'll finish a simple, unique piece to brighten your home, or a few smaller pieces to give as gifts. No experience necessary and ample open studio time will be available outside of class.
FULL – Beginners may sign up for the Intermediate class on Thursdays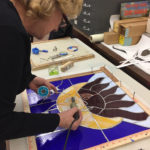 BEGINNING & INTERMEDIATE STAINED GLASS
with Celia Hampton
THURSDAYS, 6:00 – 8:00 PM
SEPTEMBER 27 – NOVEMBER 29  (8 SESSIONS)
*No class November 1 or 22
For students who have taken stained glass with Celia already, this open studio style class will offer a reference for problem solving and questions that come up while you continue your projects and/or begin new ones. Materials fee covers the cost of tools, glass, copper foil and lead came for one medium sized project. Please come with a pattern or project in mind.
$80 MEMBERS / $85 NON-MEMBERS + $20 MATERIALS FEE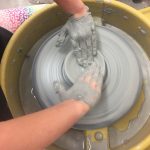 POTTERY: BEGINNING WHEEL THROWING
with Marie Pratuch
WEDNESDAYS, 6:00 – 8:00 PM
SEPTEMBER 26 – NOVEMBER 14  (7 SESSIONS)
*No class October 31st
Use the pottery wheel to make functional ceramic forms. Marie will share info about process, materials, and tools, and students will get plenty of wheel-time to practice. All materials supplied in class, including clay and ample open studio time. This class fills quickly so be sure to send in your payment and registration soon!
$80 MEMBERS / $85 NON-MEMBERS + $20 MATERIALS FEE
**FULL**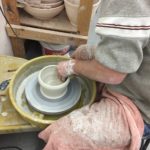 POTTERY: INTERMEDIATE WHEEL THROWING
with Marie Pratuch
THURSDAYS, 6:00 – 8:00 PM
SEPTEMBER 27 – NOVEMBER 15  (7 SESSIONS)
*No class November 1
A scheduled time for post-beginner throwers to get together and continue explorations on the pottery wheel. Marie will be available to troubleshoot and answer questions as you fine tune your throwing skills. Materials include a bag of clay, glazes and firing time. Prerequisite: 2 terms of beginning wheel throwing or recent college-level ceramics course.
$60 MEMBERS / $65 NON-MEMBERS + $20 MATERIALS FEE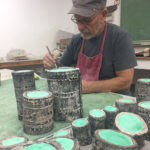 CERAMIC HANDBUILDING
with Brian Purnell
TUESDAYS, 6:00 – 8:00 PM
SEPT 25 – NOV 6 (7 SESSIONS)
Regardless of your skill level – beginning, intermediate, or advanced – you'll go beyond the wheel to create anything from functional work to sculptural pieces of art. Brian will share his techniques for creating interesting surface texture. Beginners will build skills and those with previous experience can elevate their ceramic work to new levels.
$80 MEMBERS / $85 NON-MEMBERS + $20 MATERIALS FEE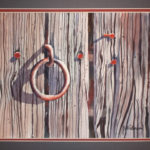 WATERCOLOR WORKSHOP: IT'S ALL ABOUT TEXTURE
SATURDAY AND SUNDAY, 9:00 AM – 4:00 PM
SEPTEMBER 29 & 30
with Joyce Anderson

Joyce will lead students through the nuts and bolts of creating textures like weathered wood and seashells with watercolor. Once you've mastered the techniques for making objects look smooth or rough, you'll be able to tackle a wide range of subjects in your painting. Beginners will learn new skills, and those with painting experience will elevate their skill levels so that they can take on more challenging projects. Please bring a sack lunch along to class each day.
$95 MEMBERS / $100 NON-MEMBERS + $10 MATERIALS FEE

POWER TOOLS BOOTCAMP FOR WOMEN
with Vaughn Hamby and Kelly Lumber
MONDAY, OCT. 8 (1 SESSION)
6:00 – 8:00 PM
Power tools, and even the right-hand tools, can make creative work so much easier! But if you didn't grow up using them, they might seem a bit intimidating. In this session, Vaughn Hamby of Kelly Lumber will guide you through a basic project that requires use of a drill, chop saw, skill saw, jig saw and more. He'll go over important safety information, provide tips and tricks for dealing with different materials, and provide hands-on practice to give you the confidence to tackle all those cool projects on your Pinterest boards. Our thanks to Kelly Lumber for donating all the materials!
$40 MEMBERS / $45 NON-MEMBERS
Location: Sunridge Middle School Wood Shop, 700 SW Runnion Ave.
 FULL – email us at classes (at) pendletonarts (d0t) org to be put on the waiting list for Winter Term
INTRO TO FILMMAKING
with Jess Schubert and Tim Tustoe
SATURDAY, 1:00-3:00 PM
NOVEMBER 10 (1 Session)
Smartphones have evolved into affordable and accessible all-in-one production studios for filmmaking. This class is an overview of basic settings, techniques, apps, and external hardware available to achieve the cinematic "film look" and ways to get the most out of mobile filmmaking. Students will have an opportunity to learn from two media professionals who've worked for years in independent films and commercial cinematography and share a love of using images in motion to tell a story.
$40 MEMBERS / $45 NON-MEMBERS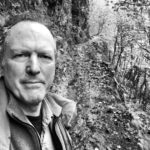 POEMS FOR A BETTER NATION
with Kim Stafford
FRIDAY, 9-11:30
NOV. 16 (1 Session)
FREE
What is a poet's work in these strange times? How can words most matter for the good of our nation and this Earth? As Canadian poet Dennis Lee once said, in words engraved on the outer wall of the Scottish parliament, we need to "Work as if in the early days of a better nation." In this workshop, we will read and write poems that seed the future with truth and challenge, question and witness, from outright political poems to more oblique contributions to a better nation—lullabies, songs of a patriot (or matriot loyal to home ground), manifestos, consolations, & blessings. Come begin a book of lyric testimony.