Adult Classes
Our programs are made possible through the support of the Oregon Community Foundation, Oregon Arts Commission, and donations from people like YOU. Older teens, ages 16-18, are welcome to join most adult/evening classes for FREE as part of our Art Rocks Teens program. Our members pay a reduced fee for classes – become a member HERE!
TROUBLE REGISTERING? MAKE SURE YOU CHOOSE MEMBER/NON-MEMBER FROM THE DROP-DOWN MENU FIRST. 
---
FREE OFFERINGS
(check out the Happy Hour Classes below too!)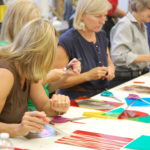 HIP & HANDMADE – a FREE drop-in class!
EVERY SATURDAY, 11:00 AM – NOON
Join one of our creative and enthusiastic staff members for this casual, no pressure get-together. We gather around a big table to work on a different project each week, depending on what has captured our interest.
No need to sign up, no tuition, just come on by!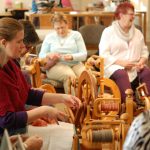 SPIN IN – a FREE drop-in offering!
FIRST SATURDAY OF THE MONTH
April 6, May 4, June 1
JANUARY 12, FEBRUARY 2, MARCH 2
Join the fiber fun gang on the first Saturday of every month at the Pendleton Center for the Arts. Those who spin, knit, crochet or do any creative hand work are welcome.  If you just want to learn more about these fiber arts, come on by! We love to do demonstrations, answer questions, or help you with the "darned" knitting problem (pun intended).

JAM NIGHT – a FREE drop-in offering!
Sponsored by the Pendleton Music Company
FIRST THURSDAY OF EVERY MONTH
7:00 – 8:30 PM
April 4, May 2, June 6
A casual and fun get together for musicians of all experience levels. Blues, rock, country, pop, and more. We'll experiment with a variety of music styles and a variety of instruments. Guitars, mandolin, bongos… bring what you have and join us for an awesome jam session.

WEEKLY CLASSES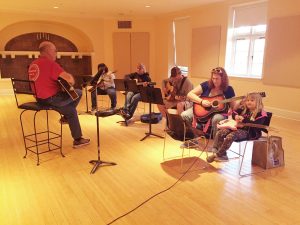 GUITAR FOR BEGINNERS
with Charlie Herrington
TUESDAYS, 6:00 – 7:00PM
April 2 – June 4 (10 SESSIONS)

Learn basic guitar skills and build a foundation for playing all kinds of music, from country to blues to rock & roll. You'll start with the CAGED system and simple scales and basic rhythms. Eventually you'll work your way up to playing some simple solos. No guitar experience is necessary. Please bring an acoustic or electric guitar- visit Pendleton Music Co. for affordable instrument rentals.
$65 MEMBERS/$70 NON-MEMBERS

GUITAR FOR BEGINNERS 2
with Charlie Herrington
TUESDAYS, 7:00 – 8:00 pm
April 2 – June 4 (10 SESSIONS)
Continue learning and practicing songs as a group in the Beginners 2 session. Bring an acoustic or electric guitar- visit Pendleton Music Co. for affordable instrument rentals.
$65 MEMBERS/$70 NON-MEMBERS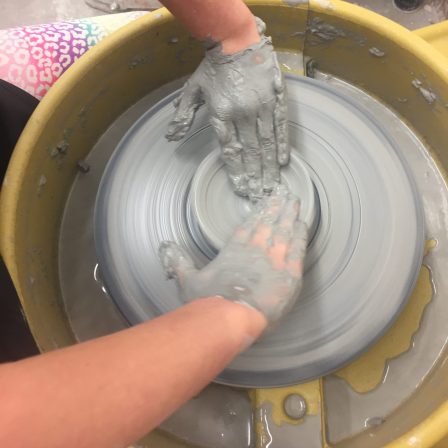 POTTERY: BEGINNING WHEEL THROWING
with Marie Pratuch
WEDNESDAYS, 6:00 – 8:00 PM
April 3 – May 15 (7 SESSIONS)
Use the pottery wheel to make functional ceramic forms. Marie will share info about process, materials, and tools, and students will get plenty of wheel-time to practice. All materials supplied in class, including clay and ample open studio time. This class fills quickly so be sure to send in your payment and registration soon!
$85 MEMBERS/$90 NON-MEMBERS+$20 MATERIAL FEE
FULL – Call 541-278-9201 to be put on the waiting list. Have a bit of experience, consider the Continuing Wheel Throwing class (below)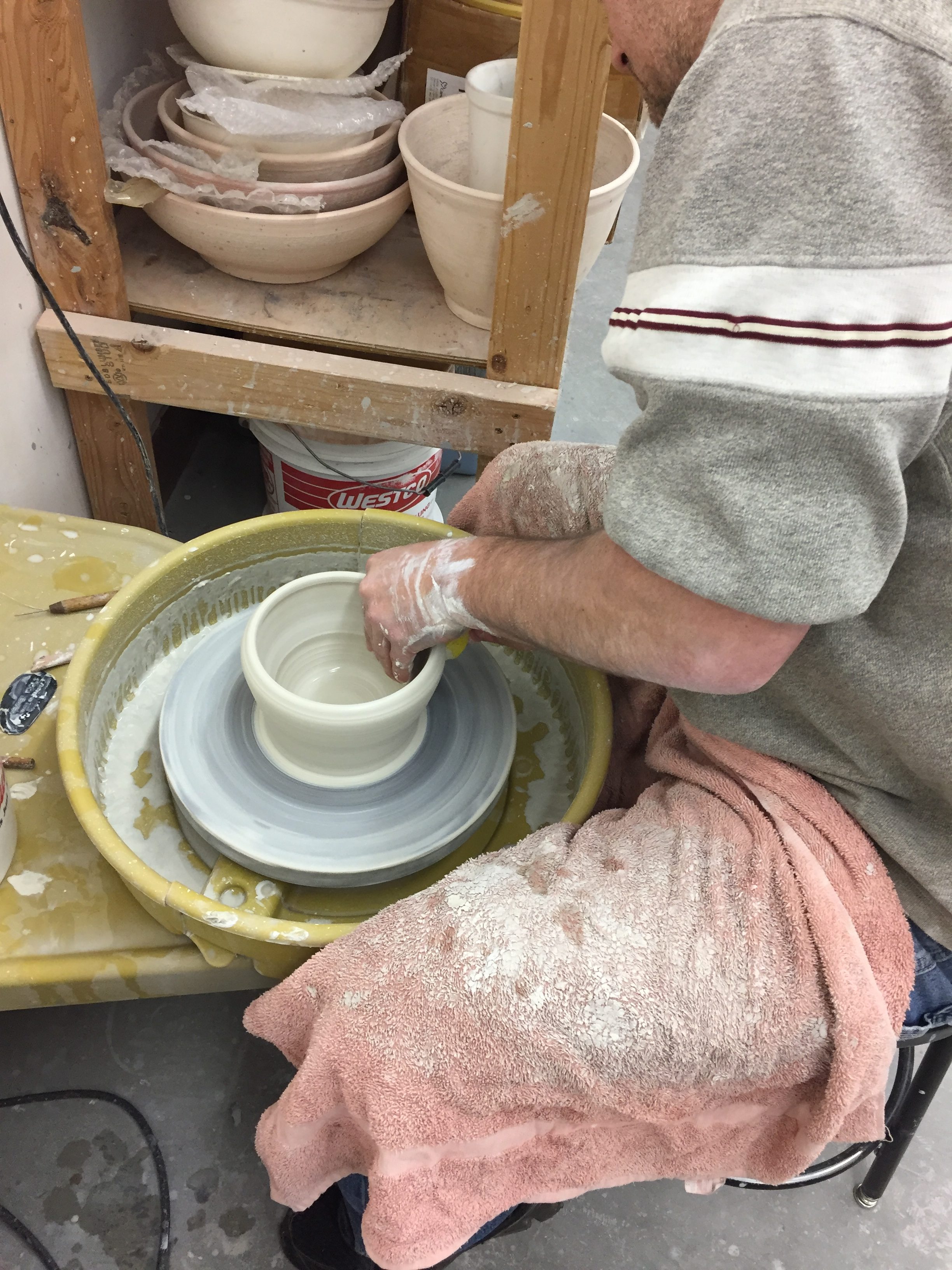 POTTERY: CONTINUING WHEEL THROWING
with Marie Pratuch
THURSDAYS, 6:00-8:00 PM
April 4 – May 16 (7 SESSIONS)
A scheduled time for post-beginner throwers to get together and continue explorations on the pottery wheel. Marie will be available to troubleshoot and answer questions as you fine tune your throwing skills. If you have taken Marie's beginners wheel throwing class, than this is the class for you!
$70 MEMBERS/$75 NON-MEMBERS + $20 MATERIALS FEE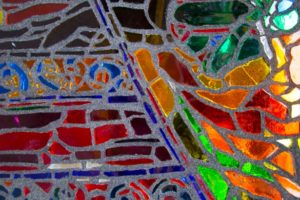 GLASS MOSAICS with CELIA
with Celia Hampton
THURSDAYS, 6:00 – 8:00 PM
April 4 – May 23 (8 SESSIONS)
Experience the classical art of glass mosaic in this 8-session class. Celia Hampton will introduce students to the direct mosaic method using traditional mosaic design elements. Learn glass cutting techniques, gluing and grouting applications along with tips & tricks on designing or modifying patterns. Little to no experience, makes no difference. All are welcomed!
$85 MEMBERS/$90 NONMEMBERS

INTRO TO PAPERMAKING AND HANDMADE BOOKS
with Emily Taylor Cress
TUESDAYS, 6:00-8:00 PM
May 7 – May 28 (4 Sessions)
Recycle your junk mail into handmade paper, then transform that into a cool hand-bound book.  Emily will bring her experiences learning about books and paper at Pacific Northwest College of Art to the table, students should bring a sense of adventure and willingness to try new things. If you've always been curious about book arts and papermaking, this is the class for you.
$70 MEMBERS / $75 NON-MEMBERS + $10 MATERIALS FEE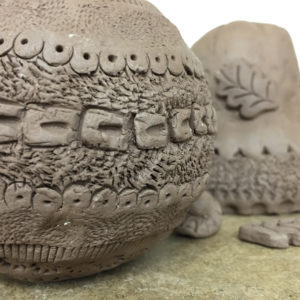 HAND BUILT CLAY FORMS
with Brian Purnell
TUESDAYS, 6:00-8:00 PM
April 2 – May 14 (7 SESSIONS)
Regardless of your skill level – beginning, intermediate, or advanced- engage your hands & mind! Create fun, beautiful projects- anything from coffee mugs, bowls, platters, and boxes, to fine art sculpture. No experience necessary; returning students welcome!
$80 MEMBERS / $85 NON-MEMBERS + $20 MATERIALS FEE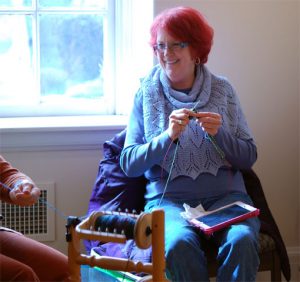 NIFFTY KNITTERS
with Nikki Murtagh
Wednesdays, 5:00-7:00
April 10 – May 8 (5 Sessions)
Join the fiber fun gang for a casual and enjoyable get together for anyone who needs help on a knitting project. Nikii is ready to assist with questions on how to start or continue a pattern; yarn and needle advise; and inspiration to turn your knitting dreams into a reality. Crocheters welcomed, as well as brand new beginners and well-oiled knitting machines. Come enjoy conversation, stitching, and fun with new friends.
$8 per session for members, $10 per session for non-members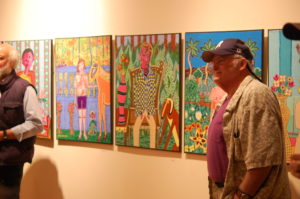 PAINTING FLOWERS
with Arlen Clark

TUESDAYS, 6:00 – 8:00 PM 
April 9 – April 30 (4 Sessions)
Arlen will lead students through composing a painting of flowers, drawing on his own background but allowing for the individual tastes and talents of each student. The setting is relaxed and casual while also providing the watchful eye of an experienced painter. Material, including one canvas, paints, and brushes will be provided.
$60 MEMBERS / $65 NON-MEMBERS +$20 MATERIALS FEE

ONE-DAY WEEKEND WORKSHOPS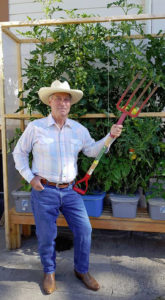 THE ART OF GROWING FIGS
with Richard Bertram
Saturday, May 4
10:00 AM – Noon
This is a fascinating hobby and Richard would love to share his knowledge with you. There is nothing tastier than figs picked at the peak of ripeness from your own plants (forget the old black wrinkly things you purchase at the store – not the same). You will learn how to propagate figs from cuttings, air-layering, and grafting. You will learn various potting methods. You will learn the best places to plant your figs outside. Each of you will be given a baby fig plant so you can apply your knowledge and start your own fig hobby at home.
$45 MEMBERS / $50 NON-MEMBERS

THE ART OF NEEDLE FELTING
with Chantell Reid
Monday, April 15
6:00 – 8:00 PM
In this workshop, you'll discover the stress-relieving art behind needle felting and all that it entails.  This activity uses a special needle to fuse fibers together into a cool form. You'll learn how to needle felt ornaments, gnomes, mushrooms, and more. Using all-natural wool fibers, you'll create custom pieces, perfect for gifts and keepsakes.
$35 MEMBERS / $40 NON-MEMBERS, $10 MATERIALS FEE

ASSEMBLAGE 101
with Chantell Reid
Monday, May 13
6:00 -8:00 PM
An assemblage is a work of art made by grouping found or unrelated objects. We'll start with a unique piece of treated driftwood found along the Umatilla River, then add interesting objects until a perfect composition emerges. Along the way, students will learn how to create yarn palms, tassels, macramé knots and more. You are also welcomed to bring your own objects – antlers, trim, and feathers can be fun to experiment with. All materials are provided.
$35 MEMBERS / $40 NON-MEMBERS

PHOTOGRAPHY FIELD TRIP
with Bill Peal
Saturday, May 11
Meet at the PCA at 10:00 AM
Join one of our favorite photo instructors for an adventure you won't want to miss. You'll travel to Horsethief Lake in the eastern Columbia River Gorge to witness the intricate and beautiful native petroglyphs (carvings), and pictographs (drawings) that survived the backwaters of The Dalles Dam. You'll learn some interesting facts about history and art, as well as gaining the photography skills necessary to take great photos. Tuition includes transportation, but you should bring water, a lunch and money for snacks. We'll plan on being back to PCA by 5:30 PM.
$110 MEMBERS / $110 NON-MEMBERS

REFURBISH IT!
with Melissa Weston
Saturday, April 20
1:00 – 4:00 PM
Do you have a small piece of older or damaged furniture that could use some renovation or a fresh breath of air? In this workshop, Melissa Weston our DIY Guru, will take you step by step through the process of bringing the piece back to life. You'll sand, buzz, cut, and decorate your way to a revamped and upgraded piece of furniture, as well as leave with the ability to take on and tackle more projects of your own!
$35 MEMBERS / $40 NON-MEMBERS

EMBROIDERY 101
with Roberta Lavadour
Saturday, May 11
12:30-4:00 PM
Are you seeing all sorts of cool stitching online and want to learn the basics? Did you teach yourself over the years but would like a fun refresher course on "proper" technique? This class is for you. We'll create a sampler that will help you learn/perfect at least 8 cool stitches, building from simple to more complicated as we go. Your finished class project will be nice enough to frame but also serve as a model to remind you about good stitching and creative opportunities. No experience necessary, a sense of adventure is a plus. All materials provided.
$30 MEMBERS / $35 NON-MEMBERS

DECORATIVE WOOD SIGN MAKING
with Melissa Weston
Saturday, May 25
1:00 – 4:00 PM
Have you had your eyes on some signage that would look perfect on the walls of your home, or in your office? Have you ever considered learning to make your own? In this workshop, Melissa will lead you to signage success. You'll explore the ways to paint, cut, and grind your way to beautiful homemade wooden signs that will grace your walls with unique character. All made by you, under the watchful eye of an expert.
$35 MEMBERS / $40 NON-MEMBERS, $5 MATERIALS FEE

HAPPY HOUR CLASSES!
These FREE offerings provide an opportunity for social crafting with adult beverages. Sorry, no teens in these sessions.
FREE HAPPY HOUR!
SENDING JOY
with Lori Sams
WEDNESDAY, April 17
6:00 – 7:30 pm
Isn't it nice to get something fun in the mail instead of just a stack of bills and junk mail? In this class we'll make handmade, one-of-a-kind, mail art postcards that are fun AND still meet USPS guidelines. You'll go home with ready to send some joy through the mail to friends and family!

FREE HAPPY HOUR!
LET'S MACRAME!
with Katie Hall
WEDNESDAY, June 5
6:00 – 8:00 PM
In this workshop, students will learn to tie the basic knots that will enable them to create fun macramé plant hangers, wall hangers, and so much more. Begin your voyage into endless combinations of macramé creations. We'll provide the wine, you bring a friend, and Katie will indulge us in her macramé knowledge. This will be a fun evening!