The Art of the Gift Invitational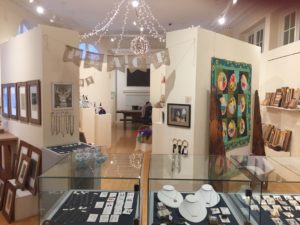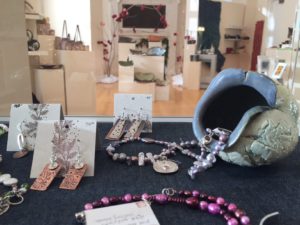 Each holiday season we transform the 1800 sq. ft. East Oregonian Gallery into a showcase for fine craft from across the country. "The Art of the Gift Invitational" exhibit attracts visitors from far and wide who appreciate finding fine crafts for the home, table and personal adornment that make great gifts.
We invite a select number of artists to participate, but we are happy to jury proposals that we receive unsolicited as well.
We're always looking for a good mix of items under $200 (although we do take a few things in the $200 – $500 range), with most items in the $35 – $75 range. We look for an interesting mix of fun/funky and more formal works. Our clientele here in Pendleton isn't what many people expect – they are well-traveled and appreciate contemporary style, superior craftsmanship and good selection.
The Art of the Gift exhibit runs from mid-November through December 31.
All items must be available for sale.
All items are insured by the Center during the exhibit.
The Center takes a 30% commission on sold works.
Shipping to and from the Center is the responsibility of the artist.
Items must arrive at the Center by November 10, 2012.
Artist checks are mailed on December 15th and January 15 for works sold before those .
Participating artists' names will appear on the 1000 postcards as well as posters printed to publicize the event to our regional supporters
Participating artists will be promoted on our website with a live link to their social media pages and online sales portals.
To have work considered for the Fine Craft Gallery or "The Art of the Gift 2013", please email 6-8 jpegs or a link to a website where your work can be viewed, with a brief statement about the work. Please include prices (retail) and contact information.